Finding Falcons is a series dedicated to telling the stories of not just the fact that the Falcons decided to draft a specific player, but rather the why behind doing so. Based on exclusive interviews with Falcons position coaches, area scouts and the decision-makers at the top, the Falcons brass details the moments that solidified the decision to draft each of the men who make up their 2023 draft class. For the next six weeks, we'll tell those stories.
Up first is the No. 8 overall pick, Bijan Robinson, who left little doubt in the minds of the Falcons following a very important workout in Austin, Texas.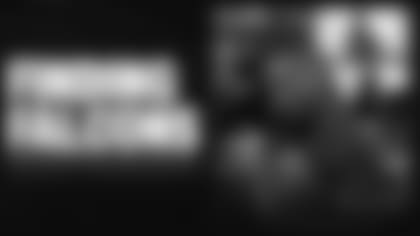 Falcons Southwest area scout Dante Fargnoli was supposed to be scouting a handful of Oklahoma defenders when the then-No. 6 team in the country faced the Texas Longhorns in October 2021. There were seven, maybe eight, Sooners who Fargnoli made the trip to see live and in-person.
However, by the time Oklahoma walked away from that thriller of a game with the 55-48 win secured, Fargnoli's notes weren't filled with observations from the seven or eight Sooners he came to see. The notes he took that day had to do with someone else, a Texas running back who - at the time - wasn't even draft eligible.
Fargnoli didn't plan on Bijan Robinson catching his eye that day. He planned on watching those Sooner defenders who ultimately won the game. Robinson made that task a challenge, though, as Fargnoli's eyes lingered on the running back.
"You couldn't help but take notes," Fargnoli remembers of that October day. "He was pretty fun to watch, but you're not even trying to watch the kid, but you keep taking notes on the guy."
As the 2021 season came and went, Fargnoli's conviction about Robinson never wavered. He found his way back to a couple Texas games the next year in 2022. His early reports of Robinson still ringing true a year later: Robinson could be a game-changer for the Falcons, one they could target in the 2023 NFL Draft, when Robinson would be draft eligible.
For every game Fargnoli saw of Robinson, what the Falcons scout knew of the running back remained constant.
"He was the best player on the field," Fargnoli said, "every single time."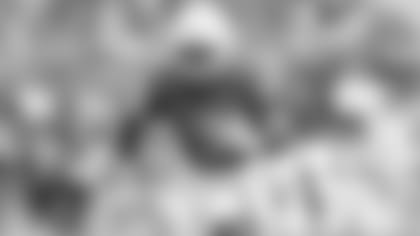 When asked about the moment they fell in love with their No. 8 overall pick in the 2023 NFL Draft, not a single one of the top Falcons decision-makers would own up to having one specific moment. And while that may be true, the memories shared of the pre-draft process from general manager Terry Fontenot to head coach Arthur Smith to VP of player personnel Kyle Smith to running backs coach Michael Pitre do indeed point to a specific moment. The moment being when the Falcons made a trip to Austin, Texas to hold a private workout with Robinson prior to the 2023 NFL Draft.
"It was kind of the thing where we all walked away from that workout and knew this kid was special," this from Pitre, who actually remembered Robinson during the high school recruiting process.
At that time, Robinson was a five-star recruit out of Salpointe Catholic High School in Tuscan, Arizona. Pitre was a running backs coach at the college level, spending years with Montana State and Oregon State before making the jump to the league around the same time Robinson chose to take his talents to Texas.
Fast forward to the 2023 offseason and the pre-draft process and Pitre found Robinson back on his radar. And as he watched Robinson during that workout he saw the talent, as well as the maturity, that he remembered from years before.
"There really is nothing he can't do on the offensive side of the ball," Pitre said.
From his vantage point, Kyle Smith said the moment he remembers most from that trip didn't necessarily involve what he saw Robinson do. Kyle Smith had seen Robinson before, having gone to Texas' game against Iowa State last season. He knew what Robinson could do. It was watching Arthur Smith watch Robinson that Kyle Smith took note of on that day in Austin.
"You can see Coach Smith working it out," Kyle Smith recalled. "As a head coach, as a play caller, you have your visions of how you're going to utilize things and how you see it playing out, the different calls in his head and what he's going to have these players do."
You could see the gears of Arthur Smith's mind working in hyperdrive as Robinson ran, cut, built out his routes and caught passes for the Falcons.
"When you're live, you feel it," Kyle Smith said. "You feel twitch. You feel speed. You feel power. I think that part for Coach Smith was right there. He felt it. It's right there. It's right in front of you."
And so, the dominos cascaded in a line as the plan to draft Robinson further solidified.
After the workout ended, the Falcons took Robinson to dinner. And when in Texas, you eat local. So, Terry Black's BBQ it was.
Falcons defensive lineman Ta'Quon Graham joined the group for dinner. Graham and Robinson were teammates at Texas before the Falcons drafted Graham in 2021. Graham, Arthur Smith said, put away a "dinosaur rib" with ease, but his presence at the dinner also gave the Falcons another glimpse into who Robinson is as a teammate and friend.
Smith said you could see in Robinson and Graham's interactions with each other how much respect and friendship there was between the two. That stuck in Arthur Smith's head as he returned to Atlanta.
"Just those interactions, I mean, they're real," Arthur Smith said. "It's genuine. It's not one of these phony, 'Hey, I'm made for Instagram,' or whatever social media... and then the guy is a complete fraud. This guy is authentic, and he is real."
Fontenot felt Robinson's authentic nature, too, in much of the same way the Falcons felt it with Drake London before they drafted him at No. 8 overall the year before.
"They're good. You want your kids wearing these jerseys. You want to buy your kid a Bijan jersey or a Drake jersey," Fontenot said.
This Austin trip completed the picture of which the Falcons were forming, painting and creating of Robinson. It's a painting that was years in the making. It's something that began with Fargnoli and carried through to the end, when the Falcons ultimately drafted Robinson.
"You look all the way back to the very beginning," Fontenot said, "to that first area scout who put a grade on him."
So, as it was when the Falcons were on the clock with the No. 8 overall pick in the 2023 NFL Draft and Robinson was on the board, there was no doubt.
The picture of Robinson was clear.
"It was an easy pick, man. It really was," Kyle Smith said of drafting Robinson. "The amount of work that went into it. The conviction we had from Day 1 to being right on the clock, it was an easy pick."
Take a closer look at the newest member of the 7 club, Bijan Robinson! Robinson was a first round draft pick for the Atlanta Falcons in the 2023 NFL Draft and will wear the number 7 jersey.