During his first four games as a member of the Falcons, Todd Gurley's play fluctuated between average and good. He entered Sunday's game against the Carolina Panthers with 254 rushing yards and four touchdowns.
Right from the jump against Carolina, it was clear Gurley was in a zone only the league's best running backs can reach. He was breaking tackles, gaining the edge on outside runs and showing burst that many believed he no longer possessed. The former All-Pro carried the ball 14 times for 121 yards – an average of 8.6 yards per carry – and one touchdown. He also caught four passes for 29 yards.
Although the performance wasn't enough to get Atlanta its first win of the 2020 season, it was something fans hadn't seen from a running back in quite some time. Gurley was the first Falcons player to reach 100 yards on the ground since Brian Hill did so in Week 16 of the 2018 season.
Thanks to his big outing, Gurley now has the third-most rushing yards in the NFL after Sunday's games. It wasn't entirely a solo effort from him, however, as the offensive line had one of its best run-blocking efforts of the season.
On Gurley's first run of a game – an 11-yard carry around the right end – the Falcons get a great push on the right side of their offensive line. Right guard Chris Lindstrom and right guard Kaleb McGary get a good double team and drive the end back into the linebacker, while tight ends Luke Stocker and Hayden Hurst do the same on the edge. Stocker and Hurst make the key blocks, with Hurst climbing to the second level to truly turn this into a big play. Their blocks leave a one-on-one matchup with Gurley and the corner, a matchup Atlanta will take any time.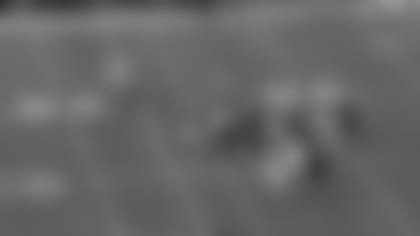 Atlanta's first drive ended with its greatest highlight – a 35-yard touchdown run. Left guard James Carpenter didn't have a perfect game – earning a 56.8 grade from Pro Football Focus, but on that run, he was absolutely flawless. He drove his man out of the gap and opened up a huge hole for Gurley to hit at full speed. Blocks by Lindstrom, center Alex Mack and receiver Russell Gage sealed off the hole, and Gurley didn't slow down until he reached the end zone.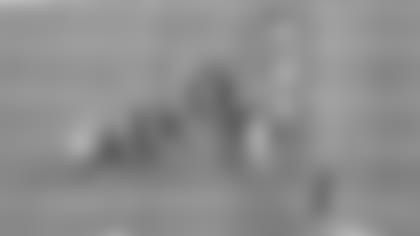 Gurley carried the ball just one more time in the first half after that touchdown run as the Falcons turned to Brian Hill and their passing game on following drives. Hill also played well against the Panthers, carrying the ball six times for 39 yards, including an 11-yard run in the second half.
After halftime, the Falcons turned back to their run game with more consistency. While the offensive line gave Gurley some nice holes against Carolina, his first carry of the second half, a 7-yard run around the left side showed just how much agility he has left.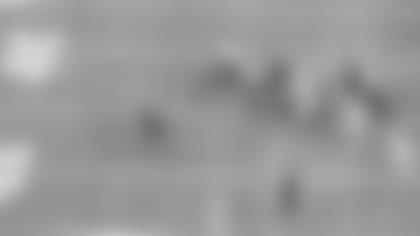 It wasn't the most substantial run, but it's the type of lateral agility that many believed Gurley no longer possessed and it's the reason Falcons fans should be optimistic that more good days are ahead for the running back. That 7-yard gain on first down set up possibly the best stretch of the contest for Gurley.
He followed up that run with a 24-yard sprint on the following play and a 14-yard sweep around the right side. On both plays, the blocking was again excellent. Seven Atlanta players finished with a PFF run blocking grade of 65 or higher, including four of the five starters on the offensive line.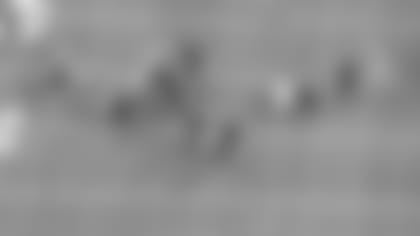 This zone run was blocked perfectly and allowed Gurley to get to the second level and make multiple defenders miss. Downfield blocks by receivers like Calvin Ridley turned this run from a good one into an explosive play.
On Gurley's 14-yard run, the Panthers were determined to stop Atlanta's ground game and moved eight men into the box. The Falcons simply ran around the bulk of the defense, pulling McGary as a lead blocker around the right end and setting up leverage blocks for Hurst and Zaccheaus. Atlanta has built its offensive line to make blocks on the move, and they were very effective at doing just that on Sunday.
According to Sharp Football Stats, Gurley had a success rate of 64.3 percent of his runs against the Panthers, which was 15.5 percent higher than the league average in Week 5. Notably, he was successful on 100 percent of his five carries off left tackle, a testament to Jake Matthews's performance.
While Gurley was very successful on his outside runs, he did not fare as well between the tackles. On the other hand, Hill was graded as effective on each of his four runs between the tackles. The Falcons could have a dynamic inside-outside tandem forming in their backfield.
But Hill wasn't doing it on his own, either. On his longest run of the game, every single Carolina defender within reach to make a tackle was blocked. There were no mistakes by the offensive line and the execution allowed for an 11-yard gain.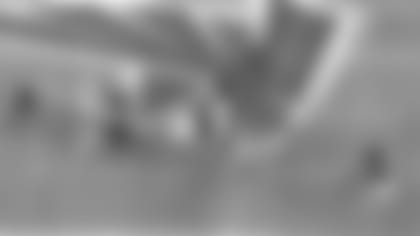 Atlanta sought to upgrade its run game this offseason by bringing in Gurley. It was a move many viewed as risky but with a considerable amount of upside. On Sunday, Gurley showed just how high his ceiling still is and that the Falcons can form a sustainable identity on offense with their run game.
For a team looking for answers heading into Week 6, they are at least erasing concerns about one of the top questions about the Falcons entering the season.