The Atlanta Falcons want to pressure opposing quarterbacks more frequently in 2020 than they did in 2019, hoping that pressure will lead to more sacks, turnovers and, ultimately, wins. In Week 1, however, the Falcons take on the Seattle Seahawks and Russell Wilson, who is arguably the best quarterback in the league when under pressure.
To say that Wilson is elite when forced to improvise in the face of pressure is actually an understatement. He's superhuman.
According to Pro Football Focus, Wilson is the only quarterback since 2012 – the year he entered the league – to face pressure on over 40 percent of his dropbacks. Despite that consistent barrage, he's also first among all qualifying quarterbacks during that time with a 79.6 passer rating while under pressure.
That poise under pressure was on display during Seattle's 7-2 start last season when Wilson was very much in the MVP race. PFF notes that Wilson was under pressure on 41.6 percent of his dropbacks during that stretch, but he had a staggering 112.1 passer rating on those snaps, which was 12.3 points higher than the average passer rating among quarterbacks when they faced no pressure in 2019.
"He's really accurate and makes really good decisions with the ball. I think he might have been 30 touchdowns and a small, single-digit number of interceptions," Falcons coach Dan Quinn said. "For a guy that's bold enough to take shots down the field, to have that type of ratio, I think that goes to show you how accurate he is. … A lot of explosive plays come when he's on the move. It's almost like two plays. First one, starts in the pocket. Second one, when he breaks contain."
Now, the Falcons aren't going to suddenly begin dropping all 11 defenders into coverage against Wilson, and they certainly don't need to. As explained above, Wilson almost has to be great in the face of pressure, because he gets pressured a lot. Wilson threw for 4,110 yards with 31 touchdowns and just five interceptions, but he was also sacked 48 times, which tied him with Matt Ryan and Kyler Murray for the most in the league.
Teams will have their chances to get Wilson on the ground because of Seattle's performance on the offensive line and how often he tries to extend plays with his legs, but it's a huge risk-reward proposition for defenses. If a breakdown in the secondary occurs while Wilson is buying time, he has the ability to flip the fortunes of both teams in a split second. In fact, breakdowns don't even need to occur, that's how good Wilson is.
The play above was, according to Next Gen Stats, the second-least-probable completion of the 2019 NFL season with just a 6.3-percent completion probability. Wilson was responsible for four of the 15 least-probable completions in the NFL last year, most among all quarterbacks.
Somewhat of an expert on the matter, Wilson gave a TED Talk earlier this year on the topic of staying focused under pressure. While all athletes condition their bodies, he learned the importance of conditioning his mind so that he remains level-headed in the toughest moments.
"What I found out was this: That mindset is a skill, it can be taught and learned," Wilson explained.
His ability to succeed in even the most unlikely scenarios forces defenses to be airtight in all facets. It's not enough for the Falcons to have a great game up front in Week 1 if the secondary is giving ground to Seattle's wide receivers, and vice versa. The front end and the back end of the defense must be in sync.
"I think the discipline to stay connected to the player that you're guarding – even if it was a zone and it turns into a man – you better really stay connected because he can rip it from a number of spots on the field," Quinn said.
Including the playoffs, the Falcons are 3-3 against Wilson during his career. The common theme in their three victories speaks to the importance of getting pressure up front and locking things down in back. When Atlanta has managed to sack Wilson at least twice and force a turnover, the Falcons have not lost against Seattle. If they don't manage to accomplish both of those objectives, however, history says Wilson has the upper hand.
Under coach Pete Carroll, the Seahawks' identity has largely been centered around running the ball and playing championship-caliber defense. That's not a bad approach to take – it won Seattle a Super Bowl, after all – but with one of the game's generational quarterbacks leading the offense will the Seahawks finally, as their fans like to say, let Russ cook? If they decide to in Week 1, the Falcons could be in store for a very different game than the one that played out in Week 8 last season.
In that game, a 27-20 victory for Seattle, Wilson only threw the ball 20 times as the Seahawks rolled to a big early lead before halftime. He was very efficient, completing 70 percent of his passes for 182 yards and two touchdowns with no interceptions. If Wilson is asked to drop back more often in the season opener, the Falcons will have more chances to get him on the ground, but they will also be forced to defend one of the league's great heat-check players more frequently.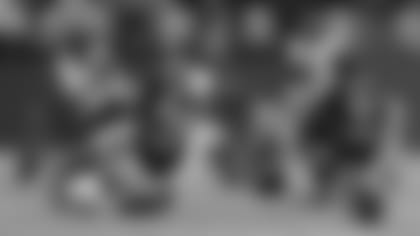 "I think it's mostly his ability to extend plays and find open guys and use his to make plays," Falcons linebacker Deion Jones said when asked what makes Wilson unique. "His football IQ is out of the roof. We've just got to do our job with him."
Sacking Wilson isn't even a guaranteed path to victory, or at least it wasn't in 2019. He was sacked at least four times in seven games last season, and the Seahawks went 5-2 in those contests. Ironically, Seattle lost the only game in which Wilson was kept clean. In 2018, however, the Seahawks were just 1-4 when Wilson was sacked at least four times.
There's no number for guaranteed victory when it comes to Wilson. But getting pressure on him does force the Seattle quarterback to make those highly improbable plays happen. In 2018, those plays weren't happening at the same rate they were in 2019 and the team's record reflected that. Who's to say how things will shake out in 2020?
But one fact still remains: When other quarterbacks might falter in the face of pressure, Wilson can bend the game to his will in a way that only a handful of players can. So, although a lot of attention will be paid to the Falcons' pass rush in Week 1, slowing down Russell Wilson will take all 11 players on the field executing their jobs on every single play.