Following the decision to let go head coach Dan Quinn and general manager Thomas Dimitroff on Sunday night, Falcons owner Arthur Blank and team president and CEO Rich McKay held a press conference to explain their thought process.
Blank and McKay did discuss the reasons behind parting ways with Quinn and Dimitroff, but they also were asked a variety of other topics dealing with the future of the organization, the impending coaching search and the immediate goals for the team under Raheem Morris.
Here were the five biggest topics to come out of Blank and McKay's press conference:
Falcons' decision 'not just a response to a 0-5' start
When asked about the decision to move on from Quinn and Dimitroff, Blank explained it was not made because of the team's current 0-5 record. Blank has shown patience with the regime that was in place, getting a big enough sample size before making a change.
Ultimately, the team's performance in recent seasons, Blank felt, did not match the standards he's set for the organization.
"It's called lack of winning," Blank said. "So, the problems we have to solve are all of the problems that are ahead of us that keep us from winning. And I'd add that this is not just a response to a 0-5. It's a response to, really, almost three-and-a-half years – post-Super Bowl – we've been playing less than .500 ball. So, when you look at that many games over a long period of time and you adjust for injuries, which every NFL team has, we just haven't performed to the level that we're capable of. We think our talent is better than we have the record at this point, and for a variety of reasons we weren't getting the results that we needed to get. So, the time for the change was now."
After the Falcons finished the 2019 season on a 6-2 run, Blank determined that Quinn and Dimitroff had done enough to receive the opportunity to show they could build upon that strong finish. All three parties entered the year with a clear goal: Returning to the playoffs for the first time since 2017.
"We made it clear, and they made it clear – it was kind of a mutual, collateral, togetherness – that this year was going to be a playoff year or not – a bust, if you will," Blank said. "Dan signed up for that, and so did Thomas, and so did this owner, and so did Mr. McKay, our president and CEO. And our fans did too. So, it's pretty clear when you go 0-5 that's not going to happen.
"I think we, in my view, made the right decision at the end of last year. … The team was 6-2 in the back half of last year. We were fifth in the league in offense and eighth in the league in defense and had won three away games to opponents that were really good and playing for high purpose at that time. So, in my opinion, we had every reason to think that this situation, if anything, would get better. It would roll over and, in fact, get better, given free agency and draft, etc. But it hasn't. When you go back and look back at the last three years plus five games, our record has been less than .500. That's not what I'm about, personally. It's not what I promised Atlanta in 2001 when we acquired the franchise."
Arthur Blank's vision for Falcons' future: It's called winning
Blank made his desire to win very clear during the press conference. If a lack of winning was the catalyst for Sunday's moves, a culture of winning is what he wants his new regime to install moving forward. That was the point he made when asked what he wants the new direction of the team to be.
"Direction? It's called winning," Blank said. "What was that expression from Al Davis? He said, 'Just win baby' or something like that – may he rest in peace. I think we need to win, and that's what our fans are counting on, that's what they're signed up for. We ask them for a lot: Their resources, their commitment, their energy, their passion, their time – and all of that of their families as well."
The last decade has been the most successful in franchise history, but Blank strives to be best-in-class in all of his ventures. After stating his pride in the Falcons' home of Mercedes-Benz Stadium, he expressed that the on-field play hasn't matched the venue's offerings, something he believes fans should be guaranteed.
"We've created the right environment in the stadium, but we've got to have a better set of results on the field and our fans are entitled to that. Our organization is, certainly, but our fans are entitled to that, and that's been my commitment."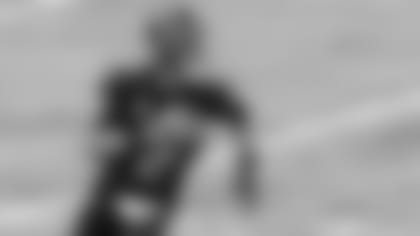 Decision on Matt Ryan's future won't be made by Blank
A large reason the past decade has been the most successful for Atlanta is because of quarterback Matt Ryan, the No. 3-overall pick in the 2008 NFL Draft and the first selection of Dimitroff's tenure.
The 35-year-old quarterback and former league MVP has previously stated he'd like to play until he is 40, and he remains under contract through the 2023 season, when he will be 38 years old. When asked about Ryan's future with the team, Blank expressed his love for his franchise quarterback and the desire for him to remain with the team. However, Blank said he wouldn't be the one to make that decision.
"Matt's been a franchise leader for us," Blank said. "A great quarterback, one of the leading quarterbacks in the last 13 years in the NFL. I hope he's going to be part of our plans going forward, but that will be a decision that I won't make. Matt has the ability to play at a very high level, even at this age. Whether that is going to continue or not, I'm not sure. I appreciate his willingness to consider doing that, and the level of what he's played for us for 13 years, which has been incredible. So, we'll have to see. But, then again, that's going to be a decision at the end of the day that part of it will be up to the player and part of it will be up to the coaching staff and whether or not Matt can keep himself together. God-willing he'll be able to do that and play at the level that he's capable of playing at."
Raheem Morris could earn consideration for Falcons' head coach job
The Falcons named defensive coordinator Raheem Morris as interim head coach. A former head coach with the Tampa Bay Buccaneers from 2009-11, Morris has been held in high regard as an assistant during his six seasons as an assistant coach in Atlanta.
Blank said he believes Morris's previous experience as a head coach will benefit him in this opportunity to lead the Falcons as well as the fact that he's worked on both the offensive and defensive side of that ball since arriving in Atlanta. With a strong showing leading this team, Blank said Morris could get himself consideration for a permanent head coaching role with the Falcons.
"Absolutely," Blank said. "If Raheem ends up 11-0, he's going to be certainly a candidate. I mean, that's what his aspiration is. I do think, and I said this to him – it's nothing to do with the timing or whatever, but we were chatting – I said often, my experience with interim head coaches has been no more than three games. Once when Dan Reeves left earlier and then, as Rich mentioned, when Bobby Petrino left. So, it was only a matter of three games. This, I think, is unusual, 11 games to go. I think it's to Raheem's advantage. I know his aspirations, long term, are to be a head coach again. He's learned a lot since his Tampa Bay days; he's learned a lot with us, and I'm sure he's more mature and more polished and more finished aspirationaly and technically. I think at 11 games he'll have a chance to show his own capabilities, and I think he's looking forward to that."
Blank will let new GM and coach determine future of roster
Despite the major changes in Falcons leadership, neither Blank nor McKay were willing to say the Falcons were staring at a complete rebuild. However, they also didn't rule one out. The reason for that is simple: They don't view that as their decision to make.
Their energy right now is focused on finding the general manager and head coach they believe will get the Falcons to meet their high standards. Blank has always been a supportive and attentive but relatively hands-off owner when it comes to the decision-making process of the football team. It doesn't sound like that is going to change.
"They may have a different approach," Blank said. "It's not our job to tell them. You hire people like that, the last thing you want to do is tell them 'this is the way you need to do your job.' You really want their thinking unencumbered by anything. That's the way it should be. I think both Rich and I will become very good listeners and understand where people are coming from, and we'll figure out the very best formula for going forward that will produce the kind of wins for us that are important for the franchise."
The Falcons set up a new hierarchy prior to the 2020 season with McKay at the top of all football operations. With Dimitroff gone, he will have day-to-day oversight of football operations. But McKay won't be making any wholesale changes with the roster. He wants to leave the cupboard stocked for the next decision makers.
"You can't begin to look at the roster in that way and try to tie the hands of the next people that are going to lead this franchise – the head coach and the general manager," McKay said. "They'll make those determinations. We're all disappointed we're sitting here right now at 0-5 with this roster, no question. But we've got a lot of good football players. They'll determine what mix of those players should stay on the roster going forward and what mix shouldn't. I'm not the one that's going to answer those questions for them."
The Atlanta Falcons have announced Raheem Morris as interim head coach.