It was in one of his very first OTA availabilities this offseason when Arthur Smith was asked about his core group of receivers. In the months leading up to the voluntary offseason programs, the Falcons organization had worked to rebuild the room in the wake of Russell Gage's departure in free agency and Calvin Ridley's suspension.
The Falcons drafted Drake London. They signed a handful of big-bodied receivers like Auden Tate and Geronimo Allison in free agency, and went out and traded for Bryan Edwards. So, at the time, it begged the question: Is this the archetype of the receiving weapons you're looking for?
Smith said, sure, the Falcons did want to get bigger at the position. However, he did add its not like he discriminates against receivers under six feet tall. Don't forget about Olamide Zaccheaus, he all but added.
This addition could have been viewed as a joking aside. But tacked on with other comments Smith has made about Zaccheaus in the last year, it seemed to track. When it comes to Zaccheaus, Smith has said on a few occasions that he's one of his favorite professionals and players to coach.
At first, it could be because of the fun back-and-forth they share about their respective colleges. Zaccheaus went to Virginia. Smith to North Carolina. There's a little ACC rivalry there to be sure.
"He knows Lebron is the best basketball player." Zaccheaus said. "Coach went to UNC so he's gonna say it's Jordan, but everyone know it's actually Lebron."
So, Smith could be joking. This could be why he likes Zaccheaus so much. But when asked about his comments. Smith said oh no: "I have been serious."
"I have a great appreciation about guys like OZ," Smith said.
So, why is that? Smith explains it has as much to do with Zaccheaus, the person, as it does Zaccheaus, the player.
"He was an eighth-round guy, and came up the hard way in the NFL," Smith said of Zaccheaus' undrafted free agent status. "He's dependable, smart, can play multiple spots."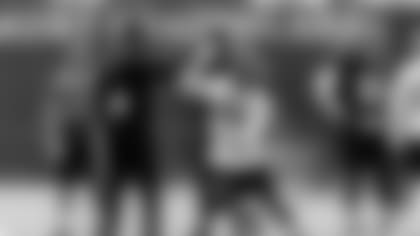 Smith went on to say Zaccheaus' skill set and position in the offense is an underrated one. In his offense, Smith values versatility, and that's a trait Zaccheaus has.
"When you get into game day, it takes one play and a guy can go out and if that's 50 percent of your game plan, you're in a bad spot," Smith explained. "Unless you've got guys that can go in there and play the Z, go in there at F, they can order X."
Fortunately for Smith, Zaccheaus is that guy. He's even the Falcons emergency quarterback, too, he added.
Smith slightly smiled, too, saying that as much as he doesn't like the University of Virginia (another jab at Zaccheaus' alma mater), he'd actually compare Zaccheaus to that of another Virginia grad: Darius Jennings, who Smith coached in Tennessee.
"DJ was the same thing," Smith said. "Like in any industry, if there you were, going to to look for somebody to hire for a job, he would be a guy I would highly recommend."
From Zaccheaus' perspective, he knew early on that he wanted to establish trust as he went through the changes 2021 brought the Falcons organization upon the hires of Smith and Terry Fontenot.
"I just feel like trust is a big thing in any organization, and I tried to establish a trust early on with all of the coaches and I think people see that," Zaccheaus said. "When you trust somebody and they trust you it makes the relationship that much better."
And that's what it would seem Zaccheaus and Smith have: Trust.
Even between jabs about their former colleges, there's a certain level of trust intact between play-caller and play-maker. It's why the Falcons tendered Zaccheaus and brought him back in 2022. It's why he's an important - if overlooked - part of this offense.
Dependable, smart and versatile, that's how Smith views Zaccheaus, and that's why he believes in him as a player in this league. Interested in Falcons tickets?
Join us in 2022 for 9 Regular Season home games! Let us help you find the seats and benefits that interest you!