You've already read about how the Falcons decided on Drake London with the No. 8 overall pick in the 2022 NFL Draft. But what about the rest of the draft class? How did the Falcons find them? How did they land on them? Through conversations with area scouts and position coaches, those stories unfold. Every Tuesday for the next seven weeks, we'll attempt to tell those stories for every 2022 draft pick by the Falcons.
Arnold Ebiketie and Troy Andersen's stories were already told last month, while Desmond Ridder's began June anew followed by DeAngelo Malone's. This week we tell the never-before-told story of the moment Tyler Allgeier bulldozed his way into the Falcons' line of sight, showing Atlanta a toughness that couldn't be missed.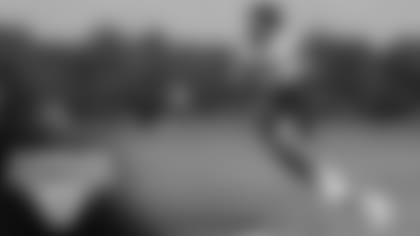 Falcons area scout Joel Collier remembers the exact moment he was sold on Tyler Allgeier.
It was in the final minutes of BYU's game against Washington State in 2021. Allgeier had already surpassed yet another 100-plus rushing yard game. He'd also scored two touchdowns. But with the game entering into the final four minutes, BYU only held onto a slight 21-19 lead. It was obvious they needed to run the clock out.
So, they put the ball in Allgeier's hands... and they did it again... and again... and again.
BYU handed the ball off to Allgeier seven times in a row until the final minute of the game came and went, ultimately sealing the win for Brigham Young University. They had successfully burnt out the clock, with Allgeier accumulating 51 yards on those seven carries.
Perfection in football does not exist, but if it did, that final four minutes of work by Allgeier was as close to perfection as a running back could get.
So, when Collier passed Allgeier's name around the Falcons facility, it wasn't shocking to find out that specific performance caught the eye of Michael Pitre, too. Pitre is the Falcons new running backs coach, and he saw something he, too, liked in Allgeier based on that performance.
"Everyone knew he was getting the ball and he was determined they came out of that game with a win," Pitre said. "I think that speaks to not only his physical toughness but his mental toughness, too."
The word "toughness" comes up a lot when you talk to people about Allgeier. Some would go so far as to say the running back is toughness personified. He has the stat line to prove that toughness, too.
Allgeier is coming off back-to-back seasons with over 1,000 rushing yards. Those two seasons saw the running back rank in the top-5 in school history in a number of categories that included total rushing yards and rushing touchdowns. The BYU product is a decisive runner that allows the blocking scheme to play out before him.
He's also a tough blocker in his own right, having played majority of the 2019 season at linebacker, something Collier and Pitre said shows up in his football IQ. The story goes that Allgeier was so low on the running back category of the depth chart that the coaching staff asked him to play linebacker, as that position group was a little beat up at the time. So, Allgeier did. Never one to shy away from contact, Collier and Pitre said that year at linebacker made Allgeier a better running back when he returned to the position in 2020.
For starters, he understands defenses in a way others may not. One can see he understands fits, front structures and blitz pick-ups.
"It's all those different things that you try to help running backs understand who have never been on the other side of the ball," Pitre said. "I think that is one of the reasons he was able to be as productive as he was, because he understood defenses and how they were going to try to stop him and stop their offense."
As a runner, though, the toughness of which every one talks about shows up in his yards after contact, with 70.9 percent of his total rushing yards of 2021 coming after initial contact. And yes, you read that right: 70.9 percent.
In a way, Collier said Allgeier - along with 2021's No. 2 overall draft pick, Zach Wilson - revolutionized BYU's offensive attack.
"I think Tyler would probably say thank you to Zach Wilson and Zach Wilson would probably say thank you to Tyler," Collier said. "I think what happened is Zach really benefited from the fact they were a balanced offense because of (Tyler) and the backfield. Tyler wasn't the guy who started that 2020 season but they quickly realized what he was and he started to become the guy. What happened for Zach is that Tyler created a balance."
Defenses had to honor the run - they had to honor Allgeier - thus freeing up Wilson in the process.
Collier dove into this explanation a bit more, saying when you watch so much college film you realize college football is a horizontal game.
"Everybody is spread out," Collier said. "So, the running backs these days have these gigantic gaps to run because the defenders are covering outside. BYU didn't play that game."
They played the game tight end to tight end, Collier said. This meant Allgeier had to fit inside, more often than not taking on the one defender who goes unblocked.
"It's a BYOB," Collier said, "a Be-Your-Own-Blocker scenario."
And what did Allgeier do in those moments? Well, it's actually easier to describe what defenders did in those moments, instead.
"They'd stick on a block a little longer because they don't want to tackle the guy," Pitre said.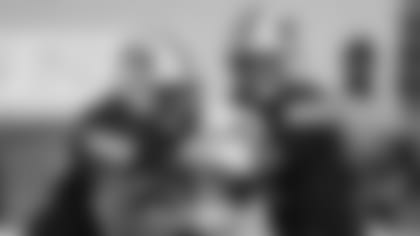 In the league, 15- to 20-yard runs are harder to come by than they are at the college level. You're looking at more four- or five-yard runs instead. Pitre noted Allgeier understands this so well because he knows this is his type of game. He's not a break-away speed running back. He's a bowling ball that knows exactly where the pins are.
"Some guys never see it," Collier said of defenders' tackling attacks when guarding the run. "He does."
Allgeier not only sees it, he welcomes it.
"Guys have to make a business decision when they have to tackle him in the second half because of his style of play," Pitre said. "... They have to strap up their chin strap and helmet and make sure, 'Hey, do we really want to do this through 60 minutes?'"
And truly, it's a full 60 minutes they have to contend with Allgeier, as the waning minutes of the Washington State game can attest.
So, with the No. 151 overall pick in the 2022 NFL Draft, the Falcons brought that toughness to Atlanta. They did so because it's something this staff values.
It's a mold Allgeier more than fits.
"He embraces the physicality of the game of football, which - starting at the top with Coach (Arthur) Smith - is ultimately the standard and the identity of what we want this thing to look like," Pitre concluded "That's really who Tyler is." Interested in Falcons tickets?
Join us in 2022 for 9 Regular Season home games! Let us help you find the seats and benefits that interest you!