---
---
The year-long evaluation process for Falcons new wide receiver Drake London began with a highlight-filled performance against Colorado. It continued with conversations at each checkpoint in the offseason, and at a private workout in Southern California in April before the Falcons made London their first-round pick.
Here's how the Falcons landed on London.
---
---
In six out of the eight games Drake London played in his final year at the University of Southern California, he had at least 130 receiving yards. The number would likely be seven if it weren't for a season-ending ankle fracture that London suffered in the second quarter against Arizona, in which he had 81 yards and two touchdowns.
Simply put, London had his way with defenses in 2021. Still, for Falcons national scout Joel Collier, one game stands out.
After suffering an 18-point loss to Oregon State the week prior, the Trojans needed a win as they took on Colorado on October 2. London, who was then leading the nation with 540 receiving yards, would need to be great for them to have a chance.
In arguably his most highlight-laden game of the season, London delivered. He made Randy Moss-Esque catches, jumping and snagging balls over the outstretched arms of Colorado defensive backs – sometimes with only one hand – en route to nine catches for 130 yards and one touchdown in the win.
It was not his best statistical game of the season – that came against Notre Dame, where he had 15 catches for 171 yards – but this performance impressed Collier because London dominated even though Colorado focused on neutralizing him.
"No matter what they did, they couldn't [stop London]," Collier said. "When a team's defense is structured to take one guy away, and he still succeeds, it catches your eye, quick."
Six months later, the Falcons selected London with the number eight overall pick in the 2022 NFL Draft. The year-long process began with Collier's evaluations, continued with conversations at each checkpoint in the offseason, and London's skills were confirmed at a private workout at the University of Southern California before the Falcons made him their first-round pick.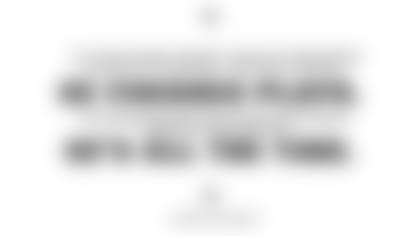 ---
---
Falcons General Manager Terry Fontenot began to watch film on London sparingly throughout the season after hearing from scouts that London had first-round potential. Immediately one thing caught his attention.
London never ran out of bounds.
No matter the situation, the time on the clock, if there were defenders near him, London was looking to run through the opposition.
"Put on any game. Find me a couple times where he runs out of bounds – because he doesn't," Fontenot said while hitting his desk for emphasis. "He finishes plays. He lowers his head. He's tough and physical. Some guys are selective. He's all the time."
The first time Fontenot chatted with the Falcons' full scouting brass about London was in February. The Falcons spend two weeks setting their draft board following the Senior Bowl. It's the first chance for scouts from the area level up to Fontenot to discuss players together. These meetings are one of Fontenot's favorite parts of the evaluation process because they are based solely on how a player has performed in games. The group watches film together and scouts make their cases for players they have evaluated.
London's tape was undeniable.
"He plays fast; he's tough," Falcons director of college scouting Anthony Robinson said. "He catches everything that comes in his area."
Robinson saw London for the first time in 2021, a few weeks after the Colorado game, for his scheduled visit to USC. On that trip, Robinson came away most impressed with London's competitiveness. The way London attacked every rep and drill at practice with the same ferociousness as he did in games.
"He was a pretty easy guy to scout," Robinson said.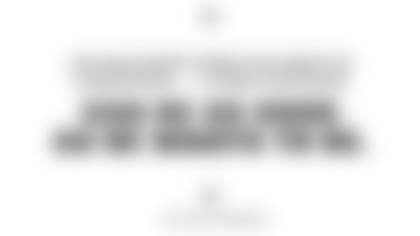 ---
---
With pro days, NFL Combine performances, and interviews with coaches and Falcons personnel staff, players' draft board positions often change from where they are first placed at the February meetings.
But for the Falcons, London's position on their board never wavered.
The Falcons' biggest questions were answered following the NFL Combine. Fontenot, coach Arthur Smith, offensive coordinator Dave Ragone, wide receivers coach T.J. Yates, and President & CEO Rich McKay flew to USC for a private workout with London, who they had not seen play since his injury.
Yates and Ragone threw passes, and they put London through drills to test his speed and ankle, which was back to full strength.
"The fact that he had the injury, we wanted to see him move around and see him do some different things," Fontenot said. "We were able to go and just do that on our own, and that was very important."
The workout eased their concerns, and there were no questions about his character. Fontenot saw him as the perfect fit for the team's ethos. So when London was there for the taking at eight, and sat as the highest player on the Falcons draft board, they jumped to get him.
"You feel really good when you draft a player that everybody wanted," Fontenot said.
"He checked all the boxes that we look for," Robinson said. "There was nothing that was left on the table with him."
London will have massive shoes to follow as the Falcons' first-round pick. Last year, Kyle Pitts lived up to the hype surrounding his selection as the highest tight end picked in NFL history, breaking franchise and league records and earning a Pro Bowl nod. While the Falcons are not expecting London to be Pitts – or any other player for that matter – they know that his ceiling is sky-high.
"He has everything you want in a receiver," Robinson said. "Now, in terms of everything else, he has to put in the work, understand the scheme, pick up the offense, and you know, what we want him to do within the scheme. But I think this dude can be as good as he wants to be." 2022 Season Tickets Now Available!
Our Longest & Most Flexible Ticket Payments
Instant Member Benefit Access
Best Available Seat Locations