You've already read about how the Falcons decided on Drake London with the No. 8 overall pick in the 2022 NFL Draft. But what about the rest of the draft class? How did the Falcons find them? How did they land on them? Through conversations with area scouts and position coaches, those stories unfold. Every Tuesday for the next seven weeks, we'll attempt to tell those stories for every 2022 draft pick by the Falcons.
Arnold Ebiketie and Troy Andersen's stories were already told last month, while Desmond Ridder's began June anew, followed by DeAngelo Malone and Tyler Allgeier's stories. With only two stories left to be told in this series, we travel down the road to Athens, where Justin Shaffer and John FitzPatrick spent their college years. Up first, we'll take a closer look at Shaffer, the anchor that held the Falcons' attention through 2021.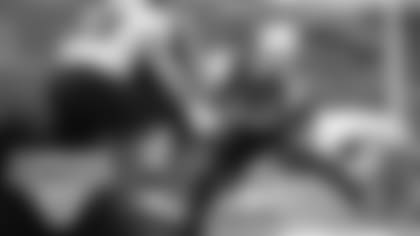 Dwayne Ledford isn't too far removed from his college coaching days. So, when he's evaluating young talent coming up through the draft, he makes a point to take an extra look at just who these offensive line prospect are facing day in and day out.
Prior to making the jump to the NFL to become the Falcons offensive line coach, Ledford coached the same position at NC State from 2016 to 2018. During that time, his linemen faced future NFL talent every single day at practice.
"The defensive line there at the time was Bradley Chubb, B.J. Hill, Justin Jones," Ledford listed. "All those guys went in the first few rounds of the draft. We always say iron sharpens iron, but our offensive line got to go up against that defensive line every day at practice."
Ledford said it made an obvious difference when that particular offensive line faced off against other opponents on Saturdays.
But what does this have to do with Justin Shaffer, the Falcons No. 190 overall pick in the 2022 NFL Draft? A lot, actually, when you consider just who Shaffer faced every single day when he was playing just an hour away from the Falcons facility in Flowery Branch.
After winning the national championship this January, the University of Georgia saw 15 Bulldogs drafted throughout the 2022 Draft, breaking the school record from the year before. Eight of the 15 were defensive players. Most notable, though, was the fact that five of those defenders were taken in the first round, a feat no other college team has accomplished in the history of the draft.
All of this to say this: On any given day (outside of a Saturday game day, of course) it was Shaffer lining up opposite that of Travon Walker, Jordan Davis, Quay Walker and Devonte Wyatt, just to name a few.
"When you think about Justin, you think about what he went against every day at practice," Ledford said. "And not just in practice, but in the weight room, too, and all the competitive things that you would go through in a program. He's doing it side-by-side all those guys, competing with them."
For those who saw Shaffer on that Georgia line the last two years, chances are you also saw the jump he made in his play from his junior year to his senior year. It's a jump that caught the attention of scouts in the area. Falcons area scout Shepley Heard was one them.
Having made 27 starts over the course of the last two seasons (26 of 27 at left guard), Heard said Shaffer's jump came because of that accumulation of reps.
"He made a significant jump (in 2021). There's no doubt," Heard said. "It was just that experience. He was a first-year starter last year. You had (Jamaree) Salyer next to him and it's almost like there was a comfort level there when you have that guy next to you. Those guys worked really well with each other."
Heard also brought it back to something Ledford pointed out, too: That it also helps when "you're going up against NFL talent every day."
Ultimately, though, when it came down to the pick itself, the Falcons weren't looking at those around Shaffer. They were looking at Shaffer himself, and that's because they saw something in him that fit what they were looking for.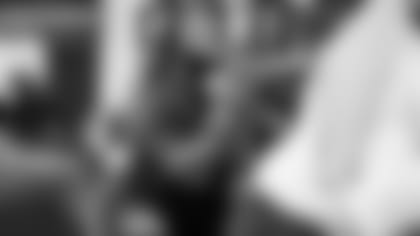 Talking to both Ledford and Heard about what initially caught their eye when it came to Shaffer's play, they both said roughly the same thing: They liked his ability to anchor himself where he needed to in order to keep the pocket clean.
To be honest, Heard said, finding someone with a natural ability to anchor himself the way Shaffer does is difficult to find.
"When I talk about anchor I talk about guys in pass protection who are not getting driven back into the pocket, who are not getting driven back into the quarterback," Heard explained. "It's hard to find that with guys who are that big and that strong, especially playing in the SEC when you're going against top talent week in and week out, but you're stoning guys at the line of scrimmage and you're able to lock on and sustain them. Those are the players where you sit there and think, 'OK. This is going to translate to the NFL.'"
When Shaffer was put on Ledford's radar, the offensive line coach thought the same thing, noting "the power, girth and anchor" of which Shaffer plays with. Ledford said those three attributes set him up to withstand an onslaught of three-point techniques and elaborate rushing attacks when Georgia would throw the ball.
Then, when the Bulldogs would run it, Shaffer's short-area quickness intrigued Ledford, too. By the end of the pre-draft evaluation process, Ledford saw a player who he thought would fit what the Falcons are trying to build at the position.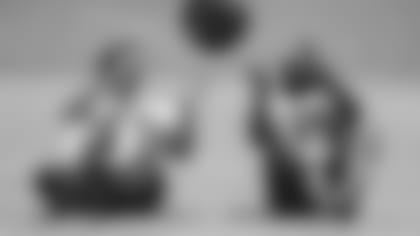 Ledford said there are certain points of emphasis which he and head coach Arthur Smith look for when bringing in linemen. They want to see guys who play through the whistle. They want these linemen to be around the football, constantly.
Gritty. Nasty. Tough. These are the words - and traits - the Falcons want their offensive linemen to have.
"Those are some of the core elements that we never want to deviate from in selecting guys to come and be a part of this team... We wouldn't want to make an exception to bring a guy in if he didn't showcase those things to us," Ledford said. "I think you see a passion from Justin in the way he plays, the style he plays with. His style of play aligns with what we value."
It's something that makes Shaffer stand out, regardless of who he's going against.
"I think he's what we're looking for," Heard said. "I think we need that guy. We need a guy who can get a push in the run game. We need a guy who can give us some anchor in pass pro. Now, you have a guy who has a lot of experience playing high-end football in the SEC, starting a lot of games in the last two years doing just that." Interested in Falcons tickets?
Join us in 2022 for 9 Regular Season home games! Let us help you find the seats and benefits that interest you!