You've already read about how the Falcons decided on Drake London with the No. 8 overall pick in the 2022 NFL Draft. But what about the rest of the draft class? How did the Falcons find them? How did they land on them? Through conversations with area scouts and position coaches, those stories unfold. Every Tuesday for the last seven weeks, we've attempted to tell those stories for every 2022 draft pick by the Falcons.
Last week, we looked to Athens, learning about how Justin Shaffer caught the eyes of Falcons coaches and scouts. This week, we close the Finding Falcons rookie series in the same place we began last week: Athens, Ga., where John FitzPatrick built a career that flew under the radar, but landed him with the Falcons.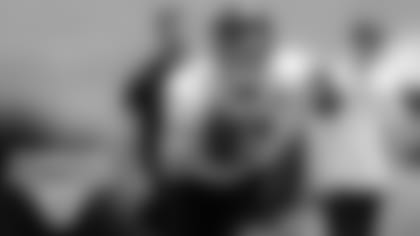 As the final rounds of the 2022 NFL Draft approached, Falcons area scout Shepley Heard overheard someone say John FitzPatrick, the tight end from Georgia, was still in play.
"Hell yeah," Heard remembers thinking in that moment. "Let's go."
And with the No. 213 overall pick in the draft, the Falcons called FitzPatrick's name, keeping him in the state he grew up in and the state that led him to a college football national championship title in 2021.
FitzPatrick came onto the Falcons' radar because he flew under others. FitzPatrick is not a flashy tight end. He's not going to dazzle in the pass game, and he's not going to rack up huge offensive numbers. Through four years in Athens, FitzPatrick had 17 catches for 200 yards and one touchdown.
At Georgia, fellow tight end Brock Bowers was the focal point of the room. With the Falcons, that'll be Kyle Pitts.
So, if Bowers and Pitts are the lightening, think of FitzPatrick as the thunder. Flash and awe is never going to be FitzPatrick's game, but toughness and physicality is.
"He's the guy who does the dirty work," Heard said. "He's the blocking tight end. He's big, physical, tough, nasty, always trying to finish guys."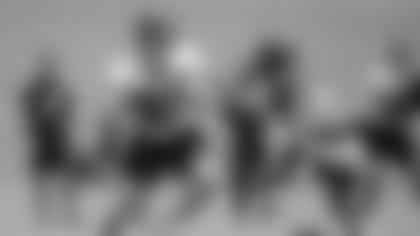 Standing at 6-foot-7, 250 pounds, FitzPatrick's size and strength is not something anyone can miss. But it's not size particularly utilized in the pass game. It's often found nestled beside an offensive lineman.
"There's a soft spot in my heart for the guy who does the dirty work," Falcons tight ends coach Justin Peelle said. "(FitzPatrick) did it, and he didn't complain about it. He just went about his business."
That attitude coupled with a physical presence that couldn't be overlooked made the Falcons final pick in the 2022 NFL Draft an easy one. Ultimately, FitzPatrick provided something unique (on a couple fronts) for the Falcons.
For starters, there was that size.
"This kid's got a lot of upside," Heard said, "but he brings size that we haven't had at that position in a while."
Secondly, though, is the way FitzPatrick plays the game. Perhaps a surprise to find out, but this physical, blocking tight end is difficult to find in the college game.
Players like Pitts have changed the way tight ends are used in college. They're almost extensions of the wide receiver room in certain offenses. The art of a gritty, hard-nosed blocking tight end is one that is slowly moving away. The Lee Smiths of the world are retiring, and in their place stands a new age tight end. But FitzPatrick isn't that. He's old-school, and that makes him a rarity.
"It's hard to find these tight ends that are putting their hand in the ground and coming off the ball, blocking and sustaining, driving their feet and finishing guys," Heard said. "It's a rare thing to see. So, when you turn on the film and see it you're like, 'Oh wow. I want that guy.'"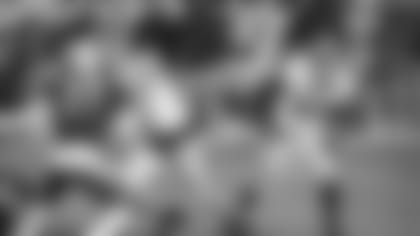 It was early on in the scouting process when Heard made this note about FitzPatrick. He felt there was a need for the Falcons to "start paying attention to this guy," especially considering Lee Smith's departure as well as Hayden Hurst's this offseason. The Falcons had some holes to fill at tight end, even with Pitts still playing a major role in the room and in the offense. Thus, the ball got rolling on FitzPatrick.
"Once everybody did (begin to take notice) he just started to gain momentum in our (scouting) room," Heard said. "We would talk about him, and then the coaches get involved and they liked him."
The Falcons - of course - made the hour-long drive to Athens for Georgia's pro day. Then, FitzPatrick swung by Flowery Branch for the Falcons' local day not too long after. The Georgia tight end grew up in the greater Atlanta area, attending high school at Marist, which is less than 15 miles from Mercedes-Benz Stadium.
The Falcons were able to get a lot of face time with FitzPatrick, and Peelle said he consistently liked what he saw.
From watching film on the tight end to actually seeing him live on the field, Peelle noted FitzPatrick was pretty easy to evaluate with all the tape they had on him going against some of the best talent college football had to offer in 2021.
"He works to finish," Peelle said, "which is a very big attribute in this organization."
That evaluation, though, doesn't happen if you're not looking for FitzPatrick. He's an understated part of a Georgia draft class that saw a school-record 15 Bulldogs drafted in 2022. As Heard says, FitzPatrick "has been in the shadows of these guys" who were drafted before him.
Truth be told, that seems to be OK with FitzPatrick. He knows who he is, and he thrives in the shadows, usually as the thunder rolls.
"He's not the guy who stands out," Heard said. "Everyone knows about the Jordan Davis's, the Trevon Walker's, all those guys. He wasn't that guy. Nobody talks about this guy, but he was there all the time. The guy is working his butt off, the guy practices."
There's no ego with FitzPatrick, Heard continued. While the glory shone on the big numbers players like James Cook and Zamir White put up game after game in 2021, FitzPatrick was alongside of them, quietly playing his role that - while overlooked at times - was necessary within the scope of Georgia's offensive success.
"I do think he was a very big part of that offense," Heard concluded. "Maybe not a lot of people were talking about him. They were talking about the James Cooks and the Zamir Whites, but he was right there. The Bowers are the ones making the flashy plays on the field, but this guy is doing the dirty work. This guy is creating those holes for James Cook."
And that is what the Falcons hope he does for them, too. After all, they didn't draft him to be the lightening. They drafted him to be the thunder. Interested in Falcons tickets?
Join us in 2022 for our biggest season yet! Find the best seats to watch the 2022 draft picks and your Dirty Birds in action!