Arthur Smith was very clear when he explained why Cordarrelle Patterson would not be active for mandatory minicamp.
"Cordarrelle Patterson is working on a vet offseason program to build him up to be ready for July 26," Smith said. "He's here. He wanted to work. Myself and our performance staff, we have a different plan for Cordarrelle, so I'm not going to crank him up for two days. We need him ready to go on July 26."
It was a good move on Smith's part to explain Patterson's absence right off the bat, and it's an explanation that makes sense. The Falcons don't need Patterson right now. They will come the first week of the season, which is why it's not necessary to push him physically in the offseason. And so his lack of presence on the field for two days in June does not matter, in my mind, when thinking about the grand scope of his overall role in Atlanta.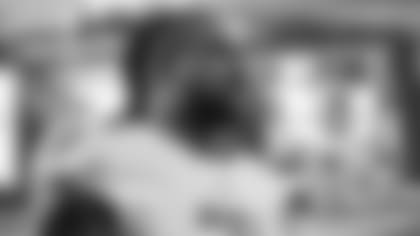 So, what is that role? Honestly, look to 2021, when the Falcons finally cracked the Cordarrelle Code.
More so than in his near decade-long career in the league, Patterson was used as an offensive weapon in a way he'd never been before. He carried the ball 153 times in 2021, accumulating over 600 rushing yards and six touchdowns. By comparison, Patterson's next closest number of carries came in 2020, when he carried the ball 64 times.
As a receiver, Patterson caught 52 passes for over 500 yards and five touchdowns. At times in 2021 when nothing worked for the Falcons offensively, Patterson did. It's why they brought him back on a two-year deal this offseason. But what does the future of Patterson in Atlanta look like now that we know how he will be used? Truth be told it's up to others to help Patterson out.
If you look at Patterson's production last year, you'd see his overall effectiveness decreased as the season went on, particularly as a receiver. That's to be expected, though, as the surprise of Patterson was gone. By the back half of the season, other teams had a better idea of 1) how the Falcons used Patterson and 2) how to defend him.
This is why it's of the upmost importance that the Falcons add that mystery back, but in a different way.
The good news is that this starts with having a more mobile quarterback in the backfield alongside Patterson. Marcus Mariota has shown throughout his career that he can tuck it and run. This adds a new wrinkle to the offensive game plan that could greatly benefit Patterson and his effectiveness in the run game.
As a receiver, things may look up for Patterson, too. A problem there was that there were few who could alleviate pressure on Patterson. Think about it: The Falcons thought they would have Patterson, Calvin Ridley, Russell Gage and Kyle Pitts as receiving weapons in 2021. We know what happened with Ridley, and Gage was limited early in the season and took a while to get back to form. Pitts was consistently taken away in the red zone. There just wasn't as much variety in the pass game as there will - potentially - be this year.
The Falcons have added significant size this offseason to pair with Patterson in the pass game. Of course, Pitts returns. But the addition of players like Drake London, Bryan Edwards and Auden Tate is a significant change for this offense. Olamide Zaccheaus' role will continue to expand, but overall you're looking at a very different pool of receivers than you were in 2021. This has the potential to reignite Patterson's role in the pass game significantly depending on how defenses choose to play this offense.
Overall, the added versatility of weapons should only help Patterson. If one of the recently-added running backs can emerge as a solid option on third down that would continue to assist Patterson's workload, which could use a slight decrease in order to keep his effectiveness fresh.
Because that's the thing about Patterson: The fresher he is and the more mystery he can provide, the better.
Early in the season, he may be the target on every defense's radar, but if the Falcons can see production increase elsewhere early, that could take significant defensive pressure off Patterson. And we've seen what he can do when he's keeping defenses guessing. Interested in Falcons tickets?
Join us in 2022 for 9 Regular Season home games! Let us help you find the seats and benefits that interest you!