Before the Falcons even hit the field for the last day of mandatory minicamp practice, Casey Hayward knew something was brewing between AJ Terrell and Kyle Pitts. 
"AJ and Kyle, they were going at it before practice even started," Hayward said. 
One could argue this particular duo is the foundation of what the Falcons are trying to build in Atlanta, the faces of the franchise, some may say. 
They compete with each other as such. 
As the 7-on-7 period began on Wednesday, there was a lot of heat thrown Pitts' way because of Terrell's previous pre-pratice taunting. 
"Nothing from 8!" one defensive back yelled from the sideline. 
"No TDs for 8 today!" yelled another on the field. 
So, it maybe came as no surprise when Pitts made an impressive grab in the end zone, bringing the ball in for a would-be touchdown reception, if - of course - this was an actual game. And who was on him? Terrell. 
"When I motioned over I saw I was in man coverage," Pitts said. "I had to win my matchup. I had to go out there and ball."
Then, in front of the defensive backs on the sideline and Terrell on the field, Pitts launched the ball about 15 feet in the air.
It's a celebration that's on its way to being Pitts' "thing." But he wouldn't go so far as to say it's his in-season touchdown celebration.
"I'm still working on it," Pitts said as someone who wants to get in the end zone a lot more in 2022 than he did in 2021.
Though Pitts won this round, Terrell is never far behind. They trade shots constantly. One play, Pitts is on top. The very next one? It's Terrell. The moment that caught everyone's eyes at practice just so happened to be Pitts' moment to shine.
Pitts and Terrell line up against each other a few times a day. Pitts said when they do, 'it's great work every time.'
"He gets me better," Pitts said, "and I get him better. He's a great teammate to have, going against him every day at practice."
Even though OTAs are coming to an end in Atlanta, this duo's competitiveness is just heating up. Get ready. Training camp isn't far away, and you can bet there will be plenty of chances for Terrell to enact his revenge.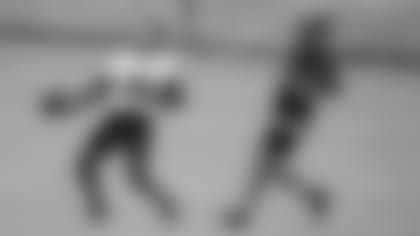 More notes/observations from practice:
Language barrier no more: Now that this portion of offseason work comes to a close, Arthur Smith explained a bit more about what he wanted players to get out of this period. With so many new faces, Smith said he really wanted this group to understand how things operate in Atlanta, and how coaches want things ran. This time was also important for this group to learn the language of the offensive and defensive schemes. Smith said everyone runs similar routes, for example, but it's often called by different names according to who's in charge. Making sure these new faces knew the terminology was a big part of where he wanted this group to be by the end of minicamp. He feels they've made the progress they needed to make in the time allotted. 
Will this group look different in July?: This was something Smith was asked directly in regards to roster construction. His answer? "Probably." Smith has already explained that the expectation is to add more reinforcements at the line of scrimmage. Beyond that, Smith left the door open for any and every possibility of moves to be made before camp begins. He said Terry Fontenot and his staff's "phones are always on." If there's a deal to be struck or a player to snatch up, they'll be monitoring the league at large to do so. The Falcons may only have the means to lie in wait for the next five weeks, but they're alert for any and every possible move they can make to bring in players they believe can help. 
To infinity and beyond: When asked about Desmond Ridder's progress, Smith said he'll give it to Ridder: He's "light years" ahead of some young quarterbacks he's worked with in the past, "from the neck up." Smith said it's evident in the way Ridder commands a huddle and how knowledgable he is about the scheme overall. Smith said there's still a lot of work ahead of Ridder but he likes where his football IQ is currently at.
Roll call: Nothing changed too much from Day 1 to Day 2 of minicamp, as Smith's breakdown of who's out and who's limited stayed true through the final day of practice. If you need a refresher on that breakdown, you can read our notes and observations from yesterday.
Called out: It was hot. Very hot. Ridiculously hot on Wednesday. Perhaps if the humidity wasn't so thick it would have been more bearable, but it was tough, nonetheless. So much so that many members of the media sought out shade of any kind during practice. Smith made a point to call out every media member who wasn't standing in the sun. Erik Harris, meanwhile, called Scott Bair out by name. Scott stood in the sun for the rest of practice.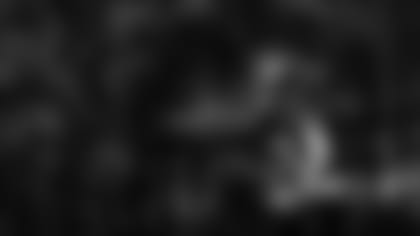 The big boys' time to shine: The final period of practice was a competition of sorts between the offense and defense. On the line? Sprints after practice. The winning unit wouldn't have to run. The losers would. You know the drill. The kicker? Offensive and defensive linemen had to catch punts. Here's how the breakdown went.
Anthony Rush: The largest defensive lineman took the first stab at it. And in his defense, he had the most difficult punt of all to catch. He went first, which is difficult to do in its own right, but then the ball drifted once in the air. He shifted to try get under it, but couldn't bring it in. In terms of difficulty, he had the most difficult punt of which to field.
Jalen Mayfield: As the first offensive linemen to have a go, Mayfield had a much easier time than Rush did, barely having to move for his punt. He actually made catching a punt look easy, and spiked the ball as the offense erupted in loud cheers around him. He'd given them the lead.
Derrick Tangelo: The rookie defensive lineman got the defense on the board, expertly getting under his punt. Breathing life back into his unit.
Colby Gossett: In perhaps the funniest moment of practice, Gossett caught his punt… above his head. I don't know if he as a baseball background, but he looked like an outfielder catching a pop fly. It was grand. Laughter and cheers erupted from both sidelines but he gave the offense its lead back.
Marlon Davidson: Last year, Davidson beat Lee Smith in a field goal kicking competition. This year, he continued to show a knack for special teams. Like Mayfield, Davidson caught his punt with ease.
Last but not least, Ryan Neuzil: I don't know what would have happened if Neuzil didn't catch his punt. Perhaps both units would have to run because they tied? Maybe there would have been a tie-breaker? Whatever it may have been, we'll never know because Neuzil made the catch. The offensive line went 3-for-3, winning the final period of practice and sending the Falcons into its dead period. As the defense began their sprints, the offense lifted Neuzil up in the air on the shoulders of other linemen and players. It was a nice end to an otherwise scorching hot day.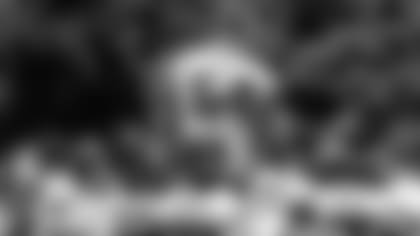 Interested in Falcons tickets?
Join us in 2022 for 9 Regular Season home games! Let us help you find the seats and benefits that interest you!