Desmond Ridder had his cell phone in hand, as he essentially had for more than a day, waiting for it to ring. The former Cincinnati quarterback was watching NFL Draft coverage when a welcome alert brought focus back to the device. He nudged his mother to get her attention and showed his phone display to an associate.
Someone from Atlanta was on the phone.
"It was a moment I've been waiting for my whole life," Ridder said. "It was a dream I've have ever since I was a little kid. When I saw it was an Atlanta number, a 404 number, I was really excited. It wasn't that far from home, and I knew that the culture here in Atlanta, as far as the grit, the want-to-work, the hard, tough and nasty culture that is here, that's something that I wanted to be a part of. It's something I pride myself on, hard work, grit and effort."
Ridder took an emotion-channeling breath as anticipation built through the draft party in his honor and accepted the call.
Falcons GM Terry Fontenot was on the line to start a typically short-but-sweet dialogue informing Ridder he would be a Falcon. This exchange had some extra spice, where some fire spilled over after Ridder's relatively long wait to get selected.
You ready to be a Falcon?
Yes sir. It should've have taken this long. They don't even f---ing know. I don't even know why--_
Listen, everything happens for a reason, right?
Remember when we sat in that room [during Cincinnati's pro day] and we talked about exactly why you guys were playing so well at Cincinnati and that chip on your shoulder? The way you all fought and competed?
You know that sign [at Cincinnati] that says, 'how you do anything is how you do everything?'
That's how we do things here.
We're going to get it done then.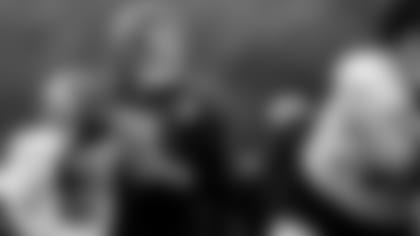 We're going to get it done.
That's Ridder's mantra. It's the root of his confidence and the message he projects to others. To borrow half the Cincinnati slogan mentioned above, that's how he does everything.
Ridder works extremely hard. He leads by words and example, and those around him follow.
We're going to get it done. I
44-6. While leading a school that isn't a traditional powerhouse. Let that sink in. And this: he never lost in 26 home games, including some key victories during a senior season where he led Cincinnati to the College Football Playoff.
Ridder grew and matured and got better through each in-game and off-field experience, putting his stamp on the Bearcats program while emerging from his college experience well prepared for the next step on his career path.
"I wanted to leave a legacy at Cincinnati," Ridder said. "That was huge for me. I wanted to validate not only the hard work that I put it, but also everything my teammates put in to make [good] things happen. The biggest thing was to go out there and, No. 1, prove that I'm a winner and No. 2, show that I love competition and I love the game."
Ridder did all that during the college football season and the pre-draft process. That led some to project Ridder as one of the first quarterbacks taken. That meant a likely selection in the first or second round. But, in a surprising turn, a huge gap separating Kenny Pickett going to Pittsburgh and the next quarterback drafted.
It was 54 picks, in fact, between Pickett and when the Falcons took Ridder off the board, with a building broadcast narrative focused on the quarterback drought. There was some frustration in Ridder's long wait. That was clear for a second in his draft call.
It didn't take permanent hold. His daughter Leighton is part of the reason why. Ridder has learned and grown so much since becoming a father, developing a certain trait that has also helped in his professional life.
"One thing is that she has taught me patience," Ridder said. "Patience with this whole process. Patience with the journey of life. And, obviously, patience as a father. Not everything is going to go 100 percent your way or how you expect it to go. If you go with the flow and let things go, everything will work itself out."
Ridder's combination of confidence, talent and faith has created a belief that he will succeed, in time, at this level. He's internally motivated to establish himself as an NFL starter, armed with a chip-on-your-shoulder mentality common among this year's Falcons.
Leighton plays a part here, too, adding fuel to his drive for success.
"Having a one-year-old, she's definitely made me more selfless as a person," Ridder said. "Everything from getting up early in the morning to going to bed late at night, from weightlifting, running, all the hard times that I have in football and all the struggles we go through, I know that, at the end of the day, everything I do, I do for her." Interested in Falcons tickets?
Join us in 2022 for our biggest season yet! Find the best seats to watch the 2022 draft picks and your Dirty Birds in action!