When a name is announced throughout any NFL Draft selection of recent memory, it's become quite normal for the camera shot to cut to the living room of said player being drafted. Their family and friends will shout and celebrate loudly. There are often happy tears shed and happy screams cried out. But when the camera cut to Troy Andersen and his family when his name was called at No. 58 overall in the second round of the 2022 NFL Draft, things were a bit more reserved.
Andersen stood behind a couch, a few close family members and friends scattered throughout the room, and when his name was called there were smiles, of course, and a couple giggles, a breathy 'Wow' but it was a rather subdued response from a close-knit family in Dillon, Montana. And you know what? It was the perfect depiction of how truly surreal the moment was for Andersen and his family.
The Andersen family, and their friends, didn't need an overtly loud, boisterous moment to exude their awe of their son and brother and friend being drafted. The proud smiles were enough for a group of people who know a thing or two about hard work and what it takes to be diligent in said work. So diligent, in fact, that it produces a steady livelihood.
Before Andersen was drafted in the second round of the NFL Draft this spring... before he was an FCS All-American and Big Sky Conference defensive player of the year... before he played quarterback, running back and linebacker for the Bobcats... before all of that, Andersen was just a kid growing up on a cattle ranch.
"Small town Montana," Andersen said fondly. "... (I was) doing all those typical things: Moving cows, cutting hay, just hanging out with my friends, playing all the sports, things you do in small town USA."
For many, moving cattle and cutting hay isn't all too "typical" in their day-to-day existence, but it is for the Andersen family. It was in those moments of ranch life that Andersen learned what it meant to really work, mentally and physically.
"You learn hard work and diligence when it's cold outside and those calves are being born," Andersen explained. "You have to be there or else they'll freeze and they'll die and that's your livelihood. So, you have to be on top of things. Be diligent, never take a day off and work as hard as needed to get the job done."
It's this mentally that has woven itself into who Andersen is as a person. It's what drove him to be the valedictorian of his high school class. It's what brought him success and recognition at Montana State, where he did anything and everything he could to be consistently producing on the field. Ask him to play quarterback? Sure, he'll do it. Switch to linebacker? Yep, no problem.
In everything he did, the constant was his diligence, and perhaps his intelligence, too.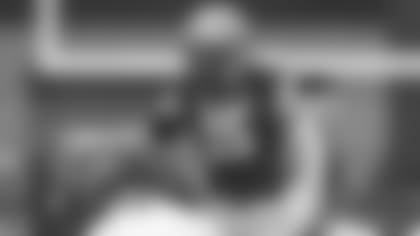 Talking about how he sees schemes before him, Andersen breaks it down in a way that makes it all seem so easy.
"I think playing offense (in college) really helped me with understanding situational awareness, spatial awareness, how coverage really works and where all the pieces fit together," he said. "Not just knowing your job, but knowing the full scheme of the defense."
He has very noticeable sponge-like qualities. He soaks up information like its water. In all honesty, it's probably what got him to this point. That, and his overall adaptability. (One could argue that came from cold Montana mornings taking care of a herd of cattle, too).
Andersen falls in line with who the Falcons are at this juncture in the organization's history, too. The theme of this 2022 roster has its roots in having a chip on its shoulder. Andersen epitomizes this as well as anyone. Raised in a small Montana town, established at a small FCS school, Andersen knows opportunities like the one he currently holds onto doesn't come around that often.
"Coming from a place like Montana State, it is a smaller school and I feel like you always have a chip on your shoulder to prove yourself and prove you're worthy of being there and being selected or picked up," Andersen said. "So, you're really grateful for all of your opportunities, and you know you have to make the most of them."
For Andersen, this was his dream. He's actively living it. But he knows this is just the dawn of his career. Like the sun coming up over the horizon of his family's cattle ranch in the early morning of a cold Montana winter, this is just the beginning of a new day ahead for Andersen.
There's work to be done yet, but in the moment his name was called in the 2022 NFL Draft, the surreal feeling washed over him (and his family, too). Once that surreal feeling left him, though, the diligence that was embedded in him throughout his childhood came rushing back in, preparing him to take hold of the opportunity in front of him.
"Stepping out on that field, it's a life-long dream of every little boy. It's been my life-long dream," Andersen said. "... I think I'm looking forward to just the next opportunity." Interested in Falcons tickets?
Join us in 2022 for 9 Regular Season home games! Let us help you find the seats and benefits that interest you!