Welcome to Straight from the Beek! The Falcons' three-day minicamp just wrapped up the players won't return to Flowery Branch until the start of training camp. In the meantime, you've got plenty of questions – so let's get right to them. Just remember that all opinions here are mine unless noted otherwise.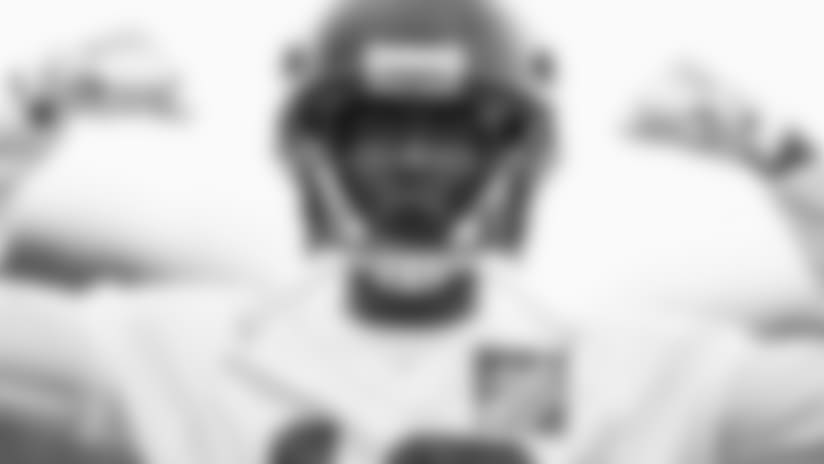 Chris from Rugby, ND
Beek, as always excellent job and thanks for the great articles! It always provides a nice little break up in the work day when I get to read these. With the emergence of Calvin Ridley in his first year, do you think that takes away some snaps from Mohamed Sanu this year? I know Sanu lead the receivers with 78 percent of the snaps last year compared to Calvin at only 61 percent and it's hard to see Sanu getting less with his sure hands and great blocking. Do you think Coach Dirk Koetter tries to utilize more 11 personnel this year? I think the Falcons were towards the bottom half of the league in 11 personnel last year which seems crazy for a team that has the best trio of receivers in the league.
Matt: Thanks, Chris. For those who aren't familiar with the term "11 personnel" it means the offense has one running back, one tight end and three receivers on the field. All three of the Falcons receivers – Julio Jones, Mohamed Sanu and Calvin Ridley – had productive seasons catching the ball. Jones, as we know, led the league in receiving yards with 1,677. Sanu had the best season in seven-year career with 838 receiving yards and Ridley led all rookies with 64 catches for 821 yards and 10 touchdowns. Pretty good year catching the ball, but the Falcons finished 7-9 and missed the playoffs. So what would you rather have big stats or wins? That should be a no-brainer: Wins. While I think Ridley is going to be even better in Year 2, I could see a year where all three of those guys have less receiving yards, but more touchdowns (collectively) and wins – mainly because of the revamped offensive line and a healthy Devonta Freeman (and more depth at running back).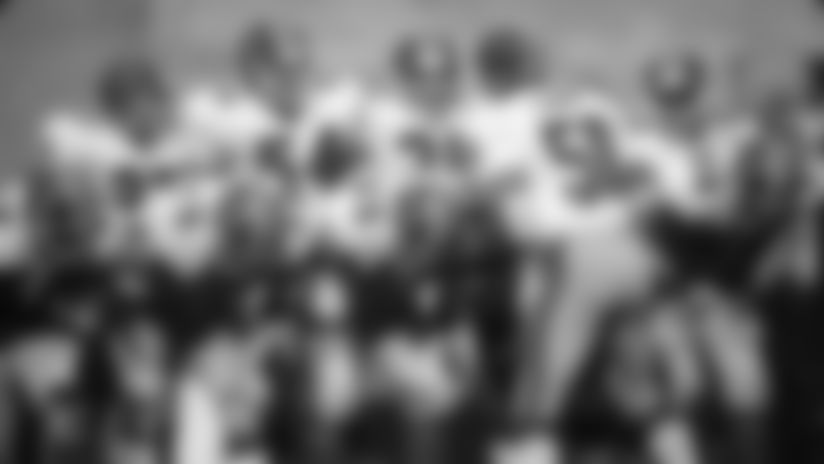 Schiller from Antioch, TN
Hey Beek! Die-hard Falcons fan and Matt Ryan defender/fanboy and I wanted to talk about something the fans constantly write to you about, but with a different opinion. Everyone seems to want to make the Falcons throwback jerseys their official home uniform. I work in a jersey store and my coworkers feel the same. To which I say ... No! I feel like it would be a bad decision for a couple of reasons. Mainly, there are five teams in the league right now that use black as their home jersey color, and two of them are in our division. Don't you want to stand out? Besides people love them because they grew up with them, but I think they are best as a once-in-a-while thing. If they start being more than once in a while, they wouldn't be as special. Thoughts?
Matt: Yes, I think it's good if a uniform stands out, but it should do so reflecting that team's history and fan base. For instance, I'd be shocked if the Steelers, Cowboys or Packers ever change their main uniforms again – they're not only iconic but their fan bases associate those uniforms with their rich histories and so many memories. The fact that two NFC South teams – the Saints and Panthers – each have black jerseys is an interesting point, Schiller. But the Steelers, Bengals and Ravens reside in the AFC North and all have black jerseys (the Ravens switch between purple and black). The Raiders, Jaguars and (sometimes) Cardinals all have black jerseys, too. And, for what it's worth, there are three other teams besides the Falcons – the Cardinals, 49ers and Chiefs – that wear red jerseys. Now, standing out with an occasional alternative look is a good thing – and fans seem to love it. On that note, I'm all for changing things up once and a while. It's too bad the NFL wouldn't loosen up when it comes to the rules on helmet colors like the NCAA does. What do you think about a white or silver helmet? That would certainly be different. Or if that doesn't tickle your fancy, what about red pants, you know like the ones the Falcons wore with their Color Rush uniforms? A red helmet-white jersey-red pant combination might be interesting. I'm pretty sure only the Chiefs have ever worn that combination. My favorite, of course, is the red helmet-white jersey-silver pant combination last worn in 1989 – Deion Sanders' rookie season (and in that video below). Those are distinct, iconic and look great. No one would mistake them for a Canadian football team, is what I'm saying. Regardless, your point makes for an interesting Straight from the Beek Question of the Day, Schiller.
Stan from Sandersville, GA
Disclaimer: My question/comment has nothing to do with Matt Ryan, who has earned the title of greatest QB in the history of the Falcons. I was born in '65 – the same year as the Falcons. I am a lifetime fan. The most magical season in my life was the 1980 season. Never having won the division, we started 4-3 and finished with a 12-4 record and our first division title. I loved Steve Bartkowski. Anyone who didn't see his fourth-and-11 54-yard TD against the 1980 Rams with a minute left that gave us the win, tied us for first place in the division, and turned the tide for the franchise really missed something special. Aside from his skill as a player, Bart had a personal testimony of faith that drew me in as a 15-year-old fan. I realize that because I had such a personal affinity for him as a person that this statement is biased, but here is the statement nonetheless: I think that without the absolutely devastating injuries suffered in his early years, he could have been an all-time great. In 1980 and 1981 he was as good as there was. He had 30-plus TDs in two consecutive seasons and 37 years later, the list of players who have done this is still very short. Again, I am biased because of my personal admiration for the man – and I know that saying "what if" when it comes to injuries is a riddle we can play all day (Bo Jackson and Gale Sayers come to mind). But I wonder if you (or other fans) ever think about what could have been for the 1975 NFC Rookie of the Year?
Matt: Stan, I really appreciate your note and, because of it, I went back and watched the highlight video of the 1980 Falcons. I'm so glad I did. As a kid growing up in New York, I didn't see a whole lot of that team on TV, but I do remember their season-ending loss to the Cowboys. There's no question that Steve Bartkowski is among the all-time great Falcons players and if they had held on to beat Dallas, there's no telling what could have been for that team and Bartkowski's legacy. By the way, if you're a Falcons fan and don't know or remember much about those 1980 Falcons, that highlight video above is a must watch. Oh, and Stan, the play you referenced is at the 1:10 mark in the video. You know what else sticks out to me about that team? They ran the football with authority! They imposed their wills on teams when they needed to – and all great teams can do that. And I didn't know that they used to refer to the Falcons as the "Red Wave." Interesting, and great stuff!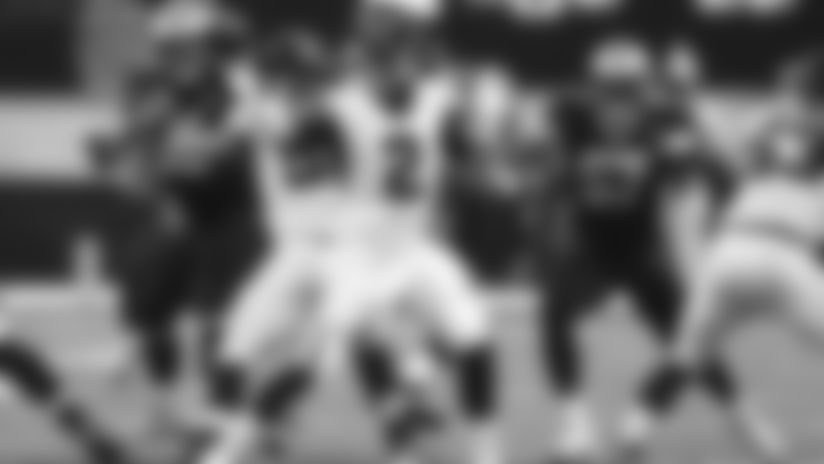 Thomas from Louisville, KY
People seem concerned that the Falcons didn't address the defense until late in the draft. My thoughts are addressing the offense, especially the line, helped the defense. Our 2016 run was built on the offense always putting up points, therefore making the opposing offenses one-dimensional. Which, in turn, made it easier for our defense to cover the pass. Let them eat clock running the ball, if we can stop them in the red zone we widen the spread because our offense was spectacular. My fear is that Isaiah Oliver isn't ready but we'll have safety help for him if not. It also sounds like Foye Oluokun will be making a leap this year. Hopefully that'll help against Debo in the middle, especially against the run. My question is about our second matchup with the Saints last year. My memory tells me they shut us down, putting Marshon Lattimore on Calvin Ridley and doubling Julio Jones with Eli Apple and a safety. Who fell short in this matchup? Will fixing the O-line, assuming we did this offseason, make us more competitive in this matchup?  Unfortunately, I won't be making it to a Saints-Falcons matchup in person this year, but I've already got my tickets for the Falcons-Colts game in Sept. I recommend all Falcons fans to go to the Saints-Falcons matchups, either city – both are awesome. Thanks for all your great work, Beek! Go Falcons! #RiseUp
Matt: It's too early to project what kind of years Isaiah Oliver and Foye Oluokun will have in 2019, but I expect both players to be even better this season. You can already see the confidence in their play and body language during OTA and minicamp, Thomas. As far as my opinions on what happened during the second Falcons-Saints game last season, all you have to do is read this column I wrote after the game. The Falcons' biggest problems began and ended in the trenches.
Jeff from Stockbridge, GA
I read your piece all the time. I've been a Falcons fan for 50 years and my family has had season tickets since '66. I'm happy with the offensive additions and am hopeful (cautiously optimistic) about Devonta Freeman and his ability to stay healthy. The defense should be much, much better and, honestly, losing Steven Means? He had at most two sacks last year and I believe can be easily replaced. As for Vic Beasley and his (seemingly 'breakout') year in 2016, let's not forget who lined up on the other side. Letting Dwight Freeney leave via free agency was not a wise move. The pass rush suffered because of it. Hopefully, some added push from the middle will help the DEs. In closing, anyone that thinks Matt Ryan should be replaced knows nothing about football. Period.
Matt: I know the coaching staff liked Steven Means and you always hate to see guys lost for the season due to injury. That said, I think having Adrian Clayborn and Chris Odom back in the fold should help. I also think the Falcons will make a move or two before he season kicks off, especially if the right defensive end or edge rusher should become available. As far as not re-signing Dwight Freeney, he was at the end of his career, Jeff. In 2017, he split time on the Lions and Seahawks rosters and had three sacks. He hasn't played since. As far as your take on fans wanting to move on from Matt Ryan, totally agree! Thanks for writing in.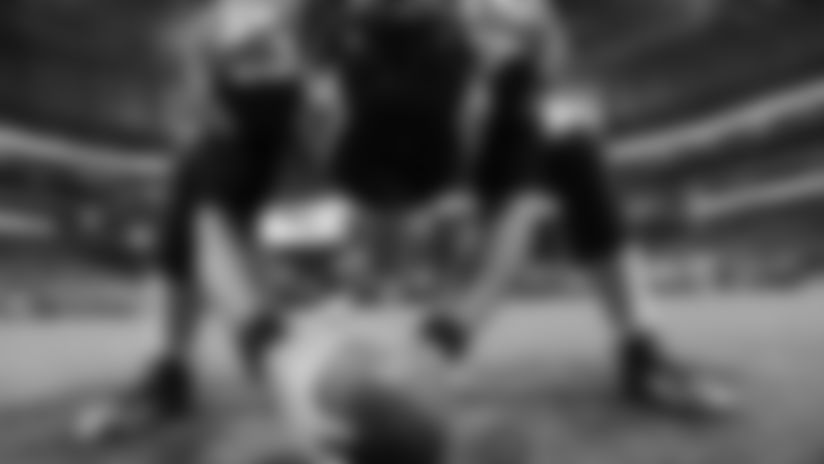 Kyle from Flowery Branch, GA
Beek! Random off-the-wall question for you. Who is the best long snapper in Falcons history? Josh Harris has been mostly healthy over the years and has made some big tackles in games. Is there anyone who has been better? On the topic of long snappers, has there ever been a long snapper inducted into the Hall of Fame? Time to go practice my long snapping! Thanks, Beek!
Matt: That is definitely an off-the-wall question, Kyle. And it's a good one, too. Let's tackle the Hall of Fame question first. Right now, there are only five specialists in the Hall of Fame. That's it! Ray Guy is the lone punter and there are four kickers – Morten Andersen, Lou Groza, Jan Stenerud and George Blanda. Don't forget, though, that Blanda also played quarterback during his amazing career with the Bears, Oilers and Raiders. As critical as long-snappers are to the kicking game, they just don't draw a ton of recognition – and certainly not with Hall of Fame voters. As far as the best one in Falcons history, wow … that one forced me to do a little research. Names like Boone Stutz (2006-07), Mike Schneck (2007-09), Bryan Pittman (2009), Joe Zelenka (2009-11) and, of course, Josh Harris (2012-present) popped up in my searches. I'm going to go with Harris here, and it's mainly because he done it so well for so long here. I think until the last two decades or so, long snappers on most teams also played other positions – and that it wasn't their primary position. Some still do. I think most centers or backup centers, for example, were also the long snappers for many teams in the past. Are there any centers in the Hall of Fame? Of course, but it's not because they were great long snappers. Hope that helps – and thanks for writing in. MAILBAG
Do you have a question about the Falcons that you want answered? Ask a question here and it could be posted on AtlantaFalcons.com.