Welcome to Straight from the 'Beek! The Falcons' roster has been trimmed to 53 players and they are on to Chicago for a Week 1 showdown against the Bears -- and you've got plenty of questions. Just remember that all opinions you see in this space are mine, unless otherwise noted.
Hey Beek, why does it seem to me that my Falcons are still not getting respect from these so-called analysts?
Matt: Everyone's got an opinion, right? I wouldn't sweat it, Bino. If the Falcons take care of business on the field, they'll be changing their tunes.
---
Hey, I've been a Falcons fan since 2000 and I'm from Massachusetts. I get a lot of BS from my friends, but anyways do you think the Falcons can make it all the way this season?
Matt:The good news for you, Jay, is that Falcons will be heading up to Massachusetts for an Oct. 22 showdown with the Patriots. If they beat the Patriots in their backyard I have a feeling your buddies will pipe down some. As far as making it all the way … I think a lot can happen in a 16-game season, but I also think this team is built to win now. They're certainly capable of having a nice run this season. I'm on record for predicting a 12-4 record and winning the NFC South.
---
Michelle from Madison, CT
Will I get to see Derrick Coleman play this season?
Matt: Yes, if you watch any of the Falcons games this season, you'll see him. He's the only fullback on the roster at the moment.
---
When are the Falcons going to let you do all your play-calling? We would have won the Super Bowl if you called all your plays.
Matt: Ha! I appreciate your faith in me, Harvey, but I don't have any plays to call nor am I qualified to call any. Plus, the Falcons had a pretty good play-caller last year in Kyle Shanahan. Besides, I had my hands full during the Super Bowl while working as the lead NFL editor for CBSSports.com.
---
Eric from Tallahassee, FL
Falcons vs Bears. How important is it for the Falcons to start with a "W" and what will this game tell about how our new offensive coordinator? Do you think this matchup can really define anything at all being non-divisional and not against one of the stronger NFC teams like the Packers, Cowboys, or Seahawks?
Matt: I think every single game is crucial in a 16-game season, Eric. A win against the Bears counts just as much as a win against the Packers, Cowboys and Seahawks. And yes, 1-0 is much better then 0-1. As far as what we'll find out about offensive coordinator Steve Sarkisian, let's wait and see before jumping to any conclusions.
---
Derek from Saint Joseph, MO
I was looking at the roster and began to wonder. What are the odds of us seeing a good trick play this season? I mean I've seen Poe run and throw for touchdowns. Sanu with the wildcat. Gabriel with wicked screen abilities and the old jet sweep. And a new coordinator fresh from college with new ideas to introduce to an already potent offence. Do you think we might see something special this year?
Matt: I don't know if we'll see any of that trickery but I like how you think, Derek! And since you brought it up, let's enjoy Donatri Poe's jump pass one more time.
And don't forget Poe's touchdown catch, either.
---
Michael from Gillette, WY
Why in the world would the Falcons trade anything for Ty Sambrailo? He was most likely going to be cut, he was continually beat by opposing players, hence the reason for not starting on a horrible OL. I guess I would like to know their train of thought?
Matt: How do you know he was going to be cut? Because someone on Twitter or on TV speculated as much? The Falcons clearly wanted to bolster the offensive line depth and versatility – and they've done that by acquiring Ty Sambrailo and Austin Pasztor. You're really upset about trading 2018 fifth-round pick for a 2015 second-round pick? If you listened to or read what Falcons general manager Thomas Dimitroff said, he said the Falcons we were very fortunate to acquire Sambrailo and added that he "had a good interaction with" and trusts the relationship he has with the Broncos executive vice president of football operations/general manager John Elway. I liked both moves, Michael.
---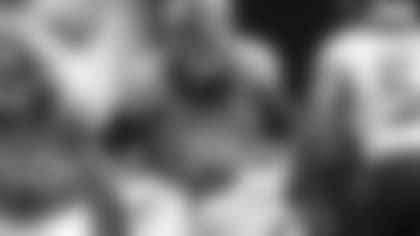 Who gets the better end of the deal in the trade of a fifth-round pick for the tackle Ty Sambrailo?
Matt: We'll only know that for sure once we see how that 2018 pick pans out, Eugene. But for now, I like the move for the Falcons.
---
Reginald from Jonesboro, GA
Does Dwight Freeney have a chance to make this team?
Matt: As of right now, no, Reginald. This team could always make a move down the road, but this roster appears set.
---
Do you think we have a top 5 D-line with last year's sack leader, a player who was considered to be SB MVP, and the additions of Poe and Takk?
Matt: I think this defense is deeper and more talented than last year's but now they have to go out and prove it, starting with Chicago. I have no idea if they'll end up being a top-five unit, but I expect them to be at least in the top 15.
---
Hall and Davis not making the roster seems baffling to me. Your thoughts?
Matt: I think it all comes down to numbers, injuries, strengths, weaknesses and who becomes available, Mike. Receiver was perhaps the deepest position on this team and all of those guys showed up at different times during training camp and the preseason. Those decisions are never easy.
---
Adam from London, England
Hey Beek, loving these daily Q&A's. I'm flying over with 2 mates for the Panthers game on NYE. Where would you suggest tailgating/going to pre-game? Cheers
Matt: Awesome, and glad you're enjoying it! The first thing you need to do is get familiar with Mercedes-Benz Stadium and everything it has to offer. Check it out here. You can also check out the message boards, specifically the tailgating central topics for tips, too. That should give you a decent starting point. Hit me back if you have more specific questions about the stadium and restaurants in the area. Thanks for reading, Adam.
---
Hey Matt, how many rings do you think you'll have at the end of your career?
Matt: Uh, well, I'm married, Evan, so the plan is to at least keep this ring for the rest of my life.
---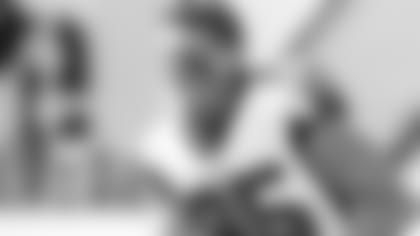 I have a concern at TE. Do you think that guy from Drake college should be on the 53-man roster? We really only have one catching tight end and that's Hooper. I was really hoping TD made some moves to get another tight end. What are your thoughts?
Matt: I don't care where a guy comes from if he can play. I think Eric Saubert is a fifth-round rookie who showed this staff enough during minicamps, training camp and the preseason to warrant a spot on the 53-man roster. I think he'll learn a lot this year and, hopefully, make that jump from Year 1 to Year 2 that coach Dan Quinn often talks about. And we should see it in Austin Hooper, too. In fact, Matt Ryan![](/team/roster/matt-ryan/7ba8774b-4091-4142-a4c1-1ae868594c2a/ "Matt Ryan") expects Hooper to do great things this season.
---
I thought they were switching Ish to LB but he's listed as a safety. What's up with that?
Matt: Kemal Ishmael is one of those versatile players who Falcons coach Dan Quinn really covets. Expect to see him line up at both positions this season.
---
Given his excellent play last Thursday, are you surprised that Chris Odom didn't make the roster?
Matt: I'll be honest and say yes, I was, Art. I don't see everything the coaches see obviously, but I thought Odom played well against the Steelers and again vs. the Jaguars in the preseason finale. The Falcons are pretty talented and deep across their front seven, so it's not a total surprise.