Welcome to Straight from the 'Beek! With the preseason home opener against the Cardinals in the rearview mirror, the questions are rolling in — and from all over the world (Germany, South Africa, Denmark, England and Ireland in today's edition). Just remember that all opinions you see in this space are mine, unless otherwise noted.
Travis from Kaiserslautern, Germany
Do you think the Falcons will play in London in the next couple of years? I am an Army retiree and a Federal civilian living and working overseas and hope I can see my Falcons before I leave in 2021.
Matt: Guten Tag! I can't say for certain, Travis, but there's always a chance. The Falcons last played in London during the 2014 season, a 22-21 loss to the Lions. This year eight teams will be playing in London, including the Jaguars who'll be playing a home game there for an astounding fifth consecutive season. Once this season is over, 26 different teams will have played there since the inception of the London Games Series in 2007.
---
Justin from Gainesville, GA
Do you think the concussion will have any effect on #24's (Devonta Freeman) running the ball?
---
Michael from Chesterfield, VA
Do you think the Falcons will go 17 and 0?
Matt: No, I don't. But you do know that 17 wins would only get you to the NFC championship, right? Anyway … There's just too much parity in the NFL, Michael. I'm sure you've heard the saying, "On any given Sunday …" and it's true. Only one team has ever finished a season with a perfect record – the 1972 Miami Dolphins, who went 14-0. And that was before unrestricted free agency started, too (which was in 1992). You need lots of talent, good health, great coaching and even some luck to pull it off.
---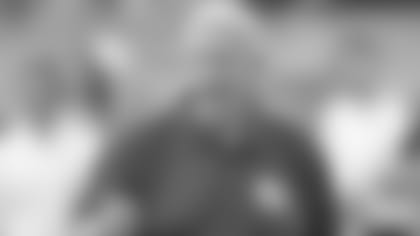 Travis from Newnan, GA
Do you think we will have a top-10 defense?
Matt: I subscribe to the old Bill Parcells saying, "You are what you are." They can be called a top-10 defense when they go out and earn that right on the playing field.
---
DJ from Greenville, SC
This is the fastest and most aggressive defense that I've seen from the Falcons in years. Do you think this will be a top-10 defense?
Matt: DJ, check out my response above. Thanks for your question.
---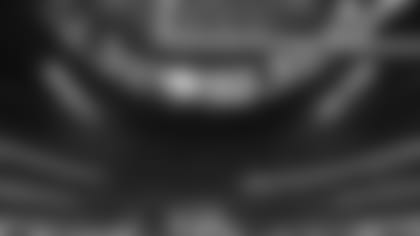 Rich from Lady Lake, FL
The team didn't get on the field till Friday, so Saturday's game was their first experience on the new turf. What is their feedback: faster, slower, slippery, stickier, etc.? Is it different enough to be a true home-field advantage over visiting teams?
Matt: Following the game, coach Dan Quinn said the field surface was "terrific" and "identical to the one we have in Flowery Branch." I went down to the field, too, and walked on it. It's definitely a different feel than natural grass.
---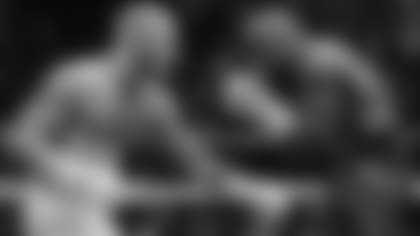 Conor from Dublin, Ireland
Did I win?
Matt: No, but going 10 rounds is nothing to be ashamed of.
---
Gary from Mesa, AZ
Why is Quinn not giving Tyler Renew at least a shot? One carry in the first game for 4 yards and now nothing. No injuries. I guess that they have already decided to cut him.
Matt: I wish I had an answer for you, Gary. Renew was in the game for several plays against the Cardinals but never had his number called. Just remember the evaluation process extends beyond the game action, too. I wouldn't necessarily write him off yet, but understand your frustration especially if you followed him at The Citadel.
---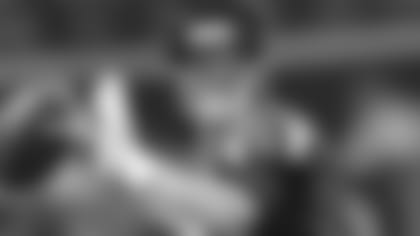 James from Decatur, GA
Can the Falcons not find someone not named Matt!
Matt: Wow, I'll pretend to not be offended by that, James. OK, I have a silly question for you now: If Matt Ryan, Matt Bryant, Matt Simms, Matt Bosher and Matt Schaub all had James as a first name, would you have a problem with it?
---
Orayl from Hagerstown, MD
Is #BringBackAllBlack coming true this year?
Matt: They call it Back in Black, and you'll have to keep checking back here to this space for updates. But I think you'll be pleased, Orayl.
---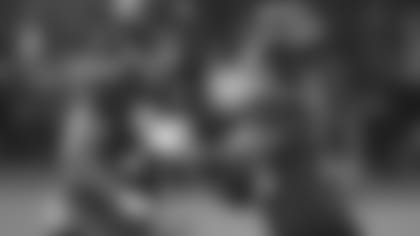 Mick from Harrison, OH
Is there a better duo at offensive tackle in the NFC than Schraeder and Matthews? Both are young and bring it in both the run and pass game. Sort of underrated if you ask me.
Matt: I think Ryan Schraeder and Jake Matthews are very good, Mick. And that offensive line improved a whole lot when center Alex Mack showed up, too. I wouldn't say they're underrated, either. But as far as the best in the NFC? The only other set of tackles that must be in the conversation reside in Dallas – Tyron Smith and La'el Collins (if he remains there) are two of the NFL's best.
---
Ian from Manchester, England
Anthony Dable joined as a young new WR. How's he looking in the team?
Matt: Dable is a fascinating story – he's a free-agent signee from France, who didn't play any college football and first learned about American football (NFL) by playing video games and watching YouTube videos. He's made plays throughout training camp and has some physical tools – he's 6-foot-4 and 220 pounds. But as far as making the team, I think it's going to be tough – the Falcons are really deep and talented at receiver.
---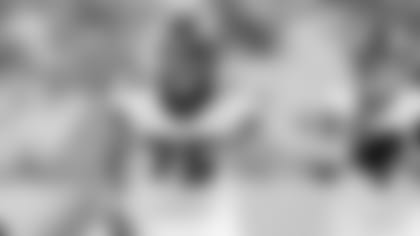 Thomas from Hedensted, Denmark
How do you see Andreas Knappe's chances for a spot on either the roster or the practice squad?
Matt: Now this is just my opinion here, but if there's one position on the Falcons' roster that has some unknowns and is wide open competition-wise, it's the backup/swing tackle position. Given that, I like Knappe's chances of possibly making the practice squad. At 6-foot-8, 320 pounds he has NFL size and while at UConn, the Denmark native started 25 games at right tackle during his final two seasons, was a two-time team captain, and was a three-time All-Academic student-athlete. And I'll say this, if you know anything about his back story, he's certainly easy to root for.
---
Lane from Alma, GA
I am interested in the progression of Austin Hooper. Do you see him becoming one of the top tight ends in the league?
---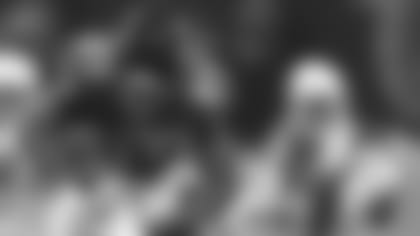 William from Seffner, FL
Free agent #87 Burton is not afraid to block but what are your impressions as WR?
Matt: Deante Burton caught my attention against the Cardinals on Saturday with a nice catch for 20 yards. But, to be real honest with you, William, Burton is fighting an uphill battle to make the 53-man roster. The good news for players like Burton is that every snap and every play they get in a game, they're also auditioning for 31 other teams who are watching closely.
---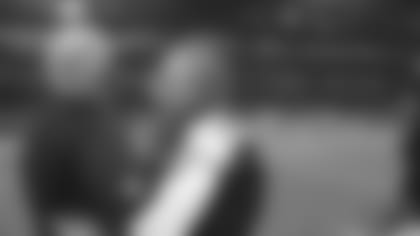 Andile from Johannesburg, South Africa
I'm new to the NFL world and I'm looking for a team to support. Why should I become a Falcons fan?
Matt: That's easy, Andile. First, thanks for writing me and (again) welcome to Straight from the Beek. Well, it all starts from the top when it comes to the Falcons. This team has an owner in Arthur Blank, who cares deeply about this city, the people who work for him, this team and he just built a one-of-a-kind stadium. This team – which considers itself a Brotherhood first, thanks to their coach Dan Quinn – is coming off a Super Bowl run, is deep, talented and hungry for redemption. The Falcons have never won a Super Bowl either and, so, to be a part of that would be something very special. Don't you agree?
---
Frederick from Atlanta, GA
What it do, Beek? Looking at our schedule for this season, what do you think our final record will be?
Matt: I think this team is built to win anywhere from 10 to 14 games, depending on health. So I'll say 12-4 – and that would be a tremendous year that'll likely include a first-round bye and a home playoff game.
---
Orian from Macon, GA
Do you think the final roster will be better than last year and, if so, do you think we will make it back to the big show?
Matt: I'm assuming the "big show" is the Super Bowl here … Yes, I think this roster is more talented and deeper on defense and the core on offense is also returning. So, on paper, they would appear to be just as good, if not better. But this team hasn't won a regular-season game yet in 2017 – that all starts on Sept. 10 in Chicago. And, as noted above, I think they have a good chance of making a postseason run. And as Falcons fans are well aware of, once you're in the playoffs anything can happen.
---
Mike from Mobile, AL
Do you think the Falcons can (go) all the way?
Matt: Hey, Mike. See the previous two responses above. Hope that answers your question!
---
Kit from Hickory Flat, GA
On game day, does the team ride to the stadium on a bus? Or do they ride separately in their own cars?
Matt: Hey, Kit. The team stays in a designated hotel, usually the night before and rides over to the stadium together in buses. HAVE A QUESTION?