Welcome to Straight from the 'Beek, a place where Falcons fans can ask questions, vent and celebrate. Send me baseless cheap shots or make personal attacks – something I'm getting a lot more of these days – and your submissions will promptly meet my delete button! Well, not always. It just depends. Just remember all opinions here are mine unless otherwise noted.
David from Fort Valley, GA
Hey, Beek. You are full of yourself. How much has it cost the Falcons over eight years for the pitiful 43 touchdowns passes Julio Jones has caught? Setting records are for individuals. How many yards and so on does Jones have without the other 10 Falcons on offense? One of your regular writers stated last week in a question how you took all questions. I call (expletive). Julio Jones does not run his routes hard, he does not explode out of his breaks. That is the reason Julio is useless in the red zone. I trade Julio for a starting LB and possibly an interior lineman and six draft picks over the next two years. You are sacred [sic] to put this question to Falcons fans. Man up, Beek. I promise I will never bother you again but deep down in your heart you are a coward.
Matt: Nope, not a coward, and really glad you're not the Falcons general manager, David. But sacred? Wow. That's some high praise. Now keep your end of the deal. Thanks for writing in.
Mark from Marietta, GA
Hi, "One Play Beek." Given that the Falcons are one play away per loss in 2018, what in your respectful opinion should the team do game planning-wise to correct this deficit? Also, any thoughts about more 400-plus yards passing games by the team already as compared to all of 2017. Thanks, Beek!
Matt: You know, I kind of like that nickname, Mark. Think I'll look into a trademark for it – and changing my social media handles to it at the very least. Well, since the Falcons are missing the four most important players on defense right now – Deion Jones, Grady Jarrett, Keanu Neal and Ricardo Allen – the first thing I'd do is make sure they get back as soon as possible. Jarrett is week to week, Jones can potentially return for the Week 10 game vs. Cowboys and the other two – Neal and Allen – are gone for the season. There aren't any All-Pro players walking the streets right now, so the Falcons are working with what they have, Mark. I get so many emails about how "the Falcons should trade for" this guy or that guy – and 99.9 percent of them make no sense at all. Zilch. There's this thing called a salary cap and there's a number of other players who are up for new deals, Jarrett being one of them. So what do they do? Well, coach up the players they have, adjust to their skill sets, and put them in a position to best succeed. There's a lot of on-the-job training going on right now at Flowery Branch. Rookies like Isaiah Oliver, Deadrin Senat and Foye Oluokun are doing their best to learn but be in a position where they're reacting (and not thinking) – so they can make plays. And one thing we haven't talked about is how the running game can help this defense. Remember starting running Devonta Freeman? He's been out since that Week 1 loss to the Eagles. It'll be very good for this team to get him back. The offense has put up Madden-like numbers, but it might be a good thing to see them sustain some drives, eat some clock, keep scoring points and keep that defense off the field. Regarding the 400-yard passing games, see my comments below. That's my two cents.
Barry from High Point, NC
Hey Beek. Since the end of the Bengals game this past Sunday I have been walking around in a fog. Today I finally shook it off, took a deep breath, and returned to normal. I have a need to vent and, whether or not you print this, I can think of no better way than to tell you how I feel at this moment. Since 1966 at the end of each and every season I have said the same thing, "Wait till next year." I have never, not once, given up hope even during the worst of times. I have considered this team "My Boys" for a very long time. I not only have hope that they will win but know with certainty that a championship will eventually happen. With this knowledge it has always upset me when fair-weather fans (expletive) and complain about temporary shortcomings and jump off of the bandwagon. This was to be their year and when players started falling in groups from injuries I became terribly alarmed. This couldn't be happening. However, I am still keeping my hopes up. I am trying so hard not to get angry at some of the fans' reactions. I want to tell them to be like me. I have faith in DQ and sincerely feel that he will somehow work his magic and lead the team to the playoffs. My certainty in this is what is keeping me going. Three to four decades ago I adopted a personal slogan. I have had several T-shirts made for myself and friends and family with this slogan on it. I use it instead of "hello" when I answer the phone and lovingly proclaim it through tears and joyous celebration. It always makes me feel better when I say, "FALCONS DAMNIT!"
Matt: Barry, thanks so much for writing in. Don't ever change, my man – and please send me one of those awesome T-shirts!
Mark from Duluth, GA
Yo, Beek. Love SFTB, btw. I'll keep this one short: Is the Steelers game a must-win game for the Falcons?
Matt: Hey, Mark. I'll keep it short, too. Yes, I think so. Falcons coach Dan Quinn said he treats every week as a must-win game. But I think this team really needs this one. A 2-3 record with a win in Pittsburgh is much better than 1-4. The Steelers are 1-2-1 and need this one, too. It should be a heck of a fight. Glad you love SFTB, btw.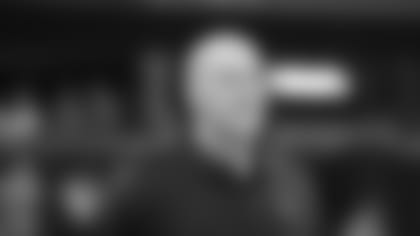 Jay from Sacramento, CA
Hello, Beek. Thanks for all your work that you put in. Love SFTB and Falcons Audible! Been a Falcons fan since '98 watched the game with my daughter this last week and she's a fan as of 18. I love it. I was very disappointed after the first loss, and even with room for improvement on defense I like the potential I see in our draft picks Kazee, Riley, Oliver, Smith, and Ridley. Let's not forget on the defensive side of the ball when Jones, Neal, and Beasley were the youngins having to figure out the chemistry towards the end of our season on route to the Super Bowl and our defense gained respect. So, keep your head up all my Dirty Birdz! Now to my question, Beek. I have a big pet peeve of these coaching calls that have been made over these past couple years. How many times have we went for it on fourth or went for two points and failed? Well I love gutsy calls and think Coach Quinn is great, but no one brought up when we went for two to go up by 7. If we kick the PAT with a lot of game left and no signs of our offense slowing down you deal with it when it comes. If we do that we go to OT another week in a row and at least have another chance instead of like the 15 seconds we had left. What's your take, Beek? Thank You. Rise Up Falcons Fans! Good things are on the horizon.
Matt: First, thanks for the kind words, Jay! And thanks for being a loyal SFTB reader – and love that you're diggin' the new podcast, Falcons Audible. It's definitely a work in progress, but we're having fun with it, trying to find out spots and experimenting with some different things. (Be sure to go to iTunes and give us a nice 5-star rating if you're so inclined – that would really be nice to see!) You're spot on regarding your comments about the young players – it takes time and reps. And, yes, I'd throw Duke Riley into that mix for sure since he missed time during his rookie year with injuries. But I also get the frustrations over being 1-3. It is frustrating and I'm not sugarcoating it! There's a difference, though, between acknowledging something and being negative. I try to stay in the middle and not go over the top … or dip down and sound like some of the Negative Nancys out there. What good does that do, whether you're talking about a football team, a flat tire or something at work? Go fix it and worry about what you can control. Anyway … regarding your question about the two-point conversion attempt. I had no problem at all with it and here's why. The Bengals score four first-half touchdowns and led 28-24 at halftime. After Matt Bryant kicked his second field goal of the game to narrow the lead to 28-27, the Falcons scored early in the fourth quarter to go ahead 33-28. They held Cincinnati scoreless in the third quarter and the defensive adjustments seemed to be paying off. Going for two there to make it a tie game in the fourth is not a terrible idea, all things considered. You've got to have faith that the offense – which has been playing lights out – can convert there. I like the aggressiveness and logic there.
Charles from Atlanta, GA
Hi again, Matt! First, I love the podcast, first time listening to it, but I won't miss it from here out! You are outnumbered against the two ex-quarterbacks! Next, I guess mourning fans expect you to see the despair that they see. There are many ways to look at this, defensively we have to match our schemes to the personnel we have or go find Debo, Allen and Neal replacements (not happening!). Also, look around, rule changes are one of the reasons that there were 19 teams that scored 24 or more points last weekend, and four 400-yard passers! Brees takes a licking and doesn't score under the old rules. No need to change coordinators or panic. The good thing is many of our players offensively and defensively are learning at a rapid pace. I've watched the linebacker from Yale grow solidly every week. Hang in the Beek, we gotcha back and you're not just a company man as some would suggest!
Matt: Thanks, Charles! Glad you like the podcast – and, yes, those two do like to talk and I'm starting to push back more. You can only be nice for so long, ya know? Hahaha! To your comments … you can't just go out and replace a pair of Pro Bowlers like Keanu Neal and Deion Jones – you're right about that. Regarding all of the points, is it a change in rules, bad defense, good offense or a little bit of all three? I don't have a definitive answer just four games into the season. I'll also point out that in Week 4 the bears held the Bucs to 10 points, the Packers pitched a shutout, the Jags held the Jets to 12 points and the Patriots held previously unbeaten Miami to a touchdown. Am I being too positive or just pointing out the facts again? Heh heh, that's for some other readers, Charles. Oh … regarding Foye Oluokun. I think he's getting a little better each week. He'll have his ups and downs, but we're all starting to see why the Falcons used a draft pick on the Yale product.
Be sure to catch Matt Tabeek, D.J. Shockley and Dave Archer every Monday afternoon on Falcons Audible podcast. Listen and subscribe to it on_iTunes_, _Google Play_ or _watch it here_on AtlantaFalcons.com.