The Carolina Panthers are missing star running back Christian McCaffrey, but they are still a unit that no defense can afford to overlook.
That includes the Falcons, who appear on track to get some important defensive starters back for this game. Nevertheless, for a team searching for its first win of the season, Sunday's game could be defined by how well Atlanta's defense slows down Carolina's offense.
Even without McCaffrey, the Panthers have a number of other play-makers they can get the ball to. Robby Anderson has emerged as one of the top receivers through four games, and D.J. Moore and Curtis Samuel offer a lot in the passing game as well. Offensive coordinator Joe Brady uses some of the fundamentals he learned while in New Orleans with Sean Payton, which has been consistently one of the best offenses in the NFL for nearly two decades.
"It's easy to see some of the similarities," Falcons coach Dan Quinn said. "I think that's common, when you think about it, where somebody has a background in a certain spot. Knowing some of the concepts that have come up. Knowing some of the concepts that you've had a tough time with. Those are the ones that you generally look at. I would say, yeah, there's definitely a part of that that goes into their system that feels a lot of New Orleans' influence." 
Beek's Bits: Biggest game of year for Falcons
Sitting at 0-4, the Falcons face their most important game of the year. In truth, each game from here on out will be the most important game, that's the size of the hole Atlanta is in. Matt Tabeek laid out Falcons' current situation plainly in this week's Beek's Bits, which breaks down a number of key storylines ahead of the game. "Here it is, folks: Forget talk of the next 12 games," Tabeek writes. "Forget talk of a division title. Forget talk about the playoffs. Forget about milestones and records, too. None of it matters right now. No, the only thing that matters for these Falcons is Sunday's game against the Carolina Panthers at Mercedes-Benz Stadium. The Falcons must have this one. Yes, it's a must-win game. Not only is it another conference game, it's a division game. Normally I'd say every game is important, but this one is really important. A win Sunday gets Atlanta right back into things, believe it or not. The Saints and Panthers are 2-2. The Bucs are 3-2. A 1-4 record isn't great, but it's a giant step in the right direction."
Six telling stats from Falcons' first four games
With a quarter of the season in the books, we're beginning to get a sense of the identity of the 2020 Falcons. Kelsey Conway took a look at some of the key stats from Atlanta's first four games, zeroing on six of them that really stand out. The team's defense has gained much negative attention thus far, but there's one aspect of that unit that has played well. "The Falcons have been stout against the run as they rank No. 10 in the league in run defense," Conway writes. "Giving up 106.8 yards per game, the unit has made a commitment to stopping the run. Safety Damontae Kazee, who was just placed on injured reserve, led the Falcons in tackles with 17. Pittsburgh and Tampa Bay are leading the league against the run, allowing 54 and 64.3 yards respectively."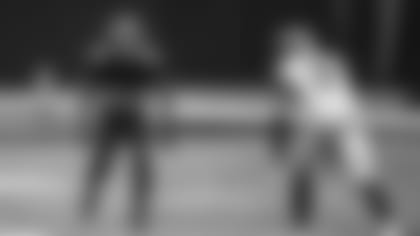 Falcons activate rookie cornerback A.J. Terrell
The Falcons announced this week that they have activated rookie cornerback A.J. Terrell off of the reserve/COVID-19 list. Terrell, the team's first-round pick in this year's NFL Draft, went on the reserve/COVID-19 list prior to Atlanta's game against the Chicago Bears and also missed the prime-time matchup with the Green Bay Packers. A starter entering the season, Terrell showed improvement from Week 1 to Week 2 and is an important figure for the Falcons' defense moving forward.
Q&A with FOX Sports color analyst Brock Huard
Ahead of Sunday's game, Kelsey Conway spoke with Brock Huard, who will serve as FOX Sports' color analyst for the matchup. They discussed Atlanta's defense, who could emerge as the Falcons' X-factor and an improving Carolina offense. "I'm confused at what I'm looking at and it shouldn't be that way because if I'm confused, they're confused," Huard said of the Falcons' defense. "The miscommunication, the breakdowns in coverage with players running wide open because you just have not communicated the basics. When you can't function and you can't defend and you blow assignment after assignment, it's difficult to watch. It's compounded when Keanu Neal and Ricardo Allen and the plethora of players are out because they can't fix it. Usually guys can fix it. You've got to be a fixer and not part of the problem and when you have so many people out, there's no one to erase those communication issues."
Matt Ryan shares thoughts on Panthers defense
Carolina doesn't just have a new look on offense, it's changed things on defense around as well. Not only do they have a number of new starters on that side of the ball, the scheme is completely different. Covering Matt Ryan this week, Kelsey Conway detailed his thoughts on the Panthers defense. "They're a completely different scheme and a lot of different personnel from what we've faced really in the last decade in Carolina," Ryan said. "That part of it has been an adjustment for me. They keep things in front of them. They do a good job of trying to limit explosive plays. And they are fast. They have really good speed at all three levels of their defense and I think that's part of why they've had success the last two weeks."
Everything to know about the Panthers
The defensive additions for Carolina the past couple of offseasons have helped bolster a defensive line that saw a lot of turnover in recent years. Now, that unit appears to be gelling at the right time and making game-changing plays, which Kelsey Conway explained in her early preview of this matchup. "With former first-round Brian Burns and this year's second-round pick Yetur Gross-Matos, the Panthers have found their duo coming off the edge," Conway writes. "Burns and Gross-Matos both have one sack on the year but look to be gaining more confidence each game. Burns recorded 7.5 sacks in the 2019 season and one forced fumble. Gross-Matos' strip sack on Kyler Murray was one of the game-changing plays for Carolina's defense in their most recent win over the Cardinals."
The Atlanta Falcons head to Charlotte to face the Carolina Panthers in Week 8 of the 2020 NFL season. Take a look back some of the history of the matchup at Carolina.