Welcome to Straight from the 'Beek! If you've got Falcons-related questions, this is the place to ask. Just remember, all opinions you see in this space are mine, unless otherwise noted.
Do the Falcons have plans for new uniforms this coming season? Please say yes! Thanks!
Matt: I receive a ton of emails about the uniforms – and it's no secret that the majority of Falcons fans would love to see the team change uniforms (and go back to some previous looks/color combinations). As of right now, I have not heard anything about uniforms changes for the 2018 season. So, no, there are no official plans to my knowledge. If you guys had to pick a favorite uniform combination, though, what would it be? Leave your thoughts in the comments section below. I have a feeling most of you are going to go with the black-black-silver look (see below).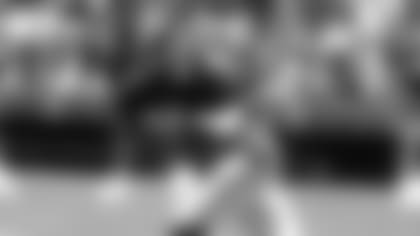 ---
Hey Beek! Loving' SFTB. It'll keep me company throughout the off-season. So, I'm looking at the 2018 draft for our Falcons. What do you think are the top four positions of need that could be addressed through the draft?
Matt: Hey, Don. Well, with that first pick, you always want to go with best available, regardless of position. Can't have enough playmakers and difference-makers, in my opinion. That said, if I were to pick four areas of need or ones that I'd bolster, I'd go with offensive line, defensive line, cornerback and then maybe tight end or receiver. But definitely offensive line first.
---
What's up, Beek!! I enjoyed all of your columns this year look forward to the next. I admit that I was a little hard on Steve Sarkisian at times, but at the end of the year I want to admit I was wrong. I have faith in this guy and believe that Year 2 will have a lot of people thinking, 'Dang, sure glad we got him.' He had better numbers than Kyle Shanahan had his first year, I think, and we all know how well that turned out. Anyway, my question involves Jimmy Graham. What's all this talk of him becoming a Falcon?
Matt: Hey, Chris. Glad you enjoyed Straight from the 'Beek this past season. I started it in August and it just kept growing in popularity because of readers like you (who Jerry from Statesboro, Ga., likes to refer to as the Beekers)! If you missed Dan Quinn's comments during his season-ending press conference on how the transition to Sarkisian went this year, you should give this a read. To your question about Graham, where are reading this stuff? Message boards? Graham enters the offseason as an unrestricted free agent. I'm not sure what you think of Graham as a player, but he's not the same player he once was, although he was a threat down near the goal line and in the red zone in 2017, scoring 10 touchdowns. If I had to guess, injuries and, well, age are starting to slow him down some. Outside of his rookie year when he started just five games and caught 31 passes for 356 yards and five touchdowns, Graham is coming off his least productive season as a pro. The 31-year-old tight end caught 57 passes for 520 yards but did have the 10 scores. I have not heard or read anything credible tying him to the Falcons.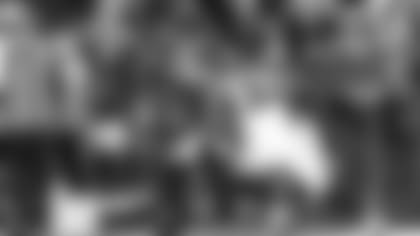 ---
William from Charleston, SC
Hello, Beek. A disappointing end, but at least we can look forward to getting better. With our weakness at guard, what would you think about the possibility of moving Dontari Poe to offensive guard with his low center and power?
Matt: To borrow Dan Quinn's words, I'd say there's "zero chance" of that happening, William. Poe is an excellent defensive tackle, not a guard. I know everyone loves it when he lines up in the backfield to run, block or pass, but the man is a defensive tackle. Secondly, his one-year prove-it deal is up and he's now an unrestricted free agent. If the Falcons choose to re-sign Poe for more money, it'll be at defensive tackle.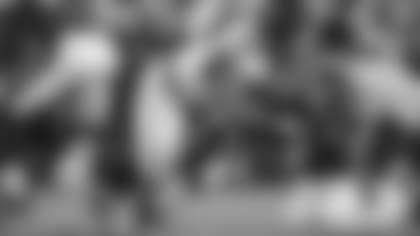 ---
What up, Beek? I have a question about the future of Tevin Coleman. Thomas Dimitroff said that he thinks there is a realistic shot of re-signing Tevin Coleman (when his contract is up), but I think it'll be tough. My question is, maybe we would start looking into the future to some of the prospects in the upcoming draft to replace Coleman (assuming the Falcons would have to replace him at some point down the road). Knowing that Derrius Guice and Saquon Barkely will most likely not be available, a few prospects that pop into my mind are Sony Michel, Nick Chubb, Ronald Jones II, and Rashaad Penny. Maybe we try to draft one of them in Round 2 or 3?
Matt: Let's get one thing clear for the readers, Tevin Coleman's current four-year deal is up following the 2018 season. He's not an unrestricted free agent this year. OK, if you recall, Dylan, the Falcons drafted running back Brian Hill in the fifth round of last year's draft. So, it wouldn't really be too surprising if they chose another back this year – especially if one they have rated high on their draft board slides to them. It would have to be someone they really covet to take a running back in the second or third round. I also think the Falcons have more pressing needs at other positions, but it will all depend on how free agency and the draft play out this offseason.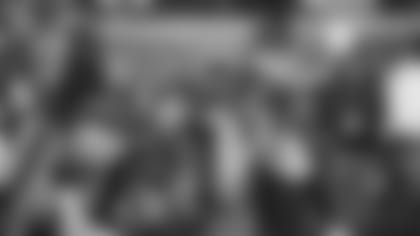 ---
Hi Matt! Writing to thank you and all of the Brotherhood for this outstanding forum that continues to provide conversations, observations, opinions, and declarations. It has been enjoyable reading your and other peoples' perspectives about our Falcons. While disappointed with the premature end to our season, I am encouraged that we were just that close to playing for the NFC title while knowing that our team did not play their best ball: 30 drops, -2 in turnovers, inopportune penalties to beat the band, and new coordinators. The team performed outstanding ball under the blanket of the dreaded 'Super Bowl Hangover.' Having been a fan since 1966 and remembering the teams of past years, I am totally confident in the future and direction of our team; the ownership, Coach Quinn, and the players have strained to get this far and the future is bright. I, for one, appreciate the 'bromides' and 'rah-rah' that others may find annoying (looking at you Mark Bradley). The defense is one of the youngest in the league and has worked to a very high level. The offense was a struggle, but sometimes that is what happens when playing with an oblong ball! I am looking forward to the combine and the draft, training camp, etc., but I just want to congratulate the team and all of the Falcon Fans, the BROTHERHOOD, for another outstanding year!
Matt: Hey, Kevin. Thanks, as always, for your comments. I believe there are a lot of Falcons fans out there who think the same way you do, and it's nice to get – and post – your positive emails every now and then. HAVE A QUESTION?