Editor's note: This is the second of a nine-part series detailing each position group ahead of the Falcons training camp.
FLOWERY BRANCH, Ga. – The Falcons offensive line returns every starter from last season and the offseason acquisition of guard Brandon Fusco gives them another veteran option to evaluate over the coming weeks and months.
Here are five things to know about the Falcons' offensive line: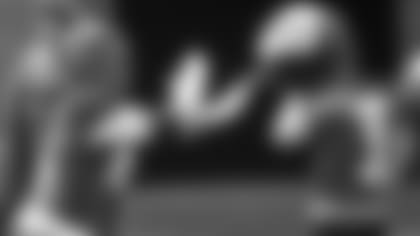 Fusco should get up to speed quickly
It's unclear what the Falcons' plans for Fusco (pictured above) are at this point, but if they decide to make him a starter at the right guard spot heading into the season, he should be ready to go from Day 1. Why? Well, he spent last season in San Francisco under former Falcons offensive coordinator Kyle Shanahan who runs the same wide-zone scheme that Atlanta employs.
"I'm getting more comfortable," Fusco said over the summer. "It's pretty much the same concept that I had in San Fran. There's just a bunch of different terminology and stuff like that I have to get used to. Hearing the calls from Alex [Mack] and getting used to [Matt] Ryan and everyone else is going to take time, but I'm willing to work and get this thing right."
An 80-game starter over the course of his seven-year career, Fusco is an established professional who will be ready to go if called upon.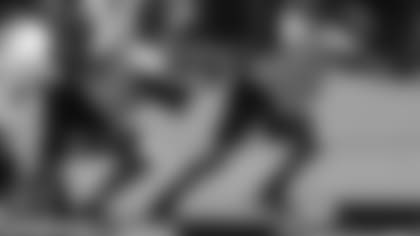 Don't forget about the other guards, either
It may be compelling to pencil Fusco in as the starter at right guard immediately, but, again, nothing has been confirmed from the team on that front just yet. While there likely won't be a full-blown competition at the position like there was last season, don't forget about Ben Garland and Wes Schweitzer (pictured above).
Garland has been working with the starting unit over the summer as a fill-in at left guard while Andy Levitre continues to rehab from his triceps injury, and he's viewed as a very valuable and versatile player who can help the team in a pinch. Schweitzer should benefit from the year of experience he gained last season, and he may also learn a few things from Fusco that will help him moving forward.
The Falcons often give their offensive linemen a red-shirt year after drafting them to help them make the transition from college to the NFL, which general manager Thomas Dimitroff has said is especially tough at that position. In that frame of mind, Schweitzer's inconsistency in his first year as a starter were to be expected, but that's no reason to give up on him.
Levitre working hard in his injury rehab
The Falcons were without Levitre at left guard throughout OTAs and minicamp, but he's working hard in his recovery from an injury that caused him to miss the playoffs last season.
"He's making a push (to return)," Falcons head coach Dan Quinn said during OTAs. "Our goal would be at the end of minicamp. I'm not saying he'll play at that spot, but he's making a push to be ready right around then. "He was dealing with his knee and triceps. He's really put in good work. I'm excited about where he's been over the last six weeks. When you see those big jumps take place, that's certainly happened with him."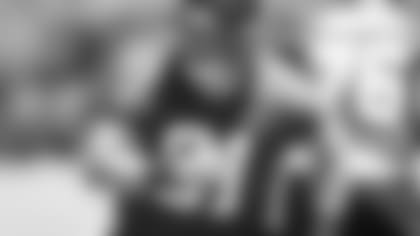 Other players to keep an eye on at training camp
With established starters along the offensive line, the Falcons are likely looking to evaluate for depth during training camp. There are a number of players who were with the team last season worth watching and a few new faces to monitor.
I already mentioned the Falcons' red-shirt year approach along the offensive line, and the same holds true for Sean Harlow, the team's fourth-round pick last year. Harlow played left tackle at Oregon State, but he's transitioned to guard with the Falcons. It will be worth watching to see how he performs with a year under his belt. Austin Pasztor, Ty Sambrailo and Daniel Brunskill figure to get most of the backup tackle work, while Jamil Douglas is another guy to watch at guard.
As for the rookies, center J.C. Hassenauer (pictured above) was a versatile interior lineman for Alabama and started for the Crimson Tide against Georgia in the national championship. Matt Gono is an athletic tackle with long arms, and Salesi Uhatafe started every game over the last two years at guard for Utah.
This group should be in good shape entering 2018
Despite all of the hand-wringing over the need to upgrade the right guard spot, this is a group that should inspire confidence. With a certified All-Pro at center in Alex Mack and established players at all of the other positions, the Falcons should have a unit that will once again be among the best in the NFL.