Editor's note: This is the fourth of a nine-part series detailing each position group ahead of Falcons training camp.
FLOWERY BRANCH, Ga. – The Falcons once again have one of the NFL's top running back tandems, and a few exciting rookies ready to make an impression in camp, but who will be the team's lead blocker?
Here are five things to know about the Falcons' running backs and fullbacks: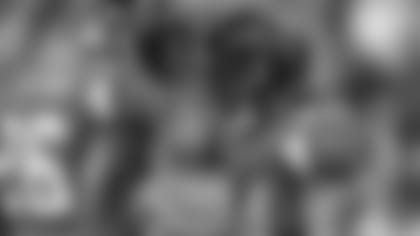 1. Freeman and Coleman are gearing up for a 2,000-yard three-peat
Not much needs to be said about the Falcons' top two running backs, because we all know what they can do. In 2016, Devonta Freeman and Tevin Coleman combined for 430 touches, 2,482 yards and 24 touchdowns. In 2017, the duo combined for 415 touches, 2,109 yards and 16 touchdowns.
The versatility that both Freeman and Coleman possess make it extremely difficult for defenses to contain them. Both running backs look healthy heading into training camp, and they will enter the season looking to surpass the 2,000-yard mark as a duo for the third year in a row.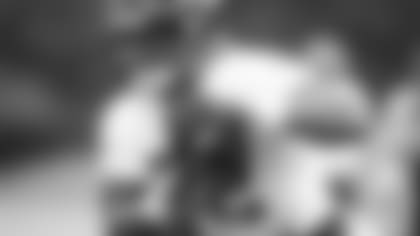 2. An electric rookie running back class should make for a lot of fun
The Falcons have a few interesting rookies in competition for the third running back spot: fourth-round draft pick Ito Smith, Justin Crawford (pictured above) and Malik Williams.
Smith left Southern Miss as one of the most productive running backs in college football history. In his four years at Southern Mississippi, Smith gained 4,538 rushing yards, 1,446 receiving yards and scored 49 touchdowns. His 5,984 combined yards from scrimmage are the 15th-most in FBS history. That production didn't happen by accident; Smith has an ankle-breaking jump cut that could be perfect for the Falcons' wide zone scheme.
Don't count Crawford and Williams out, though. In his two seasons at West Virginia, Crawford gained 2,224 rushing yards and 12 touchdowns. He looked impressive catching passes out of the backfield during minicamp and made a number of eye-catching plays. Williams, meanwhile, is a versatile athlete who played all over the field during his college career and has shown good vision in his short time with the Falcons.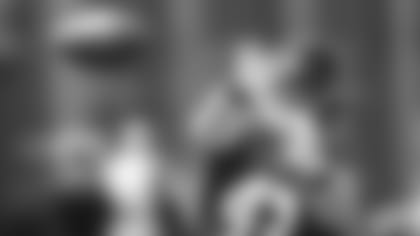 3. The Falcons need a fullback and they have three good options
It's not sexy, but the Falcons' biggest training camp battle on offense might just be at fullback. Derrick Coleman is gone, and the Falcons have an opening at the position. Fortunately, they have three strong candidates to evaluate over the coming weeks: Daniel Marx, Luke McNitt and Ricky Ortiz.
The Falcons value versatility at the fullback position, and they enter camp with players who bring different skillsets to the table.
Marx didn't have much individual production as a runner and a receiver, but he's a good blocker in space and helped Stanford finish as a top-35 rushing offense in his final three college seasons. McNitt is another talented lead blocker who is probably more of an athlete than his numbers in college would indicate. He made a number of good grabs as a receiver out of the backfield in minicamp.
Ortiz is the only fullback on the roster with some NFL experience, as he spent part of last season on the Ravens' practice squad. He's arguably the most versatile option for the Falcons at fullback, as he played fullback, tight end and linebacker at Oregon State, and caught 17 passes for 124 yards and a touchdown during his college career.
4. Another familiar face re-joins the Falcons' backfield
Outside of Freeman and Coleman, Atlanta's backfield will consist of mostly rookies during training camp. There is one familiar face, however, as the team decided to bring back Terrence Magee in June. Magee, 25, was signed by the Falcons midway through last season and appeared in two games for the Falcons while Freeman was injured.
At the very least, Magee is another experienced player at the position for the Falcons, and he will be a good addition to the running back room for the foreseeable future.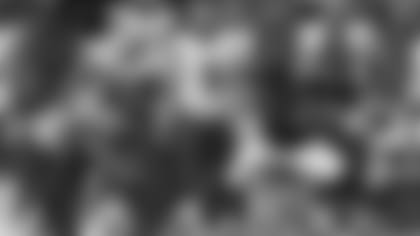 5. Release the Coleman: Falcons fans may get their wish
After he displayed his receiving abilities in 2016, Falcons fans yearned to see Coleman's versatility utilized by the offense. This season, it sounds as though they will get their wish.
"They are just going to use me more ... lining up out wide and stuff," Coleman told Kelsey Conway. "It's going to be pretty fun."
In his three seasons with the Falcons, Coleman has caught 60 passes for 734 yards and six touchdowns. Might he be in store for his best receiving season yet?
Roster bonus: Breaking down the depth at running back and fullback (prior to training camp)
Locks: Devonta Freeman, Tevin Coleman
Contenders for backup: Ito Smith, Ricky Ortiz, Luke McNitt
Keep an eye on them: Justin Crawford, Malik Williams, Daniel Marx, Terrence Magee