Editor's note: This is the fifth of a nine-part series detailing each position group ahead of Falcons training camp.
FLOWERY BRANCH, Ga. – The Falcons have added some quality depth behind starters Robert Alford, Desmond Trufant and Brian Poole, making cornerback one of the deepest positions on the roster.
Here are five things to know about the Falcons' cornerback position: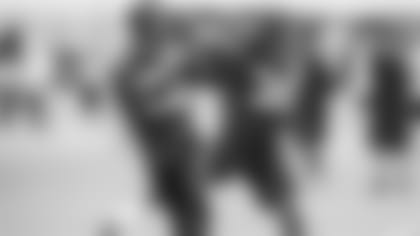 The Falcons built a strong, complete cornerback group over the offseason
In last year's loss to the Minnesota Vikings, the Falcons entered the game without both Desmond Trufant and Brian Poole, leaving them to use various combinations of CJ Goodwin, Damontae Kazee and Blidi Wreh-Wilson as replacements. On a crucial third down late in the game, the Vikings converted an easy slant route for 22 yards against Goodwin to seal the win.
Atlanta took big steps to bolster their depth at cornerback over the offseason in case it finds itself in a similar situation in 2018. In addition to selecting Isaiah Oliver in the second round of the draft, the Falcons signed free agent Justin Bethel (pictured above), a Pro Bowl special teams player and an athletic defensive back.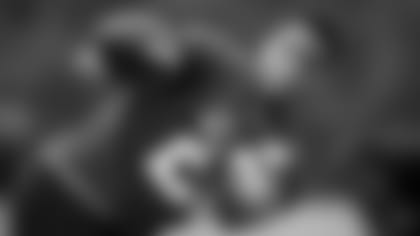 There should be must-see competition during training camp
Falcons head coach Dan Quinn has made it a point to play his young players, and Oliver (pictured above) looked impressive during minicamp. Oliver is best suited to play one of the outside cornerback roles, though, meaning the Falcons may have to get creative with their lineups to find him playing time if he earns a spot in the rotation during minicamp.
Bethel was vocal about his desire to have a regular role at cornerback during his time with the Arizona Cardinals, and that desire likely hasn't gone away. He made a couple of nice interceptions during the Falcons' minicamp practices and is also looking to earn a role with the defense. And then there are veterans like Wreh-Wilson and Leon McFadden, who were among the primary backups at cornerback for the Falcons last year.
With a number of quality players and only so many roles to go around, there should be competition at every level of the depth chart at cornerback, making it one of the most exciting position battles to watch in training camp.
What will be the starting lineup in Week 1?
After the selection of Oliver in April's draft, a portion of the Falcons fan base was quick to pencil him in as a starter in Week 1. That might be a little premature. His skillset is suited much better for an outside corner spot – where the Falcons already have two quality veteran starters in Trufant and Alford. It's possible Alford could move to the slot cornerback spot, which is something the media and fan base has contemplated in the past, but the Falcons have given no indication that's the plan at this point.
Atlanta's starting trio of Trufant, Alford and Poole has been an effective one. Poole has been a quality player in his two seasons for the Falcons, and he turned in a very impressive performance in the playoff win against the Los Angeles Rams last season. The Falcons trust him at their nickel cornerback spot, and it may be a bit premature to believe any change is coming to the starting lineup for Week 1.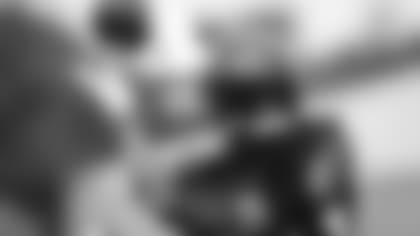 Trufant taking a unique approach to become a ball-hawk
One of the most versatile cover corners in the NFL, Trufant (pictured above) is working to make quarterbacks pay more often when they decide to throw his way. The five-year veteran has nine career interceptions but just four picks over the last three seasons. In minicamp, Trufant took a unique approach to have a greater ball-hawk mentality and it's fair to assume he will continue that when training camp begins.
During the early portions of minicamp practices, Trufant worked with Mohamed Sanu and the Falcons quarterbacks to improve his reaction to passes that have a higher degree of catch difficulty.
"So often, playing DB or receiver, it's not about the catch that's right in front of you, it's the one that's behind or low," Quinn explained of the different approach. "Mo is one of the very best at putting his body in a certain spot, practicing the catch that's 1 inch off the ground, catching the one that's behind him. Examples like that to provide to Tru, as a DB very few would come right to him. He has to be in the same way to go and extend and make a catch."
Who are the other cornerbacks to look out for?
I've already covered the returning starters and the primary newcomers at good length, but what about some of the other cornerbacks on the roster? Wreh-Wilson and McFadden return for the Falcons, as does Deante Burton.
Wreh-Wilson has been with the Falcons for the past two years, appearing in nine games during that time. Prior to joining Atlanta, Wreh-Wilson spent three seasons with the Tennessee Titans and he has 91 tackles, 15 pass defenses and one interception in his career.
McFadden was signed by the Falcons in December last season but did not appear in any games. During his four-year career, McFadden has played for four different teams and was active for 34 games; he has 31 tackles and two pass defenses. Burton was signed by the Falcons as an undrafted free agent last year and transitioned from wide receiver to cornerback during training camp; he spent his first NFL season on the team's practice squad.
Roster bonus: Breaking down the depth at tight end (prior to training camp)
Locks: Desmond Trufant, Robert Alford, Brian Poole, Isaiah Oliver
Contenders for backup: Justin Bethel, Blidi Wreh-Wilson
Keep an eye on them: Leon McFadden, Deante Burton