Editor's note: This is the seventh of a nine-part series detailing each position group ahead of Falcons training camp.
FLOWERY BRANCH, Ga. – The Falcons have returning starter Austin Hooper, newly acquired Logan Paulsen and an intriguing second-year option in Eric Saubert at tight end as they head into training camp next week.
Here are five things to know about the Falcons' tight end position: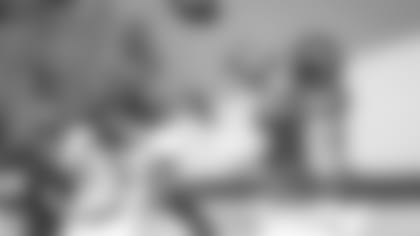 Hooper's offseason work could pay off big time in the fall
This is just my opinion, but I don't believe Hooper (pictured above) deserves the constant criticism he has gotten over the last several months. Did he make a few glaring mistakes last season? Yes, he did. But at age 23 – the same age as rookie Calvin Ridley – Hooper enters his third year in the NFL and offers plenty of upside.
His production made a sizeable jump in his second season with the Falcons as Hooper caught 49 passes for 526 yards and three touchdowns, an increase of 30 receptions and 255 yards from his 2016 stats. Let's not also forget that Hooper caught a touchdown in the Super Bowl as a rookie.
Hooper has spent this past offseason working with quarterback Matt Ryan and spending time improving his overall game. Tight ends coach Wade Harmon recently explained the position is a very involved one in the Falcons' offense, and Hooper's grasp of the nuances that surround it has continued to increase.
Given the weapons Atlanta has on offense, Hooper likely won't have the same numbers as players like Travis Kelce or Greg Olsen. But he can certainly become an effective weapon at every level of the defense and a reliable target for Ryan.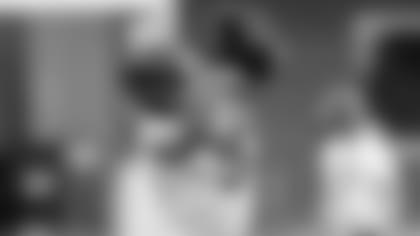 Saubert may become a fan-favorite at training camp
During minicamp, Saubert (pictured above) was one of the true highlights. That statement comes with a big grain of salt in the form of the word "minicamp," but it's very possible he continues to make eye-catching plays during training camp.
A fluid route-runner who has reliable hands, Saubert looks more like a slot tight end than a traditional in-line blocker but that is a useful position in today's NFL. Saubert was a standout in college at Drake, catching 190 passes for 2,253 yards and 21 touchdowns, but he undoubtedly benefited from a year in the NFL with the Falcons.
He ultimately needs to prove he can make plays in live NFL games, but don't be surprised if Saubert draws a few cheers from the fans in attendance at training camp this summer.
Paulsen is a savvy veteran who could have an important role
The Falcons didn't make any headline-stealing moves in free agency, but they did make the type of calculated additions that contending teams often do. Paulsen very much fits that category.
The seven-year veteran should be familiar with the Falcons' scheme after spending last season in San Francisco with former Atlanta offensive coordinator Kyle Shanahan. He figures to fill the void left by Levine Toilolo as the Falcons' primary blocking tight end, which is an important role as the team looks to convert short-yardage situations more consistently in 2018.
Paulsen doesn't offer much as a receiver – he's caught 82 passes for 816 yards and six touchdowns in his career – but the Falcons already have Hooper for that. Instead, Paulsen's ability as an in-line tight end who can make blocks at the line of scrimmage and in space will be his biggest contributions to the team.
Will any of the other tight ends make an impression at camp?
We've already discussed the three tight ends who Falcons fans may be most familiar with, but there are three other players at the position who will be at training camp: Jaeden Graham, Alex Gray and Troy Mangen.
Graham is one of three rookies from an Ivy League school on the Falcons roster, and he served as Yale's starting tight end his senior year, catching 26 passes for 380 yards and four touchdowns.
Gray is a player Falcons fans may know, as he was one of four international players to join the NFC South last season. Gray spent the year on the team's practice squad, per the requirements set forth by the International Player Pathway program, but he now has additional experience and will be a fun player to watch in camp.
Mangen was a longtime starter at Ohio, and he was both a valuable blocker and receiver for the Bobcats. In his five college seasons, Mangen caught 49 passes for 440 yards and four touchdowns.
Why tight ends became more valuable over the offseason
After changes were made to the NFL's kickoff rules this offseason a few positions gained value, and the tight end was certainly one. Only three players are allowed to be outside of the 15-yard "setup zone" leaving 40 yards of space to be covered by the trio. With that much space available, NFL teams will likely want two players ahead of the returner who can both block on the move and handle the ball if need be.
Tight ends certainly fit that description, and they will likely become a bigger factor on both kickoffs and kickoff returns. It will be important to keep this in mind when roster cuts begin to happen, and it will be interesting to see if it plays a role in how many tight ends teams decide to keep.
Roster bonus: Breaking down the depth at tight end (prior to training camp)
Locks: Austin Hooper, Logan Paulsen
Contenders for backup: Eric Saubert
Keep an eye on them: Jaeden Graham, Alex Gray, Troy Mangen