FLOWERY BRANCH, Ga. – In many ways, Austin Hooper's approach this offseason is what every fan would hope to see from a player on his or her favorite team.
For the past two offseasons, Hooper has spent time working privately with Falcons quarterback Matt Ryan to improve their chemistry and gain a better understanding of his teammate's expectations. Unlike in 2017, when Ryan came to Hooper's home state of California, the Falcons tight end stayed in Atlanta this year to continue their work together.
"If you want something, you've got to sacrifice something else," Hooper said of the choice to stay and work with Ryan. "I sacrificed spending time with family and friends, and doing vacations, and doing all of this quote-unquote fun stuff to get to work with Matt. Matt's twins were on the way, and I knew he wasn't going to be on the West Coast after the season ended so I made the executive decision like, 'OK, wherever Matt's going to be this offseason, I'm going to be a part of it.' So we could just get on the same page, get used to being with each other, get used to playing with each other. Hopefully, good things will come."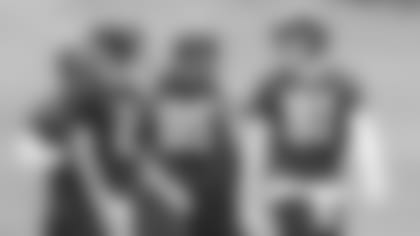 Hooper made strides between his first and second seasons, but he has a newfound level of comfort entering his third year in the NFL. After the Falcons selected him in the third round of the 2016 NFL Draft, Hooper was unable to join his new team until minicamp due to Stanford's academic schedule.
Although the Falcons stayed in contact with Hooper while he was in school, provided him with information via phone calls and videos of film sessions, he had a compressed learning period heading into his first season. Despite that, Hooper showed plenty of promise as a rookie, catching 19 passes for 271 yards and three touchdowns. His production continued in the postseason, as he caught six passes for 65 yards in the playoffs as well as a touchdown in Super Bowl LI.
In 2017, Hooper's production continued to increase as he became more involved in the Falcons' offense. Hooper caught 49 passes for 526 yards and three touchdowns in his second season, showing a noticeable increase in receptions and receiving yards, but a handful of negative plays have seemingly overshadowed that improvement.
To his credit, Hooper is not shying away from those mistakes. In fact, he's intent on making sure they don't happen again.
"The more you do anything, the more comfortable you feel," Hooper said. "My rookie year, missing OTAs and not really getting to play football until camp, I was kind of just learning on the fly my whole rookie year. Last year, I felt a lot more comfortable in a lot of other aspects. There were a handful of plays that I left on the table, but that's the game we play. All you can do is just keep improving and keep getting better.
"Being able to spend more time with Matt, understanding what his thought process is and what he expects from me route-wise, so we can always be on the same page has just made things a lot smoother. To get inside of his mind a little bit more. And going into Year 3, the game is starting to get a lot slower than it was. All you can do is just keep improving every single day."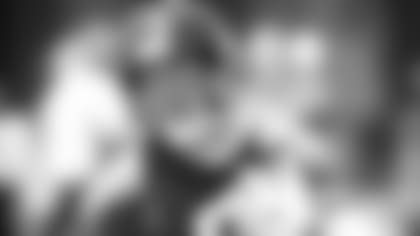 There's more to an NFL tight end than just receiving stats, however, especially in the Falcons' offensive scheme. Blending a wide-zone run scheme and a potent play-action passing attack predicated on a balanced approach, the Falcons' offense requires plenty of versatility.
That's especially important at the tight end position, which is used in nearly every facet of the offense. By just focusing on Hooper's production as a pass-catcher, one would miss how involved he is as a blocker, a decoy or even coming out of the backfield.
"The tight end role is everything," Falcons tight end coach Wade Harmon said. "He's a run blocker, he's a pass protector, he runs routes, he could be split out like a receiver, he could be in the backfield like a back – he could be
all over the place. Second to the quarterback, he has to learn more than anybody. A quarterback obviously has to learn the most, but [Hooper] is involved in everything."
In that context, it's easy to understand why it could take time for Hooper to understand the complexities and intricacies of the offense.
If the tight end is truly only second to the quarterback in terms of involvement in the Falcons' offense, perhaps that explains why Hooper values his time with Ryan so greatly. With another offseason of work with an NFL MVP under his belt, Hooper seems to understand his role better than he ever has.
"I've definitely noticed a better level of understanding of what we're trying to do, trying to get that better connection with the quarterback," Harmon said. "You know, when Hoop came out, he was a young guy. He had two years of eligibility left when he came out, so he could have really just come out in this year's draft. So, just learning the fine parts of the offense – not just where to line up and where to go – but how to execute them better, how to use better technique. I think he's really interested in getting with Matt and making sure they're exactly on the same page so they have that communication that they don't have to talk about, they know where they're going on the route. If it changes, if the picture changes, exactly what each guy is expected to do. So, I think he's really grown in that area so far."
Harmon isn't the only person who has noticed a growth in Hooper. Ryan has noticed something similar, and he understands just how beneficial it can be to have multiple seasons of experience to learn from.
"He's done a great job, he really has," Ryan said. "Your third year is always a time when you start to get comfortable within your routine, within the offense. I think continuity within the offense is huge. He's got a clear understanding of what is expected of him, of how we're going to use him. I think all of those things make you more confident and comfortable as a player. He's looked very good in the spring. I think he's had really good practices and OTAs, he's looked good in the individual periods. I've been impressed with Austin this offseason."
Falcons head coach Dan Quinn has often discussed the growth process of a player, explaining how the biggest strides are usually made in the first three seasons of a player's career. That growth doesn't magically happen, though, and while the Falcons' developmental program is among the best in the NFL, a lot depends on the work a player does individually.
Hooper has unquestionably put in that work, and he continues to do so. The times he's dedicated to his craft has led Hooper to develop a greater connection with his quarterback, understanding of his role in the offense and a more well-rounded game heading into his third season.
But with training camp just around the corner, and the season after that, the work for Hooper has only just begun.
"There's a lot of stuff in my game I want to clean up," he said. "It's just little things every single day that you can constantly improve on. The hay is never in the barn, you've just got to keep grinding day in and day out."