Editor's note: This is the sixth of a nine-part series detailing each position group ahead of Falcons training camp.
FLOWERY BRANCH, Ga. – The Falcons added another dynamic piece to their wide receiver group this offseason, and they again boast one of the NFL's best receiver corps heading into the fall.
Here are five things to know about the Falcons' wide receiver position:
Ridley looked as smooth as promised in minicamp
Throughout the pre-draft process, Calvin Ridley's route-running was highly praised. In minicamp, that aspect of Ridley's game certainly lived up to the hype. He was fluid and quick coming in and out of his breaks, and he showed a variety of moves at the line of scrimmage that helped him gain an early step on his defender.
The caveat to all of this is that it was only minicamp so he still has to prove he can have similar success in full pads and when dealing with contact, but Ridley made a strong early impression on the field. Outside of his physical abilities, Ridley has been constantly praised for his work ethic and desire to constantly improve, which is exactly what head coach Dan Quinn and the Falcons are looking for.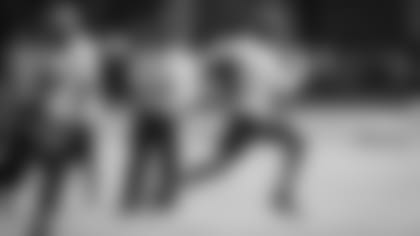 There are a lot of compelling rookie receivers to evaluate
Ridley is far from the only first-year receiver worth watching in camp. The Falcons have a talented group of undrafted free agents who will compete this summer for a roster spot or a place on the practice squad. Perhaps one or two will stand out in the way Marvin Hall and Reggie Davis did last year.
The Falcons have a whopping seven rookie receivers on the roster heading into training camp: Christian Blake (pictured above), Dontez Byrd, Russell Gage, Devin Gray, Lamar Jordan, Taj Williams and Ridley. Fans are likely already familiar with Gage, who the Falcons selected in the sixth round of this year's NFL Draft and should help on special teams.
Blake was an early standout during rookie minicamp, making several difficult catches and running smooth routes. Byrd was very productive in his final two seasons at Tennessee Tech, catching 152 passes for 1,936 yards and 13 touchdowns in that time. Gray was a main contributor at Cincinnati, reeling in 86 passes for 1,304 yards and eight touchdowns in his junior and senior seasons.
Jordan actually played quarterback during his career at New Mexico, but he is a skilled athlete who ran for over 2,500 yards and 17 touchdowns in his four college seasons and turned in a blistering 4.46-second 40-yard dash at UNM's Pro Day. Williams had a breakout junior season at TCU, catching 39 passes for 702 yards and five touchdowns, and he was named MVP of the Tropical Bowl, a college football all-star game attended by scouts from around the league.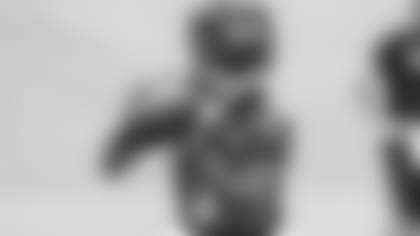 How the Falcons might fill the void left by Gabriel's departure
With Taylor Gabriel no longer on the roster, the Falcons have a few different options to replace his production. Ridley is the obvious candidate to step into the third receiver role, and he may offer more overall versatility than Gabriel did. While Gabriel's speed is hard to match (he ran a 4.27-second 40-yard dash in college!), Ridley is plenty fast in his own right, running a 4.43-second 40-yard dash at the NFL Combine.
Outside of Ridley, the Falcons may use Marvin Hall (pictured above) and Reggie Davis in some of the ways they previously utilized Gabriel. Hall and Davis are both fast, agile receivers in the same fashion as Gabriel and they are elusive in space. Gabriel was often at his best on screens and reverses, which got the ball in his hands early with room to run. Perhaps the Falcons will look to put Hall or Davis in that role this fall.
A long-shot option could be Gage, who displayed some impressive athleticism when he had the ball in his hands at LSU. He may not see too many offensive snaps in his first season with the Falcons, but he has the upside to be an interesting gadget piece.
Will a receiver become the team's primary returner?
One of the biggest competitions during training camp will be at kick and punt returner, where the Falcons have an opening after parting ways with Andre Roberts this offseason. There are a number of guys in the mix, but four of the seven players who were working at returner during minicamp are receivers: Justin Hardy, Hall, Davis and Ridley.
Each of those receivers brings something to the table as a returner. The same qualities that make Hall and Davis good candidates to fill some of Gabriel's previous role are also the same ones that would make them quality kick returners. Ridley is a fluid runner and has the speed to take any kick to the house, but he might be too involved with the offense to also be the top return option. Hardy offers reliability and quickness, and he would be trusted by special teams coordinator Keith Armstrong to make the smart play.
Falcons are in contact with Julio but those conversations will remain private
Julio Jones' absence at minicamp became a main media storyline, but the Falcons have been in contact with their star receiver. During OTAs, Quinn explained Jones is in "great shape" and has been able to work on specific parts of his game this offseason that were prohibited by injuries in previous years.
Roster bonus: Breaking down the depth at wide receiver (prior to training camp)
Locks: Julio Jones, Mohamed Sanu, Calvin Ridley, Justin Hardy
Contenders for backup: Marvin Hall, Reggie Davis, Russell Gage
Keep an eye on them: Christian Blake, Dontez Byrd, Devin Gray, Lamar Jordan, Taj Williams