Editor's note: This is the ninth of a nine-part series detailing each position group ahead of Falcons training camp.
FLOWERY BRANCH, Ga. – The Falcons have one of the league's top quarterbacks in Matt Ryan, a reliable veteran backup in Matt Schaub and competition shaping up for the third quarterback spot.
Here are three things to know about the Falcons' quarterback position:
*What kind of impact will Knapp have? *
Okay, so Greg Knapp (pictured above) isn't a quarterback, but he is their position coach so I'm going to talk about him in this piece. The Knapp hire gives the Falcons another experienced coach on offense, and he has helped get the most out of veteran quarterbacks such as Peyton Manning, Carson Palmer, Matt Schaub, Jeff Garcia and Steve Young.
This is a reunion for Schaub and Knapp, who worked together in 2010 and 2011 in Houston. Knapp helped Schaub have one of the best seasons of his career in 2010, when he passed for 4,370 yards and 24 touchdowns. Knapp should be a benefit to the Falcons quarterbacks, and his experience as an NFL offensive coordinator will give Steve Sarkisian someone to consult with as well.
Ryan's play wasn't an issue in 2017
Going solely off of numbers, Ryan's performance in 2017 looks like a major regression from his MVP season in 2016. Although he wasn't torching defenses in the same way he did while leading the Falcons to the Super Bowl, Ryan was far from a problem for the offense last season.
In reality, the Falcons leading the league in drops certainly were a factor in 2017 and that doesn't have much to do with the quarterback. Ryan was also weirdly unlucky last year. Pro Football Focus deemed eight of Ryan's 12 interceptions to be "unlucky" with five occurring after a dropped pass, two coming off a deflection from a defender and one happening on a route miscommunication. In fact, PFF graded Ryan as the best quarterback at avoiding turnover-worthy plays, stating he put the ball in harm's way on just 1.09 percent of his throws.
Don't worry about Ryan, he's still playing at a very high level.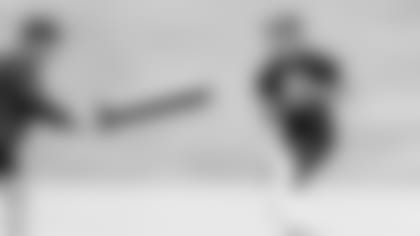 The battle for the third quarterback spot might be more important than people think
While some Falcons fans have lobbied for the team to part ways with Matt Schaub and acquire another, younger backup quarterback, the team hasn't shown any indication that it's going to do that. Schaub has one year left on his contract, he is still a competent veteran backup and he has experience working with Knapp.
If the Falcons decide to not re-sign him next year after his contract expires, however, they will need a new backup quarterback, which is why the battle for the No. 3 spot this year may end up being important. Should either Kurt Benkert or Garrett Grayson impresses the coaches during training camp, they may have the inside track at taking over the backup spot next season.
Grayson was signed by the Falcons last season and stayed on the team's practice squad throughout the year. In his two seasons as a starter at Colorado State, Grayson threw for 7,702 yards with 55 touchdowns and 18 interceptions. The Falcons added Benkert as an undrafted free agent this spring, and he is regarded as a quarterback with a big arm. During his two seasons as a starter at Virginia, Benkert threw for 5,759 yards with 46 touchdowns and 20 interceptions.
Roster bonus: Breaking down the depth at quarterback (prior to training camp)
Locks: Matt Ryan, Matt Schaub
Contenders for backup: Kurt Benkert, Garrett Grayson