The Falcons' offensive line is among the most underrated units on the team. For the casual fans, it can be hard to quantify the performance of an offensive line, but that's where Pro Football Focus comes into play.
The analytics site tracks every player one every play of every game throughout the course of an NFL season, and they recently released their ranking of each team's pass-blocking efficiency – the number of pressures allowed on a per-snap basis. In this measurement, the Falcons' offensive line ranked 12th among the 32 NFL teams with a pass-blocking efficiency grade of 79.7.
"The Falcons offensive line took a small step back in 2017 and allowed 18 sacks, 32 hits and 98 hurries on their 568 passing plays," PFF's Mark Chichester writes. "Throughout the year, the Falcons saw good pass-blocking performances from guard Andy Levitre, who ranked 13th among guards with a PBE of 97.6, right tackle Ryan Schraeder, who ranked sixth among tackles with a PBE of 97.1, and center Alex Mack, who ranked 14th among centers with a PBE of 97.9. Heading into the 2018 season, the new addition of Brandon Fusco could prove to be an upgrade for the team at right guard as Fusco's PBE of 96.5 bettered the marks of fellow Falcons guards Wes Schweitzer (96.0) and Ben Garland (92.9) last year."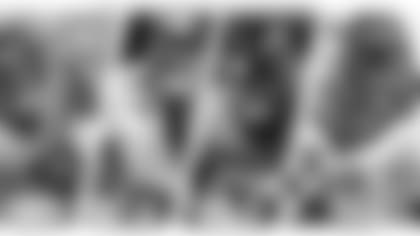 Led by Mack, the Falcons have a veteran offensive line that returns every starter from last season. They should also benefit from the addition of guard Brandon Fusco, who has started 80 games in his career and is familiar with the Falcons' outside zone scheme.
Fusco's arrival also helps the Falcons' depth on the offensive line. If he slots into the starting right guard position, previous starter Wes Schweitzer will become a capable backup on the interior of the line alongside Ben Garland, a very versatile lineman with quality starting experience.