Editor's note: The statements and opinions regarding players and/or potential future players in the article below are those of the AtlantaFalcons.comeditorial staff and are not of the Atlanta Falcons' football personnel unless noted in a direct quote.
FLOWERY BRANCH, Ga. -- If you're wondering why you're hearing from me (Hi, it's Tori) on this Monday morning, it's because Scott Bair is at owner's meetings in Phoenix for the next few days. I like to imagine he's wining and dining with Terry and Arthur Squared (i.e. Terry Fontenot, Arthur Smith and Arthur Blank). At least, that's what I hope he's doing.
In the meantime, I'll be answering your questions.
Thanks for dropping some good ones for me over the weekend. There's much to discuss!
Chris M. from Hedgesville, West Virginia
So this is my first time but I wanted to ask. Where do you see Desmond Ridder in Year 2 of his career? He hasn't thrown an interception yet or made big time plays down the field. I'm just curious of what you think.
Happy to have you getting in your question, Chris! Here's where I see Year 2 taking Ridder...
We know he's to be the one the organization is riding with as the starting quarterback heading into the 2023 season. We know this because Taylor Heinicke told us. I am sure Arthur Smith will have more to say about that decision at owner's meetings, but I have to imagine the decision stems (at least partially) from the fact that Ridder improved every single time he stepped on the field in 2022. In my opinion, Ridder never did anything to warrant him not being the starter going into the 2023 season because of his performance over four games in 2022.
I said it before and I'll say it again: I want to see Ridder operate under the full capacity of Smith's offense. We saw what Ridder's presence in the pocket did for Drake London in the final four games of the season. I want to see what it could do for Kyle Pitts. I think Year 2 for Ridder is all about expansion: Expanding not just what he can do after a trial run in 2022, but expanding what players around him can do, as well.
I will say this about Ridder, too: I don't think I have seen him take a step back in his development. If anything, I've only seen him progress, taking steps in the right direction in terms of both his understanding of what Smith wants (and needs) from him, but also improvement in catching up to the speed of the game with just four games under his belt.
Smith has said on a few occasions that he wants this offense to be more explosive. You bring up those big-time plays down field. That's an area in which this offense needs to improve. I don't think it's out of the question that Ridder can be the one to help this offense do that. Though we didn't see much of that in 2022, I'm not writing off that it doesn't happen in 2023. I personally don't think Smith would be scared to let Ridder take some shots down field when the moment comes.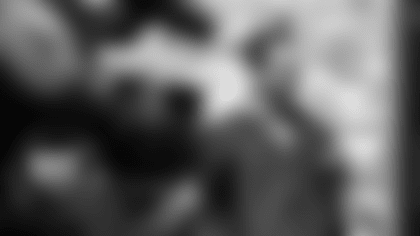 Bill W. from Killen, Alabama
Tori, if the Falcons select the best player available at No. 8 rather than the BPA of need, which I understand to be their philosophy, how do you compare edge defensive end, cornerback and running back? For example, if the best defensive end and best cornerback have been taken, how do you determine that the second best at these positions are better than the No. 1 running back or maybe the best offensive guard?
This is a great question, Bill, and one that doesn't really have an easy answer (at least not one that I can keep to around 300 words). What I will say just from talking to people who are the ones who ultimately make this type of determination is that it all comes down to conviction. Which player - and in this case which position, too - has convinced the staff they cannot pass them up? I do believe positional value weighs heavily in the discussion, of course, but I also think its positional value in what the Falcons could use currently.
So, for example, let's use defensive end as our case study. We know this is an area of need for the Falcons. So much so, that I would value edge rushers much, much higher than I would running backs in the draft. I think Tyler Allgeier has shown us there is great value in Day 2 and Day 3 running backs. It's because of this that when I look at the best running back in the draft, if I am putting value on positions, I would put the top four or five edge rushers ahead of the best running back just because of history and my own personal conviction. But I don't feel the same way about corner. If the top two or three edge rushers get taken off the board before No. 8, I'm taking the best corner at that spot because I do put a higher value on the best corner available than I do the best running back available.
At this current moment, I tend to value defensive weapons higher than I do offensive weapons in the first round. I do so because of what I am convicted in, which is the need for the Falcons to pump resources into this defense. Again, that's my personal conviction, and I am not a decision-maker. The answer to your question is subjective because these decision-makers in which I refer to have their own conviction. It's ultimately their conviction that will matter when it comes to putting a higher value on one position in comparison to another.
David H. from Marshalltown, Iowa
Wow! Falcons have been busy, which has truly been a sight to behold. I can't recall another free agency period where we've been as active as this. To quote Deion Sanders, "it must be the money!" How would you rank the newly acquired players in terms of immediate impact on Day 1?
You'd be right: It is the money. I have to imagine its been a pretty rewarding couple weeks for the Falcons front office considering the work they had to do to get to this point. But I'm going astray from your question... Instead of ranking the recent signees, I'm going to compartmentalize your question into two categories: Day 1 Starters and role-players.
Jessie Bates, David Onyemata and Kaden Elliss are your starters. These three are the ones that I am expecting to not only start Day 1, but make the immediate impact of which you are referring. We should be able to feel their presence on this defense within the first few series.
Mike Hughes, Taylor Heinicke and Mack Hollins are your role-players. Based on what he said in his introductory press conference, the Falcons see Hughes taking on a bit more responsibility in the slot. Heinicke has said he's Ridder's backup, and Hollins is coming off his first year really getting a taste of being a receiver in this league. I see their roles being dictated by packages and personnel. That's not to say they won't make an impact, though. I still feel as though they can and will and should. This is just how I see fit to best answer your question!
Call for questions
Be sure to submit your questions right here for inclusion in the next Bair Mail installment.