ATLANTA -- In the second installment of the Falcons bye week roundtable, Falcons insiders Scott Bair, Kris Rhim and Tori McElhaney take a deeper look at where Dean Pees' defense is through the first five games of the season.
Truly, there were a number of questions surrounding this defense heading into the 2021 season. The front office completely restructured the safety position, and Arthur Smith brought Pees out of retirement. There were a couple well-known names and leaders returning to the defensive side of the ball, like Grady Jarrett and Deion Jones. But there were a lot of new faces and players trying out different responsibilities in a different scheme.
Since then, we've actually had a lot of questions answered about this defense. So, with that in mind, let's take a look at this unit in the same way we did for the offense on Wednesday morning. (You can read that here, by the way). From areas of improvement to what still needs to be improved, let's break it down.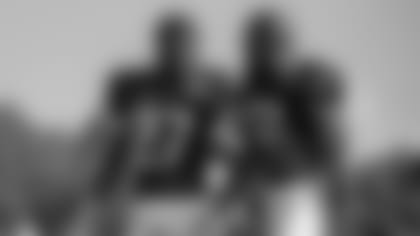 Areas of improvement
Bair: The Falcons were dead-freaking-last in pass defense a season ago. It's definitely better in 2021. That's an undisputed fact. While it still isn't great, sitting in the middle of the pack counts as a marked improvement thanks to improved scheme and personnel.
The pass rush needs more consistency, especially when bringing four, but the pass defense overall has improved and flashed potential to get even better.
McElhaney: I want to spend a few paragraphs focusing in on the improvement I have seen not from a specific aspect of the game, but on one specific player: Dante Fowler.
Through five games, Fowler is playing as good as he's played in a Falcons jersey. Yes, I know that isn't saying too terribly much considering what his 2020 season looked like, but still.
Fowler could have easily rolled over in 2021. But he came back with a certain vengeance, and he's playing quite well in Pees' scheme. I've said this on a couple occasions that I think Fowler is really close to making a few more big plays than he already has. Right now he's a step or a second away from a sack or tackle for a loss.
But I will say this: That even if he doesn't get the sack or TFL, he is still affecting the quarterback. He's getting guys off their spot. he's making them uncomfortable in the pocket at times. His presence is felt more now than it was through 2020's entirety, and that's a huge area of improvement not just for Fowler on an individual level, but for this defense as a whole.
Rhim: Limiting Penalties. The Falcons are the most penalized defense in the NFL with 44 penalties for 368 yards – the third most yards lost from penalties in the league, per ESPN. The Falcons have struggled with penalties on both sides of the ball, beginning with Week 1 against the Eagles when they racked up 12 penalties for 99 yards.
On Sunday, with the Jets down 20-9, with just under eight minutes remaining in the game, a passing interference penalty by Terrell gave the Jets 43 additional yards moving them into the red zone. The Jets scored the following play bringing the game within three. Fortunately for the Falcons, the bleeding stopped there, and they came out with the win. Still, limiting penalties will go a long way in helping this defense.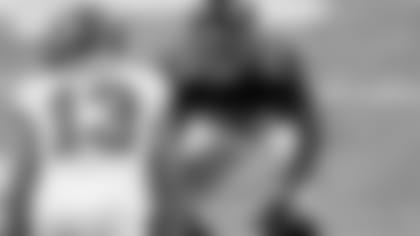 Defensive MVP
Bair: I'm going with the big man in the middle. Jarrett's poise and leadership have been invaluable to a group learning a new scheme, but let's not ignore the fact the dude can flat out play. He is a dominant force, one of the game's finest interior pass rushers. He's a stout run defender who can create havoc on any play, as we've seen several times this season.
Jarrett's a consistent presence on a somewhat suspect defensive front that isn't getting home enough. They'd be in big trouble without him, which speaks to his value to the team and the defense as a whole. He's a top-tier talent who always play like one. That's vital on a unit still working out kinks of executing Pees' scheme.
McElhaney: At the end of last season, I felt as though not enough people were talking about Terrell. I thought his solid rookie year was overshadowed by a new coaching staff and front office as well as all of the draft and Julio Jones trade talk.
Now, here we are five games into the 2021 season and I still feel as though there are not enough people talking about Terrell. And the more I thought about it, the simpler the reasoning became...
Quarterbacks are not throwing his way. Pees said he'd never call someone a shutdown corner because there are too many talented wide receivers in this league. But looking at how little action Terrell is getting on his side of the field begs the question: If not a shutdown corner, what is he? Because he seems pretty close. (Heck, Scott even said he was in the above section).
And as a corner, if the ball isn't coming your way, that means you're doing something right.
Rhim: Pees. Probably breaking the rules here, but who cares, right? Last season the Falcons were one of the worst defenses in the league. Only the Lions, Texans, and Jaguars were worse in total yards and yards allowed per game. The Falcons have quickly switched that this season, and through the first four games, they are 12th in the league in total yards allowed (1,763) and points allowed per game (352.6).
And in Sunday's game, with multiple starters out, Pees made sure that the next men up were put in positions on the field where they were comfortable, and they thrived in their roles.
Favorite defensive moment
Bair: We've known since OTAs that Terrell was ready to make a quantum leap this season. He looked like a cover man entering his true prime this spring and summer, a confident player who can't be beat. He proved it during a Week 2 contest against Tampa Bay, where he made jaws drop.
Antonio Brown was wide open in the end zone when Tom Brady lofted a first-quarter pass his way, but Terrell jumped up and back, contorting his body to deflect it harmlessly to the turf. It was an arrival moment, showing everyone that he has leveled up in his second season. He made a similar play later in the game, with another acrobatic pass break up. He was concussed on that play but has been so dominant upon return that quarterbacks have legit stopped throwing his way (as Tori pointed out). They probably saw that Buccaneers tape and decided to go in a different direction.
McElhaney: I'm glad Scott brought up the Tampa Bay game because my moment is actually a series this defense put together that really impressed me. It was in the third quarter and the defense forced a three-and-out that set up the Falcons offense to march down the field and score to make it a one-possession game.
In and of itself, I thought it was a series that fully incapsulated what I believe this defense wants to be.
On first down, Foye Oluokun punched the ball out of Leonard Fournette's hands. The ball took a bounce and rolled out of bounds before anyone could fall on it, but if the ball bounces the opposite way, Oluokun's play would go down as the perfect punch out. Then, on second down, Terrell flew through the air to break up a long pass. As Scott touched on above, Terrell went into concussion protocol and had to miss the following game. So, it really did take the "putting your body on the line" cliche to a whole new level. Finally, on third-and-eight Marlon Davidson and Jarrett put significant pressure on Brady. Davidson was awarded the sack, but Jarrett played an important role in that moment's pass rush, too.
Even now I look back on that moment and think about how it was a series in which we saw every level of the Falcons defense step up and make big-time plays.
Rhim: Hawkins' interception. The Falcons defense almost had more reasons than one to not perform well in Sunday's win over the Jets. Oliver had been playing his best as a Falcon in his nickel cornerback role but a season-ending knee injury the week before sent him to IR. Harris and Avery Williams, to add insult to injury, were ruled out of the game as well. Somehow, this defense and secondary put together what was arguably their best game. And one of the best plays from that game came on Hawkins' diving interception when he broke on a route intended for Jets receiver Keelan Cole.
Earlier in the week, Pees went full-NBA rebound mode when describing how his secondary could be better in getting their hands on the ball. After the game against Washington, where the Falcons dropped multiple picks, Pees said defensive backs needed to be more aggressive to the ball like an NBA rebounder.
And Hawkins did just that Sunday, making it my favorite moment.
What we still want to see
Bair: This pass rush has to crank up. Plain and simple. The Falcons need to get home more often and, when they do get pressure, they must do a better job containing a scrambling quarterback. Passers are leaking out and making big plays under pressure, so getting home is essential moving forward.
While sacks shouldn't define a pass rush, they provide opportunities for game-altering moments. Fowler is an example of that, forcing fumbles on both of his sacks this season. The Falcons need more of that, especially when rushing four. Oliver was a big part of the pass-rush plan, and him being unavailable changes things a bit. Can they get pressure from the slot and/or elsewhere in Pees' blitz package? That's also a must as the Falcons expand their mastery of this system.
McElhaney: Great minds think alike, because I also want to see this pass rush do more.
I want to see the Falcons play a mobile quarterback better than they have up to this point. After Week 1, Pees explained that while he was pleased with the initial pressure in pass rush, he was not pleased with the Falcons keeping the pressure on a quarterback when he escaped the pocket.
This is something the Falcons have had bite them in the butt a few times since. With a few mobile quarterbacks in their future, this is an area where I want to see improvement. I think it could be a real difference-maker for this defense if they do improve in this specific aspect of the game.
Rhim: More playing time for rookies. If Sunday's win against the Jets proved anything, it's that the Falcons first-year players are ready to play.
The Falcons defensive line dominated on Sunday, and one of the stars from the game was Ade Ogundeji, who made a tackle in the open field and earned his first sack when he took down Zach Wilson. Grant, Darren Hall, Ta'Quon Graham all played well, filling in for injured players on Sunday. With Terry Fonetonet saying that the roster will change a lot, the most stable players will likely be younger players and rookies to build with, so getting them snaps will be necessary for the future of the Falcons. Falcons Final Whistle | A Postgame Podcast
Break down the hottest topics surrounding the Atlanta Falcons and how they can impact the team's success with Atlanta Falcons Insiders Scott Bair, Tori McElhaney and Kris Rhim. Like and subscribe to join us for the lively debate on Falcons Final Whistle.
Welcome to Falcons Final Whistle – an Atlanta Falcons football postgame podcast during the season that shifts gears in the offseason to answer a pressing question about the team's future each week through free agency, the NFL Draft and the offseason program.