Through the first five games of the season, the Falcons are off to their best start since 2017. Though that is not saying much, the team got off to a 1-4 start in 2018, 1-7 in 2019, and 0-5 last season. 
Still, at 2-3, the Falcons have proven that this team is different from recent years. They are winning close games, like against the Giants, finishing games like against the Jets, which could have easily gotten away from them. 
And the offense has been a large part of this team's success. It seems with each week, Matt Ryan and the rest of the Falcons are getting more comfortable in coach Arthur Smith's offense, and the results are showing. They have scored a combined 57 points in their last two games, including one where Calvin Ridley and Russel Gage were out – and Ryan has 868 yards, eight touchdowns, and zero interceptions while completing 69 percent of his passes over the last three. 
As we head into the bye week, Falcons' insiders: Scott Bair, Tori McElhaney, and Kris Rhim, evaluate the offense after five weeks, from the best moments to ways it can improve and more.
McElhaney: I think I've seen the most improvement from Week 1 to Week 5 in the play of the offensive line. This group had it rough against the Eagles, giving up one too many sacks and showing their inexperience working together. Since then, they've held their own against a couple solid fronts against both Washington and the Jets, giving up just one sack through the last two games. 
There is still a bit to be desired by way of run blocking. Matt Ryan spoke before the London game about the need to get the running backs to the second level of the defense. The offensive line's ability to do that against New York came through with both Patterson and Davis having solid days running the ball. 
This unit has seemed to take a step in the right direction week in and week out, even if the step is small. It's imperative that they continue to do so. 
Bair: Head coach Arthur Smith set a proper tone early in Falcons training camp, establishing a level of accountability and commitment to progress that has remained throughout this early season.
The rookie head coach has made some mistakes in the early going, but has heeded his own words and taken responsibility for them. He has also learned and progressed as a leader and play caller, making smarter and, at times, more aggressive decisions to get the ball in the right hands.
That has paid dividends with Cordarrelle Patterson and Kyle Pitts, skill players who have kept the Falcons offense afloat during this transition period. Smith is a smart, creative offensive mind who doesn't let stubbornness prevent him from evolving as a coach. That has helped the Falcons to this point, and well continue to help this team as the season progresses.
Rhim: The run game. The Falcons rank 25th in the league in rushing yards per game this season, averaging just 91 yards on the ground and 3.7 per carry. Rushing has been a persistent issue for the Falcons, who since 2018 have ranked near the bottom in the league in rushing. 
Things seemed like they were heading in the right direction when the Falcons rushed for 102 yards by the nine-minute mark in the second quarter, surpassing their 95.8 per game average last season. Well, The Falcons finished that game with 124 yards and have not had more than 108 yards on the ground since. 
The Falcons have weapons in the passing game with Calvin Ridley, Kyle Pitts, even Cordarrelle Patterson. Still, without a consistent running game, the offense becomes easy to slow down. An effective running game will translate into more scores on offense and more wins for the Falcons.
Bair: Call me Captain Obvious, but I'm going with the quarterback. While we've seen several offensive standouts thus far this season, Matt Ryan's the maestro. He has been impressive, especially lately, getting this offense locked in and executing Arthur Smith's scheme better. His efficiency has gone up and his leadership has been invaluable during difficult times.
It's safe to say he has helped the Falcons win games they wouldn't have won without him. That's a sign of his value, far more than the premium position he plays. If the Falcons end up overachieving in 2021, Ryan will be the reason why.
Rhim: Lee Smith. Yup — the throwback dinosaur as he calls himself — has been invaluable to the Falcons this season. Smith, a blocking tight end, not known for his skills as a pass-catcher, has been as reliable of an option for Matt Ryan as anyone through the first five games.
In last week's win over the Jets, Smith looked more like Kyle Pitts, or even Calvin Ridley when he leaped high in the air to snag a pass from Ryan and gracefully tapped two feet in bounds. Smith finished that game with three catches for thirty yards,  the third-best receiving output of his career.
Aside from his play on the field, Smith has quickly become a leader for the Falcons. He has become a big brother to the Falcons No. 4 overall pick, Kyle Pitts, and has helped the rookie understand the workings of being a professional athlete. From his impact on the field to the leader he is in the locker room Lee Smith has been valuable to this offense in more ways than the box score represent.
McElhaney: It's impossible to talk about this offense and leave out the name Cordarrelle Patterson. Even when the offense wasn't looking its best, Patterson was a bright spot. And likely an unexpected one at that.
That's the thing about Patterson: No one really saw him coming. When the Falcons picked Patterson up in free agency and named him a running back there were many that simply didn't know how the Falcons would use him. I was one of the many. Then came the onslaught of Patterson usage. Smith uses him in the run game, in the pass game and on special teams. And through five games, I would go as far as to say he is the catalyst of this offense.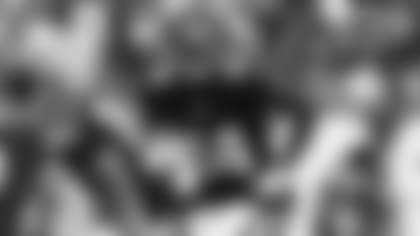 Rhim: The drive that stands out is the Falcons' final offensive possession against the Giants in week 3. The Falcons were tied at 14 with 1:50 remaining in the game against a beat-up Giants squad. A loss would be devastating for the team, new coach Arthur Smith, and fans even in an extended season. And on this drive, the Falcons' best players so far this season made plays. 
The first snap Matt Ryan sold a great play-action fake pitch to Mike Davis, which sent the entire Giants defense to the left side of the field before throwing a screen to Cordarrelle Patterson, who took it 28 yards.  A few plays later, Kyle Pitts caught a 25-yard pass to put the Falcons in field goal position. And Younghoe Koo nailed the game-winner as time expired with his friends and family in attendance.
This was my favorite drive because the Falcons' stars from offense to special teams showed up when it mattered most.
McElhaney: Call it a recency bias, but I have to go with the drive that put the Jets on ice on Sunday. Arthur Smith saw an opportunity on first down to hit Kyle Pitts for a 39-yard gain. There were a few miscues on the plays that followed, but the Falcons got a much-needed third down conversion with a 15-yard receptions from Olamide Zaccheaus. A few plays later and Mike Davis punched it into the endzone to solidify the Falcons 27-20 win. 
This drive was significant because it was the drive the Falcons needed but didn't get against Washington the week before. They were able to convert when they needed to against the Jets. 
Bair: Falcons vs. New York Giants, Fourth quarter, 15 plays, 72 yards, 8 minutes, 40 seconds, ended with a 1-yard Lee Smith touchdown reception.
This drive didn't win a game. Time wasn't ready to expire. It wasn't truly do-or-die. Yet it stands as the most important offensive series this season, considering the context.
The Falcons had just given up a go-ahead touchdown to the New York Giants early in the fourth quarter. Grady Jarrett, of all people, got outfoxed on a successful two-point conversion. It established a very real chance the Falcons would start the season 0-3. That would've secured a disastrous start to the Smith era.
The Falcons offense had largely struggled to that point but mustered a spirited response, marching 72 yards on 15 plays. They converted four third downs, including an excellent Kyle Pitts catch on his first target – yeah, you read that right – of the game. Pitts also earned a pass interference call in the end zone that set up Lee Smith's touchdown catch.
It was there we saw the true power of Pitts after he wasn't targeted for three quarters. We also saw real resilience from that group, to avoid another loss and earn Smith's first win.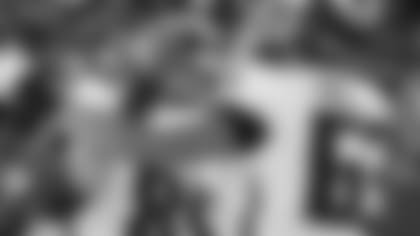 What we still want to see
McElhaney: You know the production Kyle Pitts had against the Jets? That. I want to see more of that. 
Now, I realize that isn't necessarily fair. Defenses have a say in how much Pitts is open, too. But it was really great to see Pitts' emergence against the Jets last week. It was significant because the Falcons didn't have Calvin Ridley or Russell Gage available. So, it really felt like it was Pitts' opportunity to take a step forward in his individual production. And he did exactly that. 
I wrote after the game that this is the type of production the Falcons have been waiting for from Pitts since the moment he was drafted. And after the game Matt Ryan made the comment that he knows there are more games like this in Pitts' future. That's what I want to see happen. 
Bair: This Falcons run game must get better. We're realistic to the fact it won't look like it with Derrick Henry was executing Smith's play designs in Tennessee, but it must get more efficient as we move forward. I agree with Smith that a running back's per-carry average should be attributed to the entire team, that blocking and getting into the right run is vital to success on the ground. But per-carry average still matters. It just does. You need four yards per carry to stay on schedule, to keep the chains moving. That should be a target as we move forward for a group of backs and blockers and fo coach who craves offensive balance.
Rhim: As Tori said, more games like the one against the Jets from Kyle Pitts. Hopefully, the Pitts coming-out party is a season-long one and not just reserved for overseas. Games like the one Pitts had Sunday showed exactly why he drew comparisons to players like Darren Waller ahead of the NFL draft.
Even when Ridley and Gage return, I would love to see close to double-digit targets for him on Sundays. Even when the ball is just thrown in his direction it helps the team win. Against the Giants one of Pitts' three targets resulted in a pass interference that gave the Falcons a touchdown on the following play.
Ultimately, get the ball to Pitts, good things typically follow.