When it comes to the makeup of Terry Fontenot as a general manager, it could be argued that he is an interesting combination of two juxtaposing ideologies. He has the heart of a loyalist, the eyes of a wanderer.
Professionally, Fontenot worked his way from the ground up within the Saints organization. One simply doesn't climb the ladder in a place they aren't loyal to, going from marketing intern to assistant general manager of pro personnel in 18 seasons. But when it comes to decisions -- particularly on the pro personnel side of things -- Fontenot's eyes never stop looking. They're constantly scanning, shifting and sifting through not just current in-house personnel but future personnel options. It has been a marker of his career to this point.
If the last two weeks are any indication, a staple of Fontenot's regime as general manager is a constant flux of roster moves. It's a practice that's lies in stark contrast to the previous regime's management.
When the Falcons initial 53-man roster was announced, Fontenot and head coach Arthur Smith made it crystal clear that this group was not your 2021 Atlanta Falcons and that they shouldn't be branded as such. And in the days that followed the initial 53-man roster announcement came a multitude of moves that depicted the shiftiness fans should come to expect from Fontenot and his front office staff within the scope of roster construction.
"This roster is going to change," Fontenot said, "a lot.
"We say all the time that it's not like players are on scholarship, that, once you make the final 53, it doesn't mean you've made the roster for the entire year. We're going to constantly look to upgrade, look to make changes."
The word "constantly" is important to latch onto with Fontenot. It's how this operation is going to work in the coming year especially. Fontenot and Smith understood the challenges that awaited them when they took their respective jobs with the Falcons in January, with the main challenge being the salary cap situation. The Falcons were strapped for cap space and were going to be regardless.
"You saw right away when you looked at it how challenging it was going to be, but we're embracing it," Fontenot said. "... If you don't want pressure then you shouldn't be in these roles."
In the micro view of this, it involved providing depth for Smith's coaching staff. That included bringing in mid-level veterans on one-year deals. It meant restructuring contracts. It meant trading away Julio Jones. All that was done to simply get to training camp, in order to field a team that didn't look so sparse in key places.
That sparseness still prevails in some areas, but that's why constant evaluation is so important to Fontenot and his staff at this point in time. In the months following the Fontenot and Smith hires, the GM joked then that the offices in Flowery Branch were running on coffee -- and lots of it -- most days. *Between free agency opening up and the No. 4 overall draft pick on the table, there were decisions that needed to be made, and made quickly. To a certain extent, it still feels that way in the building. That was especially true around cut-down day last week.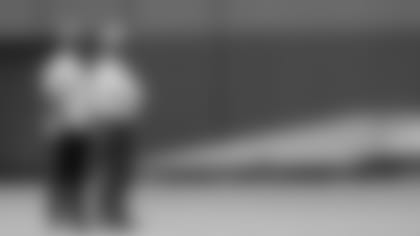 Fontenot peeled back the curtain a little bit on the days following the initial drop to 53, depicting exactly what Falcons fans can and should see from this front office in both retrospect and moving forward. It's actually quite interesting.
The pro personnel department -- the place Fontenot feels most at home considering his background in that area -- has worked (and will work) in overdrive. The department has eyes and ears everywhere. If Fontenot has the eyes of a wanderer, so does the entire pro personnel side of the front office.
The department divides the responsibilities of keeping up with every single NFL team's roster. Fontenot said he even had the college-scouting department help in this process. When cuts happen, Fontenot wants up-to-date evaluations, assessments and opinions on every single player that becomes available.
"What they do is they work hard to anticipate cuts on the rosters: who's getting cut, who are the bubble players that are on the fringe, and really study those rosters so that we are as prepared as possible," Fontenot said. "There are going to be some surprises at the cut down, and that night we want to be able to focus on the surprises and spend time on those, but we want the pro guys to work hard on having as many of the guys graded as possible."
Once initial cuts are made, the staff passes along those players for the coaches to grade, too. Then, Fontenot said, it's a discussion with both sides. He and Smith always make a point to say that roster construction is an inclusive process.
What's important to note about this process, though, is that it isn't just a practice observed on cut down day. No, Fontenot wants to make sure it's an every day thing.
"So, what happens is [that] there are some players who we got really excited about, that we thought could get cut and they made the teams," Fontenot said. "But sometimes teams can get into a predicament where all of a sudden in Week 3 or Week 4 they try to put that player on their practice squad. Or it could be after the first week when transactions happen. After Week 1, a lot more veterans end up on rosters and some young players get let go. So, there's a lot of movement within the team."
Fontenot wants to be prepared for all of those possibilities, whether those opportunities arise in Week 1 or Week 15.
"We do a lot of work on these rosters, just evaluating every roster, knowing who's going to get cut, and throughout the year we continue to monitor those rosters," Fontenot said. "We want to be ready when someone becomes available."
That's why, when Fontenot was asked whether or not the Falcons were still in the market to find a backup quarterback with Josh Rosen and Feleipe Franks on the roster, he said of course they're still evaluating the market. They'll never really stop looking. Complacency isn't a term that fits Fontenot's vibe.
"We really like our room right now at quarterback," Fontenot said, "and yet, we're always looking and always going through that process of always studying players on our own roster, players who are on other practice squads, players on the street."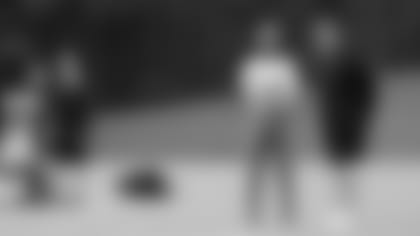 One can never be too comfortable, and perhaps that's why the pairing of Fontenot and Smith work so well. Smith isn't into complacency either. There's an urgency within him, too, to make what was once comfortable in Atlanta uncomfortable. Fontenot and Smith share that mentality. It's just that, with Fontenot, it's a little more subdued because you can't see it on the football field every day in the way you can with Smith. But it's there.
"At every position, we're going to continue to look around the league," Fontenot said.
From the macro view, one may ask how all of this connects to the grand plan. With many players on one-year deals and many more living under the assumption their time in Atlanta could come to an end in another year or two, how do these minute details work towards the big picture? Fontenot explained that it may not be very visible now, but players they brought in for the short term are in Atlanta for reasons beyond just this year's production and need to fill out depth.
"Whether it's Lee Smith talking to Kyle Pitts or Erik (Harris) or Duron (Harmon) talking to (Jaylinn) Hawkins or Richie (Grant)," Fontenot said, "all of these players are here for a reason and they're here because they can help us win right now and they can help us grow, and you need that. You need the right leadership in all of these jobs. In these games there is going to be some ups and some downs and you want some guys who have been there before, and you want some young guys who they can lean on. We really like the balance that we have."
Every thing, Fontenot concluded, really does matter in the grand scheme.
And for a wanderer looking ahead to the grandness of the what's next and what's new, it's always the base foundational thinking. And with a wanderer, one can never get too comfortable.
"It's a growth mindset," Fontenot said. "It's everybody's job -- including my own -- to come in here every day with the right intent to get better… That's the mindset: To teach, to develop, but to improve the roster from top to bottom."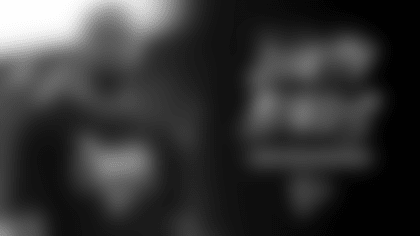 Dirty Birds Retail Collection
The new Dirty Birds retail collection is now available at Falcons team stores!