FLOWERY BRANCH, Ga. -- Russell Gage knows deep down that timing is everything.
It's his primary objective, after all, to be at the right place at the right time, with the right amount of separation to make Matt Ryan throw his way.
"He needs to trust you're always going to be right where you're supposed to be after he makes his drop, makes his read and gets to you in his progression," the Falcons receiver said last month in an exclusive interview with AtlantaFalcons.com. "You need to be open at that exact time."
That isn't easy. Gage, after all, isn't running against air.
He's being shadowed by a cornerback hellbent on disrupting that timing, with safeties and linebackers ready to jump his route or make vicious contact once he gains possession.
The LSU product is adept fighting through such resistance. We saw that during a standout 2020 campaign where he had 72 catches for 786 yards and four touchdowns on 109 targets. That last number proves he has Ryan's faith.
Consistency during the offseason program, training camp practices and game performance earned the quarterback's trust. Continued progress and precision has made it stronger than ever heading into a 2021 season that officially starts Sept. 12 against Philadelphia.
That's what has happened over the past few years. Learning exactly how is an interesting tale, one that involves going inside the mind of someone who has seen the game from every angle.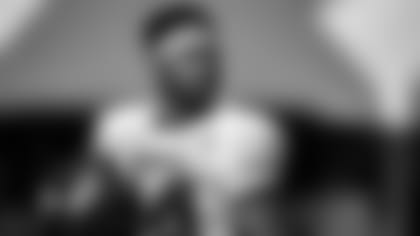 Simply converting to receiver didn't create a player the Falcons feature on Sundays. His diverse football experience allows him to play efficient and stay on time without being the biggest, fastest or strongest.
He's one of the smartest receivers you'll find, ready to use the techniques and perspective taught while playing other positions at his current receiver spot.
He understood the essential value of timing as a former quarterback, knowing a play would fall apart if a receiver wasn't where he needed to be when he needed to be there. He saw plays develop in full view as a deep safety, knowing how those playing the position think, what their body language says and how they can crash a route at just the right time.
Gage's college days as a cornerback, however, have been vital to his development at receiver.
"I was able to see things in a different light and understand things from a different perspective," Gage said. "That brought the biggest elevation in my game. I found that I was naturally a better receiver than I was a cornerback, but that insight, having played on the other side of the ball, put me at a huge advantage. I understood DBs. I understood their leverage, what they wanted to see and what they wanted to go against, how they wanted to act in coverage. It put me over the top and helped me elevate my game the most."
He knows, however, that not all cornerbacks are created equal. They don't all play the game as he did as LSU, with his specific size and skill set. Gage understands how they all operate, and which ways to best beat them.
"There are different types of defensive backs," Gage said. "Some guys are big. Others are smaller and quicker. You have longer guys who may be stiffer in the hips. Understanding those things from personal experience, seeing firsthand how those guys were taught, helps me attack each one in different ways based upon the situation.
"Coming into the game, I feel confident knowing the type of player I'm going up against and the types of releases I'm going to have to use against them."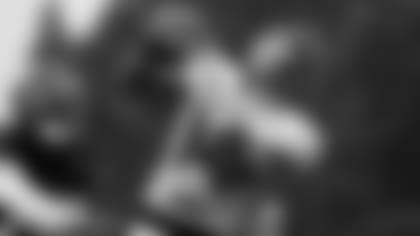 That comes down to study. Gage knows that even his previous positional experience won't help if he's not prepared.
"It's more mental than anything," Gage said. "You need the physical skill, but that doesn't amount to much if you're not prepared and thinking about the game from every angle. There's so much time spent in the classroom and at home with your tablet, more than you spend on a practice field. If you use that time well and get your mind right, that's how you can take your game to the next level."
Gage and Ryan are working on next-level stuff while learning a new system, building on several years working together during the offseason, training camp and even in public parks without a football coach in sight.
"That's why he has improved so much in that last two or three years," Ryan said. "When we traded Mohamad Sanu, he got his first real opportunity to play a bunch for us in the slot. He made huge strides during the second half of that [2019] season but came back that next offseason with a real hunger to get better. That has continued in the years since."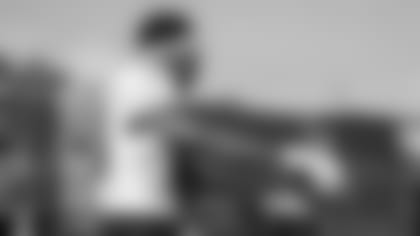 That has led to regular instances of near perfect timing. There are too many to count any more, but they all require ingredients we've discussed in this story. Gage falls back on his previous positional experience, his football knowledge and chemistry with Ryan to use the right technique and the right pre-snap decisions to make a hard play look easy.
There are few things in football, Gage says, better than that.
"It's satisfying to be in that situation, after you and the quarterback went over scenarios, talked about them at length, and they the show up in a game," Gage said. "You lock eyes, and without making a signal or saying a word, you know what to do and that a play is going to work, and the timing is going to be just right. That's such a great feeling."