Stirred up a hornet's nest on Wednesday, which I swear was unintentional.
I happened to mention in the previous Bair Mail, and in a subsequent promotion of it, that I don't like sweet tea. I believe I used the term…[checks the official record]…gross.
Brave, in this instance, is code for stupid.
The responses were unrelenting after what was perceived as an outright attack on a Southern culinary tradition. I'm not a hot take artist, nor do I say something polarizing for polarizing's sake. Just genuinely don't like the stuff, though I'm open to recommendations on the best sweet tea out there. I'm willing to give it another go.
It's not that I'm against Southern food. Love it in fact. Always have. And, since moving out here, I've become obsessed with tree-ripened Georgia peaches and realize that most any snack tastes better with pimento cheese.
That said, consider this: I'm originally from Southern California, but can freely admit In-N-Out doesn't make the best burgers. Not even close, not even in the top 5, though it's blasphemy to utter those words out West. So maybe, just maybe, we could rationally consider unsweetened tea and its merits.
You probably didn't open Friday's Bair Mail to re-litigate the sweet tea debate. You came to talk football, and/or tell me I'm full of it for considering Matt Ryan a surefire Hall-of-Famer. Most of you, anyway. Let's get to the football stuff in this mailbag:
Guy Lenz from Lawrenceville, Ga.
OK, this is going to sound radical but here goes - Who was the immature gunslinger QB with a big arm (who threw a lot of INTs at times) that the Falcons let get away and now he's a HOFer? Yea, you know. Now ...who does Josh Rosen remind you of? The odds are against it but I say we keep him just in case.
Bair: Methinks you're referring a former Falcon (briefly, anyway) who became a legend in Green Bay. Are we allowed to mention Brett Favre's name down here? I see you're making a Josh Rosen comparison, and that's a bold one. I'm not going there, even as a proud UCLA product who openly roots for Bruins alumni. Here's what I can say: Rosen has tons of arm talent. Arthur Smith is a darn good coach. So is coordinator Dave Ragone and position coach Charles London. Matt Ryan's a willing mentor. That's a good environment to maximize potential. Let's see what Rosen can make of this opportunity.
And, Nick Wilkins from Rexburg, Id., Smith said Thursday that he was comfortable with the quarterbacks on the roster. But, as we discussed regarding the Ollison cut, they're always looking to get one percent better. If they can do that at quarterback, they will.
Joe Carroll from Newport Beach, Calif
Please tell me why Ollison makes it past cut day only to be cut days later?! Seriously, Qadree was an absolute gem pick by [Thomas Dimitroff and Dan Quinn] but was never utilized to his potential being stuck with an OC like Dirk Koetter?!! Koetter's lack of innovative play calling kept Ollison on the bench, and much to our chagrin. No joke, Coach Smith needs a bruiser like Derrick Henry, and Ollison fit the bill and would've been a great compliment to Davis. Please help me understand this cuz it's a head scratcher.
Bair. Love the passion, Joe. Honestly.
Ollison was a fan favorite. That was clear before and after Thursday's cut. And I know you're not saying Ollison is Derrick Henry. But I don't think Ollison's size and bruiser capabilities mean he was right for a prominent role in this year's offense. I didn't see in practice or preseason games what many of you believe Ollison can be. I'm also new and haven't seen him work under the previous regime, but I know he was often a healthy scratch. That's not great.
The Falcons saw an opportunity to improve their depth and took it. Wayne Gallman is a reserve who has proven he can fill in well for an injured starter. That's what the Falcons need behind Mike Davis. That's what they got – more peace of mind behind Davis, and maybe someone who can be efficient even with the 5-10 carries he could get when the feature back is healthy.
Cameron Howell from Maricopa, Ariz.
Welcome to the team! I know a little late… please give me your opinion on Matt Ryan. HOF? Everyone knocks him for losing the super bowl, even though it was the defense that failed. Also, some players are saying smith has the "it" factor. What is that "it" factor to you?
Bair: Do I think Matt Ryan's a Hall-of-Famer? As I said above, surefire. Want to know why? Go read the Bair Mail back catalogue, where I absolutely own those on the other side of this argument. In my "humble" opinion, anyway. Ha.
"I'm just myself," Smith said. "I've got flaws like just like everybody else I don't try to be anybody to put myself, you know I make plenty of mistakes, I try to learn from, try not to repeat the same mistakes but I don't feel like I have anything 'it' or special.
"Maybe CP (Cordarrelle Patterson) is trying to grease me up to get the ball more so you could consider that too. So now there's a lot of, I've been around a lot of good coaches, I really have and, I don't want to leave anybody off but I've always just tried to be is me myself. That's all I ever tried to do. I appreciate it."
He nailed it. For one, his reference to Patterson trying to grease him up for more carries is classic. And, he's right. Being himself is key to gaining player respect. They can sense fake. Smith, to be sure, is not.
Fred Pittman from Hamilton, Ga.
Enjoying your posts. My question is do you think the offense is farther along or the defense? Stay on it. Thanks.
Bair: Appreciate you, Fred. And thanks for reading. I think the Falcons offense and defense have been pretty even to this point, with the secondary especially looking better than last year. During the regular season, however, I think the offense will have to lead the way, especially early. They need good protection to let Ryan work the ball downfield to Calvin Ridley, Kyle Pitts and Co., and they'll need to score often to be consistently competitive. Dean Pees, however, could be the great equalizer between units and a stabilizer on defense. I'm generally prone to crediting players over coaches – they, after all, have to go execute what's called – but Pees' scheme should help his unit play well.
Call for questions
That was fun Bair Mail, thanks to a bunch of solid questions. Keep them coming by submitting more here.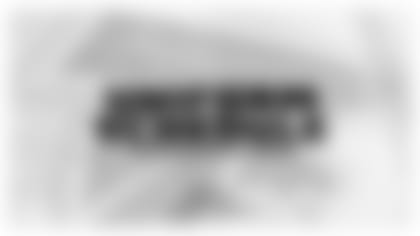 2021 Uniform Schedule
Click below to view the jerseys the Falcons will rep during each regular season game in 2021!