FLOWERY BRANCH, Ga. — Cordarrelle Patterson was lined up at running back and wide receiver with the Falcons' first-team offense during Wednesday's practice. Patterson has done most of his damage as a returner, but has shown value in the backfield and as a pass catcher. Last season with the Chicago Bears, Patterson caught 21 passes for 132 yards and had 64 carries for 232 yards. He expects to continue to play many different roles in his first season with the Falcons.
"If they want me to play running back, quarterback, tight end, kick returner, punt returner, it doesn't matter," Patterson said following Wednesday's practice. "... I've been playing special teams my whole career, and it's probably one of the reasons I am still in the NFL. You got to find something you're really good at, and I know I'm real good at that, and I'm gonna keep doing it until the coaches don't want me to anymore."
The Falcons are Patterson's fifth NFL team, and his excitement for the season centers around head coach Arthur Smith. Smith, he says, has the 'it' factor. Patterson appreciates Smith's willingness to challenge the team to compete and holds every player accountable regardless of their status.
"A lot of guys out there want to play for him. He brings that juice every day; he's fired up. What guy don't want to play for a coach like Art?" Patterson said with a smile. "So we come out here with a mindset that this first year we're going to make our best year."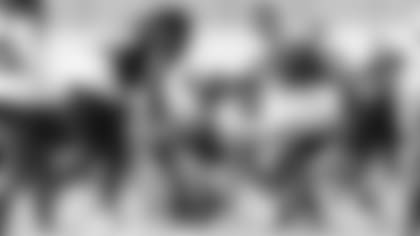 Mayfield steps in for Andrews
Rookie Jalen Mayfield saw reps at several spots on the offensive line in training camp. On Wednesday, he lined up with the starters at left guard during the thirty-minute portion of practice available to the media.
Mayfield began training camp at right tackle in the absence of Kaleb McGary. By the time McGary returned to 100 percent following an injury about halfway through camp, Mayfield had been moved back to guard, where he worked primarily in the spring during OTAs.
The starting left guard position has seemed to be Josh Andrews' since he arrived in Flowery Branch earlier in the year. That is, until Andrews reportedly broke his hand at practice on Tuesday and earmarked for injured reserve, meaning he will miss at least the first three weeks of the season, per NFL rules.
On Wednesday, the Falcons won a waiver claim for guard Colby Gossett after the Cumming, Ga. native was cut by Cleveland. With the Falcons first game a little over a week away, it would seem the situation at left guard just got even more tumultuous.
Oluokun excited to 'confuse the other team'
Linebacker Foye Oluokun is looking to improve on an excellent 2020 campaign where he had 117 tackles, four forced fumbles, three sacks, and two interceptions for the Falcons 19th ranked defense.
Oluokun says the most significant difference on defense this year is that everyone can play fast, and that they are maximizing each player's strengths and versatility. Oluokun says what he likes most about new defensive coordinator Dean Pees is that he holds everyone accountable.
"Anybody can get it, anybody can have it," Oluokun said. "If we mess up a play, we're going to hear about it."
Oluokun admitted that learning the new defense took some time, but now that everyone has the defense down, it's like "controlled chaos." He's excited to showcase their new scheme in Week 1.
"Everybody's kind of going from different places to do a specific job, and when we're all on the same page, it looks great," Oluokun said. "I'm excited to confuse the other team."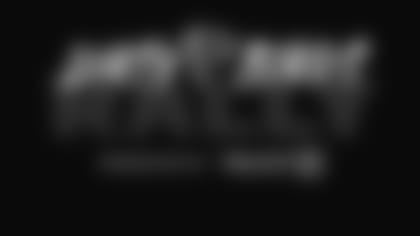 Celebrate the return of Falcons football with a FREE kickoff party featuring special appearances by Jeezy, Pastor Troy, and Falcons Legend Michael Vick. Join current Falcons players and special guests as we kick off the 2021 season!
This event will be emceed by announcer Ryan Cameron and Falcons Legend Harry Douglas and will feature:
Appearances by Calvin Ridley, Younghoe Koo, Mike Davis, Coach Smith and Terry Fontenot
Special appearances by Jeezy, Pastor Troy, and Falcons Legend Michael Vick
Performances by Falcons Cheerleaders and Freddie Falcon
Giveaways and more!
Plus, gear up for gameday and shop our new Dirty Birds collection in-person at the Atlantic Station Team Store, located just across from the Atlantic Green.
Date: Friday, September 10 // Time: 7:00 pm – 9:00pm
Location: Outdoors in the Atlantic Green at Atlantic Station, near HOBNOB (245 18th St NW, Atlanta, GA 30363)