It was an unexpected sight considering how much Tuioti-Mariner had his hand in the ground as a member of the Falcons defensive line in 2020. It was well known going into the season that Tuioti-Mariner would be making the move to outside linebacker to better fit Dean Pees' scheme, but perhaps it didn't really sink in until he was a part of the 7-on-7 action on that early day of training camp.
In a way, Tuioti-Mariner's role within the defense feels like a microcosm of what the unit is being asked to do in Pees' scheme. It all boils down to two words: adaptability and flexibility. It's about plugging and filling when necessary. It's why Pees teaches defensive concepts more than he does positions. It's why Tuioti-Mariner's journey reflects this philosophical change.
Tuioti-Mariner isn't one of the big names of this defense. His days as a Falcon began as an undrafted free agent in 2018, and in three years he worked his way from the practice squad to a primary role-player in the Falcons defensive rotation in 2020. There are many on this defense who share similar stories: Foye Oluokun was a late-round draft pick in the same year. He was a college safety then, he's a starting inside linebacker now. The Falcons went out and brought in a chunk of starting secondary players with similar backgrounds. Take Harris for example, too. Here's a guy who began in the Canadian Football League but soon worked his way to being a starting safety with the Raiders.
There's several defenders on this team that know a thing or two about the age-old cliché about stacking days. Tuioti-Mariner is one of the best examples.
"It's definitely been a journey," Tuioti-Mariner said. "It's something that I would never change, just because it made me - as a whole person - just to kind of create that drive, not including what I do here in football, my job, but also outside of football. It brought me new perspective with a new way to think and look at things."
Tuioti-Mariner said he went into the offseason just looking to focus on himself, not the new staff and front office he knew would be coming in. As it would turn out, Tuioti-Mariner's performance in 2020 would earn his keep in 2021, with the new staff seeing something in Tuioti-Mariner that they could cash in on in a year when they were strapped for cash.
Though he didn't know then just what his role would be come OTAs, Tuioti-Mariner ended up getting his body where it needed to be to make the transition to outside linebacker. He's leaner now, faster, too. Perhaps it was a happy accident that he morphed himself into exactly what the Falcons needed him to be for the defense in 2021.
"I tried just focusing on myself so I can be adaptable to whatever happens, be coachable to whatever happens," Tuioti-Mariner said. "That's what I've always been doing in each offseason that I've had."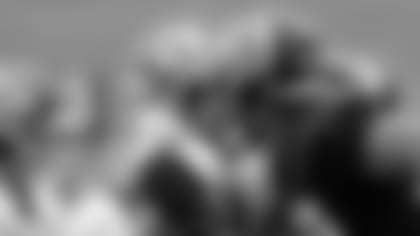 When asked what that meant for Tuioti-Mariner this year, he said from a mechanics standpoint it was really about learning to work in coverage. It was something he wasn't asked to do with the old staff that is now a requirement for him.
Arthur Smith broke down this new role for Tuioti-Mariner in depth when asked about the former lineman turned linebacker.
"Playing outside linebacker, you're going to be over the tight end a lot or you're in that open side so you're taking on different kind of blocks," Smith said. "… nothing is 100 percent because people can move guys around but you're taking on a lot of tackles on first and second down on that open side. On the strong side, you're probably matching up against more tight ends."
Smith said in the first week of training camp that how much Tuioti-Mariner can handle in coverage will dictate how they decide to use him. At the end of training camp, it seems he passed the test, because now a week out from the first game, the Falcons still rely on him in both pass rush and coverage roles.
"He's had the opportunity and has gone out there and proved it," Smith said. "We're pretty excited about Tui and the role he'll have on this defense."
For Tuioti-Mariner, being adaptable is what's gotten him this far. If that's what Smith and Pees want from him in 2021, he's happy to oblige. It's something that hasn't failed him yet, even in 7-on-7s.
"That's what you have to be in order to be in this league: be adaptable," Tuioti-Mariner said. "Try your best to (be that)… Whatever the coaches throw at you, you have to just try your best to do it. I do go to 7-on-7, but it's just more tools in my toolbox now."