Editor's note: This is the tenth and final prospect profile on players who could be on the Falcons' radar in the first round.
Former TCU cornerback Jeff Gladney hasn't gotten as much buzz as some of the other top prospects at his position in the NFL Draft, but he'll be a starter early in his career. As the Falcons look to replace Desmond Trufant on the outside of their defense, Gladney is a player who has the experience and skillset to fill that role.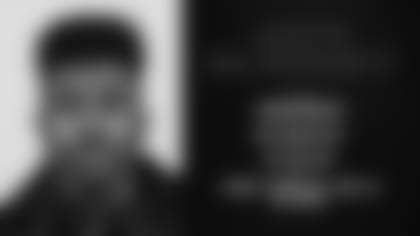 Coming out of New Boston High School in Texas, Gladney was rated a three-star athlete by the 247Sports Composite Rankings. After redshirting his first season at TCU, Gladney started eight games as a redshirt freshman in 2016. He then went on to become a regular starter for the Horned Frogs for the next three seasons, earning All-Big 12 and All-American honors during his junior and senior seasons.
Pro Football Focus rated him No. 1 in the lowest passer rating allowed in the Big 12 in 2018 after Gladney allowed a rating of just 46.9 on throws into his coverage. Gladney finished his career at TCU with 146 tackles, 37 pass defenses and five interceptions.
Despite playing in the pass-happy Big 12, Gladney helped TCU finished as the 37th-best pass defense in the country in 2018 and the 27th-best unit last season. He played in a variety of coverages during his college career and enters the NFL as one of the most experienced cornerbacks in this draft.
How Gladney fits in with the Falcons
The first thing that stands out about Gladney on film is his competitiveness. He's an extremely feisty player who did well in both press coverage and off coverage. Although he's just 5-foot-10, Gladney plays bigger than that and possesses adequate length to disrupt passes.
Gladney ran the 40-yard dash in 4.48 seconds at the NFL combine, showcasing enough top-end speed to keep up with receivers at the NFL level. He maximizes that speed with great route anticipation and good football knowledge as plays develop. Against Purdue, Gladney recognized a flea flicker, found the correct underneath coverage position and came away with an interception.
Although he only had five career interceptions, Gladney often takes angles to make a play on the ball, as evidenced by his high number of pass breakups. That mindset will be welcome in Atlanta, where coach Dan Quinn wants his defense to force turnovers.
As a tackler, Gladney is more than willing. He uses his arms to wrap up ballcarriers and spin them to the ground, although he's also capable of squaring up and delivering a big hit if in position. TCU also used Gladney fairly frequently as a blitzer, and his speed off the edge was notable.
Gladney's upside might not be as high as some of the other cornerbacks in this year's class, but he should be able to step in and handle starting responsibilities early in his NFL career. If the Falcons do decide to trade back in the first round, or if there is an early run on cornerbacks, Gladney would be a good fit for what Atlanta is looking to replace at the position.
"Press cover irritant who plays an extremely competitive brand of football from snap to whistle. He has the twitch and route anticipation to stay close. Possesses ball skills to contest a good percentage of throws. His coverage traits should allow him to thrive in man or zone, but his desire to make every play on the ball could lead him into occasional bait-and-switch traps by smart quarterbacks. He's slender so teams will need to decide whether to play him outside or in sub-packages, but no matter where he plays, this ball-hawking alpha has the talent to help his team on all three downs if needed." – Lance Zierlein, NFL.com