Editor's note: This is the fifth of 10 prospect profiles on players who could be on the Falcons' radar in the first round.
There are a number of different ways the Atlanta Falcons could go when they come on the clock in the first round of the 2020 NFL Draft, but there's one player who might fill multiple needs in an intriguing way. The Falcons want to continue adding to their pass rush, but they could also stand to add another linebacker after De'Vondre Campbell's departure in free agency. Former Wisconsin linebacker Zack Baun – the No. 28 prospect on Dave Archer's Big Board – could benefit Atlanta in both areas.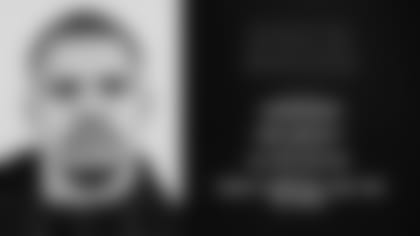 After redshirting as a freshman at Wisconsin and switching over to the defensive side of the ball, Baun recorded 15 tackles, 3.5 tackles for a loss and one forced fumble in his first season of action.
A foot injury cost Baun all of his redshirt sophomore season, but he returned to the team as a full-time starter in 2018 before becoming a team captain in 2019. In his final two college seasons, Baun's production began to match his talent. As a junior, Baun registered 62 tackles, 7.5 tackles for a loss, 2.5 sacks and an interception.
In his redshirt senior season, Baun's game reached an entirely different level. He ended the year with 75 tackles, 19.5 tackles for a loss, 12.5 sacks, two forced fumbles and one pick-six. Baun was named a consensus first-team All-Big Ten player and earned several different All-America nods.
How Baun fits in with the Falcons
Of all of the players highlighted in this series, Baun may be the biggest stretch for how he fits into Atlanta's defensive scheme. It's hard not to watch Baun and think about another former Wisconsin pass rusher – T.J. Watt. The Pittsburgh Steelers star has thrived as a 3-4 outside linebacker who is often tasked with rushing the passer, and Baun appears to offer the same type of upside.
But the Falcons don't employ the same type of defensive philosophy as the Steelers, so it takes a little more projecting about how he might fit with Atlanta, and Matt Tabeek provided his thoughts on the matter in a recent mock draft. The Falcons envisioned Campbell growing into a role that involved using him as both a pass rusher and a linebacker who could match up with tight ends in coverage. Campbell did become a reliable coverage player for Atlanta, but he did not develop the pass-rush skills to consistently have that dual role.
Baun doesn't have the same length that made Campbell such a hassle for NFL tight ends, but he offers more as a pure pass rusher. Often lining up on the line of scrimmage at Wisconsin, Baun has great burst off the line and is fairly flexible as he bends the pocket back towards the quarterback. He also showed a nice feel while dropping into zone coverage, leaving quarterbacks guessing as to how he would be used on any given play.
In that sense, Baun could be a wild-card defender of sorts for the Falcons. Someone who would give Atlanta the versatility to force opposing quarterbacks to read the defense after the snap to determine Baun's role on any given play. That's not something we've seen a lot of from the Falcons in recent seasons, but Baun is the type of prospect who could develop naturally into that role.
"Ascending prospect whose explosive production on the field has begun to mirror his explosive athletic traits. Baun's twitchy get-off and deep bend at the edge is nightmare fuel for Big Ten tackles and he's still at the early stages of pass rush development. He is aggressive to flow downhill in run support, has sideline-to-sideline range and is fluid dropping into coverage. He's strong but a little light as an edge-setter so teams will need to figure out how best to align him. Baun is a scheme-diverse linebacker with high-impact potential whose best days are ahead of him." – Lance Zierlein, NFL.com