Editor's note: This is the eighth of 10 prospect profiles on players who could be on the Falcons' radar in the first round.
One of the primary needs for the Atlanta Falcons entering this draft is at the cornerback position. After parting ways with longtime starter Desmond Trufant, the Falcons will need someone capable of stepping into his outside role for the 2019 season. Former Ohio State cornerback Jeff Okudah is considered the best player at the position in this draft – he's the No. 4 player on Dave Archer's Big Board – and could immediately improve Atlanta's secondary.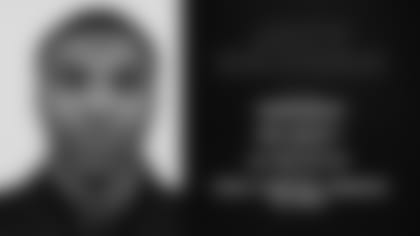 Okudah's reputation as a top cornerback dates all the way back to high school. He was rated a 5-star prospect by the 247Sports Composite Rankings, and he was the No. 8-overall prospect in his class. Okudah saw early playing time as a freshman with the Buckeyes, but it was during his sophomore and junior seasons that he began to really open some eyes.
According to Pro Football Focus, Okudah allowed just 45 of the 106 passes thrown into his coverage to be completed, and he did not allow more than 50 yards receiving in any single game. That's why Okudah enters the draft with the reputation of a shut-down corner and someone who can make an impact right away.
The Falcons would have to move up in the draft to acquire Okudah, but Ian Rapoport recently tweeted that many teams believe Atlanta could be looking to trade up in the first round. Who they might be targeting remains a mystery, but the Falcons like what they've seen so far from Kendall Sheffield, and they might also be keen on adding his former Ohio State teammate.
How Okudah fits in with the Falcons
There are reports that some teams like C.J. Henderson more than Okudah, but the former Ohio State star looks much more consistent on film. On a play-by-play, quarter-by-quarter and game-by-game basis, Okudah shines.
Okudah has everything in the toolbox that a corner needs to succeed in the NFL – he's got top-end speed, exceptional lateral agility and flexibility, the length to contest bigger receivers and he's incredibly sharp when diagnosing plays. Teams would often try to make Okudah run through traffic at the snap of the ball by running receivers on crossing routes or using pre-snap motion, and he navigated those moments adeptly while rarely allowing a completion due to his elite acceleration.
Even as a tackler, an area where many of the top corners in this class fall short, Okudah stands out. He takes great angles, can shed blocks and loves to deliver the big hit. He can be trusted to defend the perimeter against the run as well as the pass.
Cornerback might be one of the most difficult positions for a rookie to step into as a starter on Day 1, especially given the receiver talent in the NFC South. Okudah is easily the player in this draft most likely to be able to handle those responsibilities if the Falcons made him the starter opposite of Isaiah Oliver. The biggest hole on the roster right now appears to be at cornerback, and Okudah would not only fill it but potentially turn that position into a strength for Atlanta.
"Head coach and general manager's dream prospect with blue-chip physical traits, mental makeup and personal character. He has size, length and foot quickness to road-block press release and elite closing burst to close catch windows or eliminate yards after catch. He has room for improvement with his recognition and balance at the top of the route, but quarterbacks rarely target and beat him over the top. He has a rigid adherence to technique, but squeezing coverage even tighter and trusting his traits, talent and recovery speed could make him one of the top shutdown corners in the game." – Lance Zierlein, NFL.com