Editor's note: This is the sixth of 10 prospect profiles on players who could be on the Falcons' radar in the first round.
Fielding a strong secondary is nearly as important as boasting a strong pass rush in today's NFL, given how closely those two units work hand-in-hand. There are a number of cornerbacks in this year's draft who could help the Falcons replace Desmond Trufant, and former Florida star C.J. Henderson – the No. 12 player on Dave Archer's Big Board – is among the best.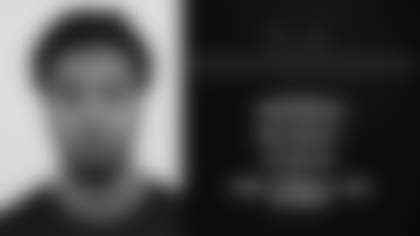 Henderson was a star on both sides of the ball at Columbus High School in Miami, and he was rated a four-star athlete by the 247Sports Composite Rankings when he chose to commit to Florida. It didn't take any time at all for Henderson to show what type of college player he could be. Henderson had a pick-six in each of his first two career games for Florida, becoming the first player in school history to return an interception for a touchdown in back-to-back games.
After securing four interceptions during his freshman year, Henderson became a full-time starter as a sophomore in 2018. It was his play in his second season that cemented Henderson as one of the top cornerbacks in the country, and quarterbacks began keeping the ball away from him.
During his three seasons at Florida, Henderson recorded 93 tackles, 20 pass defenses, six interceptions and four sacks. There's no mistaking that Henderson has all of the tools to become a top NFL cornerback capable of locking down opposing receivers.
How Henderson fits in with the Falcons
First among those tools that Henderson possesses is his blazing speed, which Matt Tabeek noted when he paired the former Gator with the Falcons in a recent mock draft. At the NFL combine, Henderson ran the 40-yard dash in 4.39 seconds, and that speed shows up on film as well. It allowed him to excel in man coverage, as Henderson coupled his speed with excellent footwork and agility to mirror receivers throughout their route.
If a receiver did manage to gain any separation, Henderson displayed lightning-quick closing speed to make up ground and get a shot at the ball. With 31 5/8" arms, Henderson possesses the type of length to breakup passes even when he's in a less-than-ideal position.
Although Henderson isn't a ballhawk type of corner, he displayed great timing in reading the receiver's actions when his back was to the quarterback. Once the receiver flashed his hands to make the catch, Henderson moved to separate the ball from his opponent's grip. This skill was evidenced by his 11 pass breakups in nine games in 2019.
As a player in coverage there's very little not to like about Henderson. He may have a more natural transition playing man coverage in the NFL, but his downfield acceleration in zone coverage is notable and he should only grow more comfortable with more reps in a zone scheme.
The one part of Henderson's game that could scare away some teams is his play as a run defender. Despite showing physicality during his first two seasons at Florida, Henderson was notably hesitant to get into the mix last year. That may be partially attributed to the ankle injury he battled throughout the season, but he didn't display great tackling form and he hasn't really filled out his lengthy frame. Henderson was at his best as a tackler when sent on blitzes, which he did fairly frequently while at Florida.
"CJ Henderson projects as a starting cornerback at the NFL level. Henderson's length, ball skills, fluid hips and route recognition give him the ceiling of a Pro Bowl outside cornerback, although he will need to be more selective with some of his aggressive plays in coverage and be more attentive to securing tackles if he is to reach his ceiling. Henderson is ultra-sticky at the catch point and his skills are best implemented in press man coverage at the next level." – Kyle Crabbs, The Draft Network