We haven't seen much of Kendall Sheffield this season, since the defensive back was held back throughout training camp with a hamstring injury. It was significant enough that Sheffield was placed on injured reserve at the start of the 2021 season.
Sheffield -- and Josh Andrews, too -- have been practicing with the Falcons throughout the last two weeks as they entered into a 21-day period in which they could be brought back to the active roster. The Falcons chose to bring Sheffield up, the team announced on Saturday afternoon, after Isaiah Oliver suffered a season-ending knee injury in Week 4 against Washington.
The Falcons needed more bodies in the secondary with Oliver out and Avery Williams (hamstring) and Erik Harris (calf) doubtful to play against the Jets this Sunday.
Like Oliver prior to the last four games, Sheffield hasn't been a particular fan favorite throughout his first couple years in the league. Primarily playing outside, Sheffield has played in 29 games for the Falcons. Through those games, he has 94 total tackles and no interceptions.
The Falcons have a decision to make regarding who takes over Oliver's spot at nickel. Williams went in for Oliver when he was carted to the locker room last Sunday, but with Williams' status doubtful, the Falcons may be looking at Plan C. Sheffield could be part of that strategy.
When asked about the potential of moving Sheffield inside, Arthur Smith said it's a possibility.
"It just depends," Smith said. "He's played it before (in a) different scheme. Obviously, with Kendall, he'll go out there and practice and hopefully find a role for us."
If the Falcons do not like Sheffield inside, there are other options. Fabian Moreau and TJ Green could make the move in the interim. Moreau has displayed solid open field tackling at times. Green has cross trained at both safety and cornerback throughout the preseason and regular season. Both have the versatility to move inside if the Falcons would rather have Sheffield play outside, of which he has a bit more experience doing.
Physically, Sheffield has been practicing for the last two weeks and should have a relatively good grasp of the scheme from an Xs and Os standpoint. Playing live, however, can be a different story, and it may be a work in progress for Sheffield as he returns to the active roster.
As for what the Falcons do at safety if Harris cannot play, his role will fall to Jaylinn Hawkins. The Cal alum would start beside Duron Harmon. Richie Grant would be the main rotational piece for the group.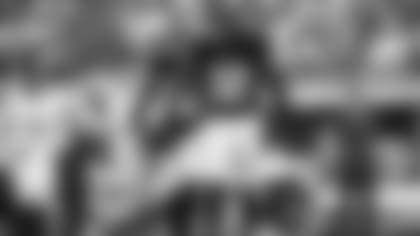 Other transactions to note: Juwan Green and Chris Williamson will be active after being designated a standard practice squad elevation. Per the rules of a standard practice squad elevation, a player can be active in a game and then automatically revert to the practice squad without hitting waivers. That can only happen once, however. If it's done a second time to the same player, a team must release him or permanently sign him to the 53-man roster. The Falcons have that decision to make with Green, who was a standard elevation in Week 3.
The Green and Williamson elevations were expected, as the Falcons needed to bring up more depth to fill holes at wide receiver and in the secondary. In a subsequent move, tight end Parker Hesse was released.
As for Williamson, he did some good things through training camp playing cornerback. It's the reason he earned a spot on the Falcons practice squad. Green's elevation comes as a response to Calvin Ridley (personal matter) and Russell Gage (ankle) not making the trip to London.
The Falcons depth will be tested on Sunday, even after all those moves. Falcons Final Whistle | A Postgame Podcast
Break down the hottest topics surrounding the Atlanta Falcons and how they can impact the team's success with Falcons Insiders Scott Bair, Tori McElhaney and Terrin Waack. Like and subscribe to join us for the lively debate on Falcons Final Whistle.
Welcome to Falcons Final Whistle – an Atlanta Falcons football postgame podcast during the season that shifts gears in the offseason to answer a pressing question about the team's future each week through free agency, the NFL Draft and the offseason program.