FLOWERY BRANCH, Ga. -- Over the course of the last two games, the Falcons offensive and defensive units have missed key figures of their starting rotation. Jaylinn Hawkins suffered an ankle injury prior to the start of the Falcons game in Dallas. Cordarrelle Patterson didn't play against New England five days later with an ankle injury, too.
In different ways, their presence was missed.
From the offensive perspective, the unit was without - arguably - it's most dynamic weapon. When the Falcons have needed a spark offensively, Patterson provided it with a chunk-play here or a first-down-pickup there. Through nine games, Patterson has seven touchdowns and he's about 30 yards away from reaching the 500 receiving yards mark. He's also averaging about four yards a carry, too. Without Patterson last Thursday, the Falcons offense struggled. Through two games, Atlanta hasn't punched the ball into the endzone. Without one of their top scorers in Patterson available, it's easy to see how important he is to this offensive operation.
Patterson is questionable to play in Sunday's game against Jacksonville, but the hope is that he'll get the green light.
Speaking of green lights, Hawkins got one this week, and will be back in the lineup on Sunday.
Like the Falcons missed Patterson on Thursday, they missed Hawkins a handful of days before. Hawkins has quietly become an important piece of this defense in his second year in the league. As each week early in the season passed, Hawkins' contributions and responsibilities within this defense increased.
Dean Pees said that - in his mind - Hawkins is a starter, and to lose him before the Dallas game even kicked off was a tough problem to try to solve in-game.
"He may not necessarily start the game, but I consider him a starter in a rotation," Pees said of Hawkins. "Then, what it does is all of a sudden you can't move somebody else to a position."
The Falcons defense struggled to stop Dallas' offensive attack. And while it's not fair to say the game could have been noticeably different with Hawkins out there, it could have been a situation that saw some of the pressure be taken off Avery Williams, who was playing more nickel and finished the day with a 27.5 defensive grade per PFF. It was by far his lowest grade of the season. It was a grade that could have partially been compounded with Hawkins' absence.
"For example, if we were getting hurt at nickel I could have easily moved Erik Harris back up to nickel," Pees said. "He played there (the week before), but we couldn't do that because all of a sudden Erik and Duron (Harmon) have to take all the reps at safety. That's what it kind of does. It's a depth issue more than it is necessarily a whole scheme issue."
Pees said in a situation like that of the Dallas game where an offense is singling out a rookie like Williams, if Hawkins is available Pees has the opportunity to coach up Williams a bit more. That wasn't able to happen in-game, though.
"Sometimes you'd like to take a guy out of the game and talk to him a little bit about what's going on," Pees said, "but you really don't have that much of an opportunity because there's nobody to take him out."
The Falcons defense bounced back on a short week to play better against the Patriots on Thursday night. Even though the Falcons did not have Hawkins available again, they at least had time to account for his absence, serving the entire secondary better. AJ Terrell got his first interception on the year, and the Falcons defense only gave up a single touchdown to New England. But even though they played better, getting Hawkins back is a good sign for this defense that is set to face another rookie quarterback in Trevor Lawrence this Sunday.
Hawkins noted the injury and the timing of it was "frustrating," so he's glad to be back to 100 percent.
"It felt good to be out here," Hawkins said after a week of full practice participation. "The ankle feels good."
However, even in the good news of Hawkins' return, the Falcons may still be without another defensive starter in Deion Jones.
Jones was listed as questionable for Sunday's game after being limited in Friday's practice with a shoulder injury. If Jones can't go, the Falcons may look to rely on fellow inside linebacker Mykal Walker a bit more.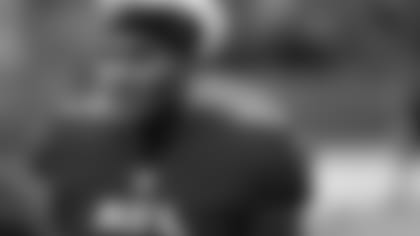 Walker's 2021 journey has been interesting. After a pretty solid rookie year in 2020, Walker's playing time has dwindled throughout the current season. Personally, Walker said, the lack of playing time has been "a little frustrating."
"Even though it's not going the way I want it to on Sundays, I am still preparing every week just like I am the starter," Walker said. "I think it's helping me as a player. I think it's going to help me moving forward when I do get my opportunity to go out there."
Walker believes this lack of playing time stems mainly from the success of Jones and Foye Oluokun. Both have been instrumental in keeping this defense afloat, even during tumultuous times this year, particularly Oluokun.
It's pretty difficult to argue with his numbers. However, with Jones' status still up in the air, the door could perhaps open for Walker.
"Those guys are like my big brothers," Walker said of Jones and Oluokun. "So, for me, it's about learning from those guys... If I'm going around and complaining that I'm not playing and play the victim role then when I get my opportunity and I'm not ready? It's on me."
"For me, it's just keep preparing every week, because it's going to come. That's just how football works."
And according to the decision the Falcons make on Jones this weekend, it could be an opportunity that arises sooner rather than later. Falcons Final Whistle | A Postgame Podcast
Break down the hottest topics surrounding the Atlanta Falcons and how they can impact the team's success with Atlanta Falcons Insiders Scott Bair, Tori McElhaney and Kris Rhim. Like and subscribe to join us for the lively debate on Falcons Final Whistle.
Welcome to Falcons Final Whistle – an Atlanta Falcons football postgame podcast during the season that shifts gears in the offseason to answer a pressing question about the team's future each week through free agency, the NFL Draft and the offseason program.