Editor's note: This story was updated on Jan. 16, at 1:23 p.m. ET, to reflect that a contract has been signed.
It is official: Arthur Smith is the head coach of the Atlanta Falcons. On Friday the team announced that it had agreed to terms with Smith and, on Saturday, all of the t's were crossed and the i's dotted. The deal is done.
And the now the real work for Smith begins.
"We are thrilled to welcome Arthur to Atlanta and introduce him to our city and fans as the Falcons new head coach," said Arthur M. Blank, Falcons owner and chairman. "Throughout our research and interview process, Arthur stood out amongst a very deep and very talented candidate pool with an outstanding plan for our organization to return to the level of competition our fans deserve and expect. He has all the characteristics of a strong leader and while his achievements have primarily come on the offensive side of the ball, he has provided a plan that is comprehensive within all three phases of the game. With Arthur, I am very confident that our process and approach have led us to a dynamic leader for our team and I believe our players, staff, fans and community will be as well."
"Our entire search was highly organized and thorough and I'm grateful to Rich McKay and many, many others across multiple departments in our company who contributed in this process."
Smith, 38, has spent the last decade with the Tennessee Titans and has been the Titans' offensive coordinator for the last two seasons, helping revive quarterback Ryan Tannehill's career (he was the NFL Comeback Player of the Year in 2019) and featuring running back Derrick Henry, who has developed into one of the most productive – and feared – backs in the league.
"I'm honored and humbled to have the responsibility of leading Atlanta's team," Smith said. "I'd like to thank Arthur Blank, Rich McKay and the entire Falcons organization and the city of Atlanta for this opportunity. I'd especially like to thank my family, Allison and our three children, for not only joining me, but for supporting me on this journey. We are beyond excited to become a part of the Atlanta community, embrace its culture and experience all the city and our fellow citizens have to offer.
"The Falcons organization stood out to us in this process primarily due to the leadership and support from the top in Arthur Blank. His actions and core values provide a great model on how to operate for so many, and align with how I plan to move forward in reaching the levels of competition the passionate Atlanta fans so richly deserve. That will all start with the culture we as a team create and thrive in. I'm excited to get started on this new journey and cannot wait to see what the future holds for our city and its fans."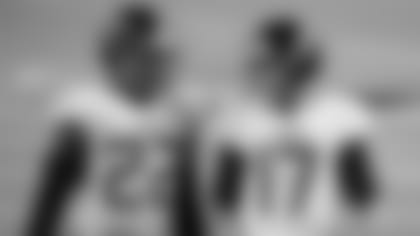 Turnaround in Tennessee
From 2019-20, Smith orchestrated one of the NFL's top offenses with the Titans leading the league in red zone touchdown percentage (75.2), ranking fifth in points per game (27.9) and fifth in total offense (379.6). He oversaw the second-ranked rushing attack in the NFL, averaging 153.5 yards per game on the ground.
Under Smith in 2020, the Titans offense finished the regular season ranked No. 3 in the league in total yards per game (396.4) and No. 2 overall in rushing yards per game (168.1) as Henry rushed for 2,027 yards and scored 17 touchdowns. The Titans were also fourth in the league in scoring, putting up 30.7 points per game.
Tennessee finished 11-5 and won the AFC South title but lost its wild-card matchup to Baltimore, 20-13, on Jan. 10.
Smith oversaw one of the most potent rushing attacks in league history as Henry became just the eighth player in NFL history to rush for more than 2,000 yards in a single season. Henry's 2,027 rushing yards rank fifth all time and paced the Titans to the league's second-best rushing offense in 2020, trailing only the Baltimore Ravens.
Tennessee's 168.1 yards per game on the ground set a club record and Henry eclipsed Chris Johnson's franchise record of 2,006 rushing yards set in 2009.
While Smith was able to build his offense around the talents of Henry in the run game, he also has been credited with revitalizing the career of Tannehill. In two seasons running Smith's offense, the former No. 8 overall draft pick started 26 games and totaled 6,561 passing yards with 55 touchdowns, 13 interceptions and a 110.6 passer rating, while completing 67.3 percent of his passes.
Tannehill was named to the Pro Bowl for the first time in his career in 2019 and was named the Comeback Player of the Year by both the Associated Press and the Pro Football Writers of America.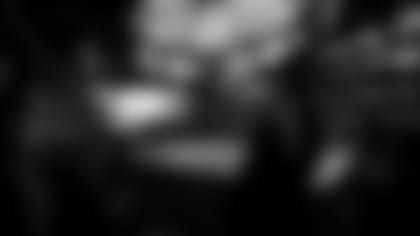 2021 Atlanta Falcons Tickets
Click below to learn more about 2021 Season Tickets and find your seat today!
Smith also fostered the development of wide receiver A.J. Brown, who has cited Julio Jones as a mentor. Brown eclipsed 1,000 receiving yards in each of his first two seasons in the NFL and has scored 19 touchdowns in 30 career games. In addition to Brown, four-year veteran receiver Corey Davis has also blossomed under Smith. Davis tied his career high with 65 receptions and set new bests with 984 receiving yards and five touchdowns in 2020.
In 2019, Smith helped lead the Titans to the team's first AFC Championship Game appearance in 17 years. In his first season as offensive coordinator, the Titans led the NFL in red zone efficiency (75.6 percent), ranked third in rushing offense (138.9 yards per game) and fourth in yards per play (6.12). The Titans' percentage in the red zone was the highest since the 2013 Denver Broncos (76.1).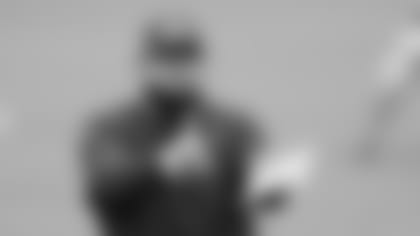 Coming up through the ranks
Smith has been with the Titans since 2011 and has served under four different head coaches. He has held a number of positions, including tight ends coach, offensive line assistant, offensive quality control coach and defensive quality control coach.
Prior to joining the Titans, Smith spent two years as the defensive quality control coach for the Washington Redskins from 2007-08 serving on legendary coach Joe Gibbs' staff. In addition to his coaching role, he also worked as a college scouting assistant in Washington in 2007. In 2010, Smith worked at Ole Miss as an administrative assistant/defensive intern, primarily working with the linebackers.
Smith graduated from North Carolina where he played offensive line and later joined the Tar Heels coaching staff as a graduate assistant (2006), working with the offensive line.
Born and raised in Memphis, Tenn., he went to high school at Georgetown Prep (North Bethesda, Md.). Smith and his wife, Allison, currently live in Nashville with their two sons, Tanner and Liam, and their daughter, Sophie.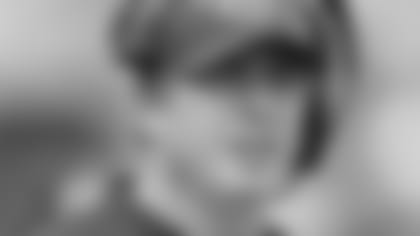 With Smith on board, he becomes the 18th head coach in Falcons history.
Table inside Article

| COACH | YEARS | RECORD | PLAYOFFS |
| --- | --- | --- | --- |
| Norb Hecker | 1966-68 | 4-26-1 | -- |
| Norm Van Brocklin | 1968-74 | 37-49-3 | -- |
| Marion Campbell | 1974-76 | 6-19 | -- |
| Pat Peppler | 1976 | 3-6 | -- |
| Leeman Bennett | 1977-82 | 46-41 | 1-3 |
| Dan Henning | 1983-86 | 22-41-1 | -- |
| Marion Campbell | 1987-89 | 11-32 | -- |
| Jim Hanifan | 1989 | 0-4 | -- |
| Jerry Glanville | 1990-93 | 27-37 | 1-1 |
| June Jones | 1994-96 | 19-29 | 0-1 |
| Dan Reeves | 1997-2003 | 49-59-1 | 3-2 |
| Wade Phillips | 2003 | 2-1 | -- |
| Jim L. Mora | 2004-06 | 26-22 | 1-1 |
| Bobby Petrino | 2007 | 3-10 | -- |
| Emmitt Thomas | 2007 | 1-2 | -- |
| Mike Smith | 2008-14 | 66-46 | 1-4 |
| Dan Quinn | 2015-20 | 43-42 | 3-2 |
| Raheem Morris | 2020 | 4-7 | -- |
| Arthur Smith | 2021 | 0-0 | |
The former Tennessee Titans offensive coordinator becomes the 18th head coach in Atlanta Falcons franchise history.