Tyler Allgeier was asked what his goal of the offseason was. Not the offseason that included the draft, rookie minicamp and OTAs. The offseason of the last five or six weeks, when the facility in Flowery Branch was empty throughout the month of July, when players and coaches were scattered across the country.
While some used that time for a quick, pre-camp vacation, Allgeier's off-time was a bit more mundane, but not any less important.
He was - as he relayed - trying to get in the best shape of his life. And those are his words, not mine. My words are that it shows.
Though we won't know too much about the running back rotation until we get to the truly live action of a preseason game, Allgeier looks the part as he runs alongside veterans like Cordarrelle Patterson and Damien Williams.
The Atlanta backfield is crowded at the current moment. Along with the three players previously listed, include Qadree Ollison, Avery Williams and Caleb Huntley to the rotation, too. How any combination of these players fit into the 53-man roster is still to be decided, but Allgeier is working to make his presence noticeable, and productive. That began over the routine of the last five weeks before training camp even began.
"I was getting into the best shape of my life. Shoot," Allgeier said of that time. "That, and studying the playbook, really. It was just doing that day in and day out, because the faster you learn the playbook the faster you'll be on the field."
That final sentence is important, because Arthur Smith has never been one to care about seniority. The best players will play. Period. Allgeier said Smith made that clear to everyone on the very first day of camp.
As a rookie, Allgeier took that to heart because he has a chance in Atlanta to be a significant part of the run game for the Falcons, even as early as his first year in the league. We all know how important Patterson is to this offensive system, but how does Allgeier fit into the plan of helping to lighten Patterson's load in 2022? He wants to be that guy to help do so.
But Allgeier isn't the only one, and he feels the intensity of other players wanting to be that guy, too. He said it's pretty obvious they're all competing for the job. It should be obvious because at the end of the day, that's what Smith wants at every position, not just the running backs.
"(Coach Smith) wants us to be the most physical, fast, mentally-tough team and I think he is really showing that," Allgeier said, "especially with how practice has been going, and especially in meetings as well."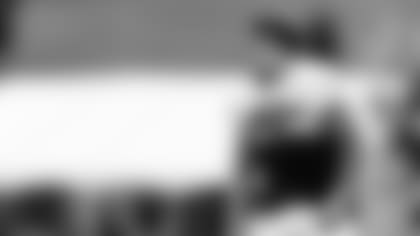 Notes, observations from practice:
First day of pads: The title of this paragraph speaks for itself. It was nice to see the pads go on for the first time on Monday. It should be noted, though, that there is an acclimation period when it comes to gearing all the way back up. Monday's practice was a bit more walk-through heavy. Run blocking played a major role in what the team was working on, particularly late in practice. The league mandates that the first day of a padded practice not exceed 90 minutes, so practice was on the shorter side. They'll continue to rev back up as the week goes on, with Arthur Smith saying this week should be a challenge for players.
"You want to see how they perform day after day," Smith said of what he expects when the pads go on. "This week is a good proving ground. It's a long week for these guys. I think we'll have a good idea then about where we're at. It's a grind physically and also mentally. There's a lot of movement going on out here, but they're really taxed mentally during this stretch.
No update on Deion Jones: Terry Fontenot and Smith were both asked about Jones' return-to-play timeline, and neither were willing to breakdown said timeline quite yet. Smith said last week that they'll know more about where Jones is in his recovery this week, and hopefully have a better idea about his return. As a reminder, a player placed on the PUP list can return to active status at any time. The Athletic's Jeff Schultz reported more information about the situation after practice.
Bryan Edwards' absence: The wide receiver did not practice on Monday. He came down hard on his shoulder on Saturday and immediately went to the sideline and was checked out by the training staff. Smith and Fontenot did not seem overly worried about the extent of the injury, with Smith saying that it's "nothing that's considered long term," and Edwards will just be day-to-day. After trading for Edwards this offseason, he has quickly become an intriguing figure of the Falcons offense. Getting him back to 100 percent will be important.
Live punting! Wow: For the first time since camp began we finally got to see the punting competition in action between veteran Bradley Pinion and UDFA Seth Vernon. Truth be told, though, it's not too much of a competition as Smith pointed out that the eight-year veteran would be the one the Falcons will lean on.
"Our expectations for Pinion are high," Smith said. "We anticipate him being the guy."
As for your punt returners there was a pretty equal rotation between Avery Williams, Olamide Zaccheaus, Damiere Byrd and a little bit of Cameron Batson, too. If I am a betting woman (which I am not), I would imagine Williams will be "the guy" for this job come Week 1.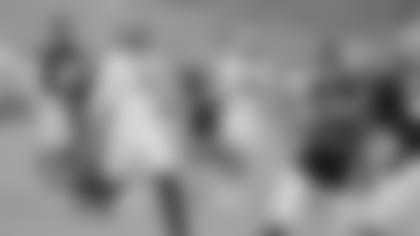 Don't forget Grady Jarrett: As if you could. Jarrett was a menace on Monday, blowing up the first two plays of the 11-on-11 period of practice. He made quick work of the offensive line upon the snap. If tackling was allowed, the first play would have been a significant tackle for a loss. The second? A sack. Jarrett put the pads on and he wasn't playing around.
Some serious mixing and matching: The Falcons spent majority of the 11-on-11 periods of practice changing around personnel. First-team quarterback and skill guys playing with the second-team offensive line, and vice versa. There was similar mixing of the defense, too. On a day that was a little more laid back in terms of full-speed contact, it was interesting to see different groups working together. It was a good chance for the coaches to see how different groupings could work.
Your offensive line update of the day: It was Drew Dalman's day at center. If the pattern continues - which it should - we'll see Matt Hennessy there tomorrow. As for left guard, it was - again - Elijah Wilkinson taking the first team reps over Jalen Mayfield. I don't know if I am yet willing to say that this is a done deal that Wilkinson is your starting left guard, but the days in which he is holding onto said spot are increasing.
Bring your dad to work: In other, personal, news: My dad came to practice today! Because of COVID protocols over the last two years, this was the first time he's gotten to come to practice. Something that I've missed over the last two seasons was seeing the families of players and coaches at training camp.
My favorite part of every day is seeing AJ Terrell run around with his son...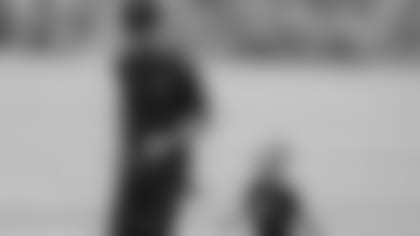 or Desmond Ridder chilling with his daughter on the sideline...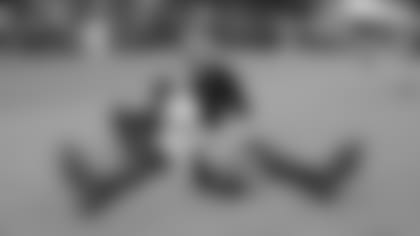 or Teez Tabor letting his daughter wear his helmet...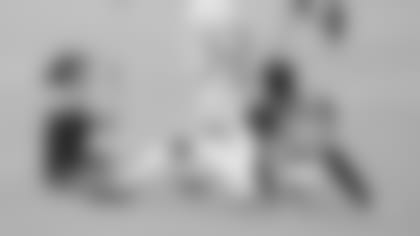 It's easy to forget that football is a family affair, but it is, and that's something everyone should always remember.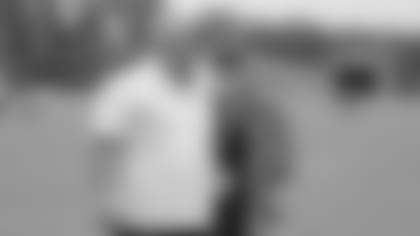 Interested in Falcons tickets?
Join us in 2022 for 9 Regular Season home games! Let us help you find the seats and benefits that interest you!