INDIANAPOLIS -- The Falcons interviewed a group of running backs on Wednesday before the group met with the media on Thursday. In comparison to years past, Atlanta may be in the market to grab a young running back out of this year's draft class now more than ever. Youth out of the backfield, as it would seem, is something the organization hasn't had in a number of years.
The Falcons have a couple big decisions to make regarding the return of their 2021 running back room. Between Cordarrelle Patterson and Mike Davis, there's no guarantee the Falcons will be willing - or able - to retain both. Patterson had as impactful a season as he's had in his decade-long career in the league. As a free agent this offseason, he's been campaigning consistently on social media to return to the Falcons in 2022. Meanwhile, Davis has a year left on his current two-year contract. If the Falcons want to go in another direction, though, his time in Atlanta may come to an end, opening the door for a young rookie if it happens.
Who could that young back be, though? Here are four who could fit the bill.
Breece Hall
Outside of the exciting 40-yard dashes and the bench press, the NFL Combine is known for the interview process and, specifically, the types of questions that teams ask players. It has been reported that teams have asked players questions like if they find their mothers attractive, to their murder weapon of choice.
When Hall was asked if he was asked any of those odd questions, he immediately remembered a conversation he had with the Falcons and head coach Arthur Smith. Smith asked him, "If one family member could describe you, what would they say?" Hall told him they would say "different." The question was not as odd as some of the questions mentioned earlier about murder weapons, but it stood out to Hall.
Hall was one of the best backs in college football over his final two years in college, earning back-to-back All-American honors. Hall's game evolved through college as he became a much more patient and effective runner later in his college career. He says the patience came from watching running backs like Le'veon Bell.
"Over the last two years, no running back has been able to do what I've been able to do," Hall said. "I just feel like I'm the best running back in this draft." I feel like I'm a three-down back. I feel like I can do everything."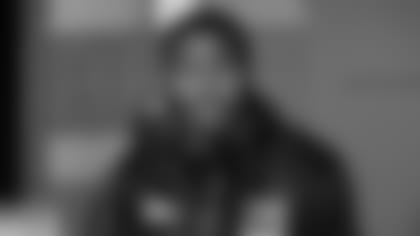 Isaiah Spiller
Spiller is the top running back on many mock drafts because of his talent at making defenders miss, along with his skill as a pass-catcher. Spiller rushed for 1,011 yards and six touchdowns in 2021 and caught 25 passes for 189 receiving yards and one receiving touchdown in 2021.
"The game's kinda going towards passing, and I feel like I can catch well," Spiller said. "I ain't drop a ball this year, so I really like to show that tomorrow and continue to show that throughout my career. And helping teams on third down is really important, so I feel like I can do that."
Spiller met with the Falcons in what he called a "speed dating" style format, where he talked with running back coach Michael Pitre briefly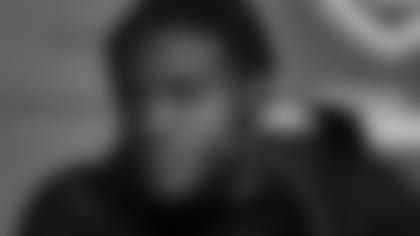 Kenny Walker III
The Michigan State running back may have only had one Power 5 offer coming out of high school, but as he sat atop a podium in Indianapolis at the NFL Combine, he's one of the most sought after running backs in this year's draft class.
There are a number of early mock drafts that have Walker being taken in the late first round or early second round. For Walker, he believes he deserves to be the first running back off the board.
"Me, personally, I believe that I am an all-around back. If I need to go run around the backfield I can do that or if I need to get a yard on third down I can do that as well," Walker said. "... Whoever drafts me they're making a great choice."
Walker was not willing to share which teams he met with on Wednesday, but with the Falcons having two second round picks this year, they very well could have been one of the teams Walker met with.
Walker said what sets him apart in this running back class is his vision and his ability to cut. He has goals he wants to reach in his rookie year (even one as lofty as holding the Rookie of the Year title). He's a physical runner who led the FBS with 89 forced missing tackles in 2021. If he falls out of the first round and into the second round, he could be an intriguing prospect for the Falcons.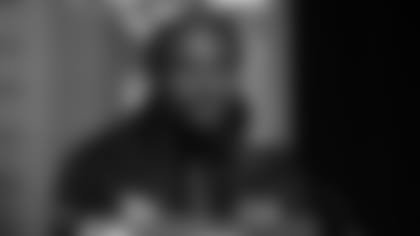 Dameon Pierce
Pierce carries himself with a confident attitude everywhere he goes in Indianapolis. It's this attitude coupled with a solid performance at the Senior Bowl that have many thinking Pierce's draft stock is rising.
Pierce prides himself on being an "angry" runner with "bad intentions." Why bad intentions?
"Because (the defense) got bad intentions running at me," he said.
The Florida product doesn't have a lengthy workload from his time in Gainesville, something he said was a by-product of having a full and talented backfield. He's happy to point out that even with limited reps, he's got a skill set teams will want.
They want a running back with a solid catch radius? "I'm good at catching, man," Pierce said. "I've got 17 targets and 17 catches."
They want someone who they can count on in pass protection? "All the times I was in pass protection, the quarterback didn't get hit," Pierce added.
Pierce lives by the being-gritty-not-pretty mantra, and it seems to be turning some heads at the Combine.
"Knowing how to take hits. Knowing how to give hits. Be the hammer not the nail, man," Pierce said. "You ain't never seen the hammer broke up. You always see the nail bent."