The second full day of on-field workouts featured the running backs and offensive linemen of this 2022 draft class. The Falcons have a bit of interest in both of these position groups as both could be considered needs of this 2022 Atlanta roster.
There's no guarantee that the Falcons will bring back Cordarrelle Patterson or Mike Davis this offseason, and with a plethora of young and speedy running backs in this draft, it's enticing to think the Falcons could use a mid-round pick on one of them.
As for offensive line, it wouldn't hurt to bring in someone to push certain members of Matt Ryan's current protection unit. There are many who have the Falcons really interested in this draft class' offensive tackles. Atlanta has two second round picks, could they use one on an offensive lineman and one on an edge rusher? It's an interesting proposal.
But we have quite a bit of time until we know the answer to that. In the meantime, let's take a look back at the highlights of the on-field workouts of the running backs and offensive linemen in Indianapolis on Friday.
Draft class breaks running back records with speedy 40-yard dash times
There hasn't been too much hype around this draft class' running back representation, but the group turned heads during their on-field workouts. The group, it would seem, was faster than expected.
Six running backs recorded a 40-yard time in the 4.3s. That is the most running backs to run below a 4.4 time since NFL Network began keeping records in 2003. It's also more than the combined total of those who broke the 4.4 time of the last seven combines, per NFL Network. Here's a list of the seven running backs who dropped into the 4.3s on Friday:
Isiah Pacheco (Rutgers): 4.37
Pierre Strong (South Dakota State): 4.37
Ty Chandler (North Carolina): 4.38
D'vonte Price (Florida International): 4.38
Kenny Walker III (Michigan State): 4.38
Breece Hall (Iowa State): 4.39
Breece Hall making a case for RB1 over Kenny Walker III
There are many who believe the product out of Iowa State cemented himself as the first running back to be taken off the board come the end of April. As previously mentioned, Hall broke into the 4.3s with his 40 time. He also led the field with a 40-inch vertical jump and a 1006 broad jump.
Walker had a solid performance as well, also running in the 4.3s with a 34-inch vertical and 1002 broad jump. There are still many who will have Walker over Hall on their draft boards simply because Walker's 2021 season with Michigan State was that good.
However, it'll be interesting to see where these two fall come draft weekend, mainly whether we actually see either go in the first round.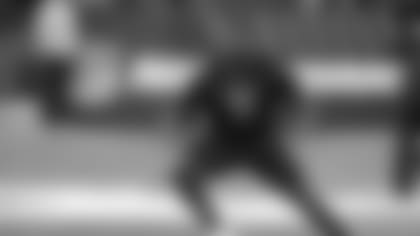 Without Evan Neal, Ickey Ekwonu and Charles Cross shine
It's a safe bet to make that Neal is the first offensive lineman taken in the 2022 Draft. The big man from Alabama has held onto that moniker for a while. Without Neal working out at the combine, though, it allowed more eyes to fall on Ekwonu and Cross.
Like the running backs, this group of offensive linemen broke 40-yard dash records on Friday with 12 linemen posting a sub-5.0-second time. NFL Network reported this was by far the most players at the position to do so since they began keeping records in 2003. Ekwonu and Cross were both a part of the 12 to do so.
Many evaluators put Ekwonu ahead of Cross during the on-field workouts as the NC State lineman looked quick and smooth throughout the various movement drills.
James Cook calls out brother, Dameon Pierce calls out spotter
As Vikings running back Dalvin Cook watched his younger brother James Cook take his mark for the 40-yard dash, perhaps he didn't feel as though his 4.49, 40-time was in jeopardy. However, with his second run of the night, the UGA running back beat his brother's time from the 2017 NFL Combine. Cook ran an official 4.42 and looked smooth throughout every on-field workout on Friday.
Afterwards, he had some words for his big bro.
Earlier in the day, as the running backs set up for their turn on the bench press, Dameon Pierce was one rep away from breaking the 20-rep mark. On his 21st rep, as he struggled to complete that final rep, he made sure the bar wasn't taken out of his hands just yet.
Pierce is looking more and more like a solid mid- to late-round power runner. Though he ran a 4.66 in the 40-yard dash, straight-line speed isn't Pierce's strength. His actual strength is.
Pierce's physicality is something that could separate him in the eyes of scouts. His performance at the Senior Bowl also may have increased his draft stock, with Jim Nagy saying Pierce was one of the players he'll remember most from this year's Senior Bowl because of his energy, physical presence and even what he was able to showcase in catching a few passes out of the backfield. 2022 Season Tickets Now Available!
Our Longest & Most Flexible Ticket Payments
Instant Member Benefit Access
Best Available Seat Locations