INDIANAPOLIS – Quarterbacks, wide receivers, and tight ends took the field at the NFL Combine Thursday. USC wide receiver Drake London, who could be the first receiver drafted in April, did not compete in workouts. He will continue to recover from a fractured ankle he suffered in October, and go through drills and workouts at USC's pro day on April 6. Ole Miss quarterback Matt Corrall also didn't throw or compete in drills at the combine. He is nursing an ankle injury he suffered in the Sugar Bowl on January 1. He plans to throw on his pro day, March 23.
Outside of London and Corral, many of the players linked to the Falcons with the No. 8 overall selection worked out at the combine.
Here's how they performed:
Chris Olave, Garrett Wilson, Treylon Burks roll
Ohio State receiver Chris Olave sent social media into a frenzy after finishing the 40-yard-dash in an unofficial 4.26 seconds, tied for fourth fastest in combine history, and made it look easy. Unfortunately for Olave, the unofficial time was significantly off, and his official time came in at 4.39. Still a speedy time, but not as rare as 4.2 speed.
Olave's teammate Garrett Wilson joined him in the 4.3's, as Wilson sped to a 4.38 40-yard dash. They became the second pair of teammates to run sub 4.4 40-times at the same combine per Field Yates.
Arkansas wide receiver Treylon Burks, who has been linked to the Falcons in many mock drafts, finished with a 4.50, a quick time in any circumstance but especially for Burks, who is 6-foot-2, 225 pounds.
Malik Willis shows huge arm strength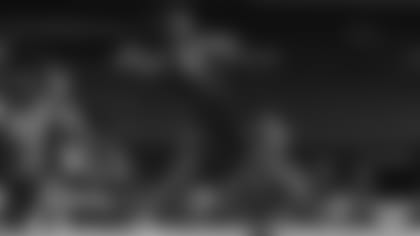 Willis went viral on Twitter on Thursday morning, as he was captured on video giving his Combine gear to a homeless man on the street in Indianapolis. Later in the day, he went viral again, but for his big arm, which has many calling him the quarterback with the most upside in this year's draft.
Oohs and ahhs came from the crowd at Lucas Oil stadium as Willis hit a receiver 60 yards downfield in stride during the throwing drills.
Desmond Ridder shows off speed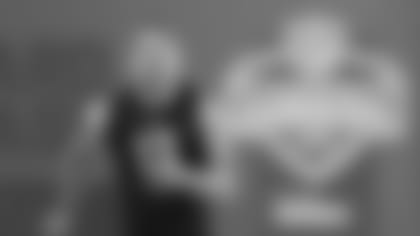 Ridder said the players he studied most in the NFL were Deshaun Watson and Ryan Tannehill at the Senior Bowl, and he doubled down on that at the Combine. Ridder said, "If you mix them two you get me."
Ridder proved on Thursday that he certainly can bring the mobility that Watson has, running the fastest 40-yard-dash of the eight quarterbacks the draft. His 4.52 40-time was faster than Watson's 4.66 in 2017. The next closest quarterback was Brown's EJ Perry, who ran 4.65. Willis did not run at the combine.
Calvin Austin III dominates in all phases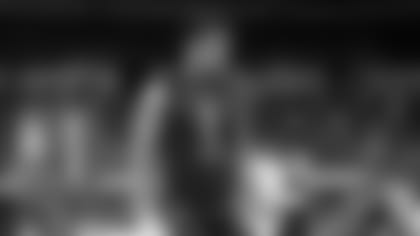 Austin was arguably the best wide receiver at the Senior Bowl, making defensive backs look silly with his route running and speed. Wilson, just 5-foot-9, doesn't have ideal height for the position but makes up for it in athleticism. He ran a 4.32 in the 40-yard-dash, leaped for a 39-inch vertical, both the third best of all players, and broad jumped 11-foot-3-inches, good for second at the combine.
Austin has not been linked to Falcons' in any mock drafts, and selecting him at eight seems highly unlikely, but with a depleted wide receiver room heading into 20222, Austin could be someone the Falcons consider in late rounds.
The Best Season Ticket Member Benefits are Back
We're offering our best season ticket benefits packages ever this year! Find the season ticket benefits that are most attractive to you.