INDIANAPOLIS -- As they flew into Indianapolis for the 2022 NFL Combine, Zamir White and James Cook returned to the place of their fondest and most exciting football memory to date: Winning the 2022 National Championship. Months removed and in the same location, White, Cook and a handful of other player from the University of Georgia are now working to increase their draft stock.
Atlanta's staff met with both Georgia running backs on Wednesday. Here's what the duo had to say about the experience.
James Cook
Cook spent his four years at Georgia splitting time with talented running backs, from D'andre Swift to Zamir white and everyone in between. Still, Cook emerged as one of Georgia's best running backs because of his versatility. Cook lined up in the slot, out wide, and in the backfield, skills that many NFL teams are looking for in running backs. 
Cook says he watches Alvin Kamara and Christian McCaffrey closely. Both backs, like him, are as deadly in the backfield as they are catching passes, and of course, he watches his brother Dalvin, who plays running back for the Minnesota Vikings. 
Cook says his best game of the 2021 season came in week seven against the University of Tennessee, where he rushed for 104 yards and two touchdowns on ten carries and caught four passes for 42 yards and a receiving touchdown.  
"I showcased what I could do running in between the tackles," Cook said. "Lining up out wide, winning my one-on-ones, and just kinda beating the man across from me." 
Cook said he is hoping to show teams at the combine that he can fill multiple roles as a dynamic rusher and pass catcher, that he is a three-down back, and that he can win games. And while Cook spent four years just an hour away from Atlanta at the University of Georgia, he says he isn't a Falcons fan. He's still supporting his hometown Miami Dolphins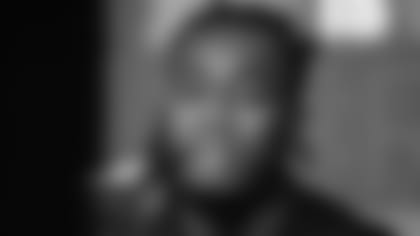 Zamir White
White is the thunder to Cook's lightening, and was never afraid of contact during his years in Athens. He - and many others - tend to liken his physical style of running to that of fellow Bulldog alum Nick Chubb.
Asked what a team would be getting if they drafted him, White said they'd get a player who comes in every day with a positive attitude and a man ready to work. They'll also get a downhill, one-cut back.
White wants to show more of his ability as a pass-catcher at the Combine as well as a solid 40-time. He said his interview with the Falcons consisted mainly of going over the film. He was pleased with the interview with the organization based an hour outside of Athens in Flowery Branch.
White has been training with current Lions running back and fellow Georgia alum D'andre Swift at the House of Athletes in Florida since winning the national championship with the Bulldogs in January. With all of these talented individuals to draw inspiration from (Chubb) and learn behind (Swift) and work with (Cook), it gives White all the confidence in the world to continuously mention how Georgia prepares its players for a potential future at the next level.
"They build players to be pros, straight on to be like a pro between the practices, the weight room, how we train just like pros there," White said. "Georgia gets you ready for this right here."
The Best Season Ticket Member Benefits are Back
We're offering our best season ticket benefits packages ever this year! Find the season ticket benefits that are most attractive to you.