FLOWERY BRANCH, Ga. -- When I asked Calais Campbell how he was doing as he approached the group of media for his first in-person availability as a Falcons, I expected him to respond with something along the lines of, "Good, how are you?"
Instead, what I got was quite a bit more than that. He talked about getting back on the field again, how much he loves it. He talked about building relationships with a new team, how looking forward to that he truly is. He talked about the excitement he feels joining the Falcons, how the organization maybe turned a few heads when Campbell chose to bring his talents south, and - ultimately - why he did. All of this he said before anyone ever asked a real question.
Campbell has been around the league for over 15 years. For reference, when Campbell was drafted in 2008, A.J. Terrell and Jeff Okudah were not even in middle school yet. Despite his years in the league, on Wednesday afternoon as Georgia showcased one of the most beautiful days we've had in a while, Campbell had the look about him not of a 16-year veteran, but a young, excited puppy (but think Great Dane or Bernese Mountain dog).
For a good chunk of his 10-minute long chat with the media, Campbell talked about pretty much everyone else but himself. For every notable player on the team, he named them off, tick by tick.
The run game with Tyler Allgeier and Cordarrelle Patterson? "Yeah, that was special last year." Drafting Matthew Bergeron? "He could develop to maybe help us this year." Bijan Robinson? "A guy who can definitely make guys miss in space." Desmond Ridder and Drake London? "I think something Des did really well is that he gave the ball to his playmakers. Drake was his favorite player, and I'm not mad at it!"
And what of the defense bringing in Jessie Bates III, David Onyemata and Kaden Elliss? "You see some talented guys coming in." Oh, and you can't forget the guys already here, Campbell said, like A.J. Terrell and Grady Jarrett.
Campbell pulled this list off the top of his head. He wasn't asked about his teammates outright. It was Campbell who went down the roster unprompted, giving his two cents on the team he joined a couple months ago.
He's very knowledgable about the men that make up the locker room around him. He did his research, that much is obvious. Campbell has been doing this professional football thing for a while now, so he knows a thing or two about what he's seeing develop in Atlanta.
"There are a lot of guys who are hungry," he said. "You really see a lot of potential here."
It's potential Campbell wanted to be in on maximizing. It's why he chose the Falcons in free agency. Now that he's arrived, wearing the Falcons helmet and getting reps alongside Jarrett and Onyemata, he believes there's reason for him to be hopeful, even in the first week of OTAs.
"We're going to surprise some people," Campbell said, "but I don't mind if they sleep on us right now, though."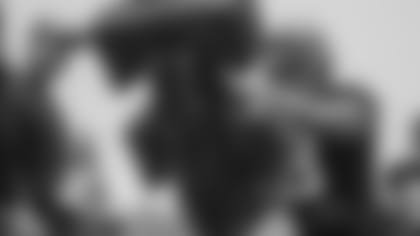 Notes, observations from practice
● Roll call: Arthur Smith said Jessie Bates III would not be at voluntary OTAs this week as he is welcoming a new baby to the family. However, Smith did note that Bates has been with the Falcons throughout majority of the offseason workouts up to this point. Kyle Pitts, Ta'Quon Graham and Caleb Huntley continue to rehab their season-ending injuries from last year. None of the three were practicing in helmets with the rest of the team on Wednesday, which tracks with their rehab schedules that Smith has spoken about previously. Cordarrelle Patterson was also not in attendance on Wednesday, but this is not uncommon for the 10-year veteran. The Falcons have said for the last two years that they like to hold Patterson back throughout spring camp and training camp in the fall in order to keep him as fresh as possible come the regular season.
● Another new spot for Avery Williams (?): In his rookie year, Williams was a defensive back. Last year, he was a running back. For the first open practice of the 2023 OTAs, Williams was a receiver. Well, at least he was working with the receivers, that is.
Now, we all know Williams' ultimate value for the Falcons is on special teams. He was one of the most consistent punt returners in the league last year. What he does outside of special teams isn't as notable to the casual fan as what he does on special teams, but still, his position flexibility continues to stand out as the Falcons put him in with the receivers for a few individual drills. So, could this mean that Williams will line up in the slot over and over again come the 2023 season? No. That's not what this means at all. It just means that Williams is continuing to try his hand at something new again. But now that I think about it, this role isn't too new for him at all, is it? It's not like he didn't already do this in 2022. He did. It's just that he continues to do what's asked of him, regardless of what that role may or may not look like.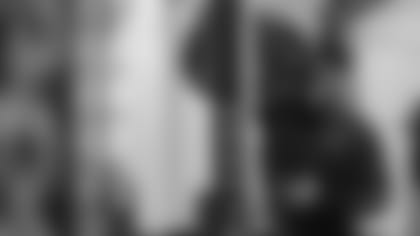 ● Franks, Fitz & Fisk: Though the Falcons tight end group was without Pitts on Wednesday, it was still quite interesting to see the various bodies they have at the position already. Jonnu Smith may be on the smaller spectrum of the group, but he's the most impressive pass catcher, laying out for a nice grab in 7-on-7s to squeeze in front of a defender. Then, there's Feleipe Franks and John FitzPatrick, two big-body targets. After a year on IR, it was nice to see FitzPatrick back on the field with no restrictions. You forget how much his large frame can be a significant presence as a downfield blocker. Then, there's the old reliables of Parker Hesse and Tucker Fisk, two players who's flash isn't as bright but who's blue-collar work ethic has always drawn Smith to them as role players or on the practice squad. It's a very interesting dynamic, but one that will only bring in more intrigue when Pitts returns.
● Noticing separation: When groups start mixing as practice goes on, I like seeing which groups go where, particularly with the tight ends and running backs. Who would work on their route concepts at the same time the offensive line worked on their blocking schemes? Well, at least for Wednesday, here's the look the Falcons gave (which I think tells us a lot about where this coaching staff may value them the most). Jonnu Smith, Franks and Hesse went with the pass catchers, as did Bijan Robinson. Meanwhile, Tyler Allgeier, FitzPatrick and Fisk worked alongside the offensive line. OTAs are all about individual development so seeing how these groups morphed into their individual roles of pass catchers and run blockers was interesting to see. It all makes sense doesn't it?
● Guard on guard: Here's your warning that this will likely be a weekly segment of our observations as we update you on the Falcons search for their starting left guard. As (should be) expected, when the Falcons' "starting" offensive line went out with Desmond Ridder for 11-on-11s, it was Matt Hennessy at left guard between Jake Matthews and Drew Dalman. Working on the other field with Arthur Smith during the same period was Matthew Bergeron at left guard with Taylor Heinicke under center. Interestingly, too, was that Jalen Mayfield took some snaps at right guard with that group. Kyle Hinton was also working at left guard, rotating in for Hennessy. It's way too soon to speculate on any of this but it is something to keep track of.
● Practice's best moment: Troy Andersen saying Calais Campbell is one of the largest humans he's ever seen. Same, Troy.
And to my dear readers... If you think you know how big Campbell is, you don't. He's bigger.
● Defensive backs I'm watching: Since the moment Mike Hughes was picked up in free agency by the Falcons, he's someone I've remained curious about. Injuries have kept him from really getting his feet under him in the league, so what could the Falcons do with him in 2023? Well, it would seem they're giving him a shot to carve out a role for himself inside as he took majority of his 11-on-11 snaps at nickel. This is something he said he was more than willing to do in his first media availability. It's a vision the Falcons had for him when they picked him up. It'll be interesting to see how he comes into his own within the role.
Meanwhile, two other defensive backs who caught my eye were Tre Flowers and Micah Abernathy. With Bates out on Wednesday, we got to see a bit more of Abernathy than I think we would have normally had Bates been in the safety rotation. For what its worth, I am glad we got to see him. He seemed like a good piece of depth playing with Richie Grant in the 11-on-11 periods. As for Flowers, he's someone who's physical build caught my attention. He's long and lean and could match up well with receivers with a similar look. These are two guys - Abernathy and Flowers - who could find themselves fighting for a roster spot in August. They'll be two to watch for that reason.