IN THE AIR — I am woman enough to admit when I am wrong. And I will say this: For as much as I was absolutely dreading going to Buffalo, New York, on January 1st, it actually turned out to be a pretty cool trip.
Ate some dang good wings (shoutout Gabriel's Gate). Saw Niagara Falls (it was as interesting as advertised). Did Highmark Stadium right (i.e. in the snow). In all, it was a cool (and cold) trip capped off by a pretty interesting and - dare I say - entertaining game.
No, the Falcons didn't win. And yes, their playoff hopes evaporated. But it was a game that I thought taught us a lot about where the Falcons are and what should be a priority on their offseason to-do list.
So, let's get into this week's notebook. I promise I will keep the wing-talk to a minimum.
"No Kyle? Problem."
It was difficult to know the full extent of Kyle Pitts' injury as it was happening in the stadium. Since the broadcast had a better view of Pitts, I was getting questions regarding his status that I just couldn't answer. We knew it was a hamstring injury, but that was about it. We couldn't really see anything else beyond that from the press box.
It wasn't until after the game that I was able to search for clips from the broadcast to get a more descriptive picture. Right before halftime, Pitts broke right on a route and immediately grabbed his hamstring and came up limp by the time he finished his route. Not good. Never good.
After the game, Arthur Smith would not divulge any information on the extent of Pitts' injury, only that he tried to give it a go again after halftime but it became obvious he couldn't continue. We'll know more regarding Pitts' status as the week goes on but what we do know from Sunday's game is that the Falcons are - obviously - better with Pitts on the field.
"It's tough because it's hard to replace his skillset," Matt Ryan said after the game. "He played extremely well for us when he was out there."
That's all true. He did. The problem was that the Falcons couldn't really find a way to replicate that production.
More so, the Falcons missed all of their tight ends. Even though Smith may not say it, I have to think not having Pitts, Hayden Hurst (reserve/COVID-19 list) and Lee Smith (who surprisingly only played 10 snaps on Sunday for some unknown reason) affected the way he could call the game.
The Falcons run their offense out of a number of multiple tight end sets. They weren't able to do that against the Bills, and while Ryan said he didn't think the Falcons missed much of a beat without their full compliment of tight ends, I thought it showed how much the Falcons need that full compliment to be the offense it wants to be.
"It's always tough, trust me, when you don't have your full complement of guys, but you have to find a way to do it and we had our chances," Ryan said. "We really did. It's disappointing that we didn't take advantage of them."
Maybe I am overthinking it, but I just can't help but look at this offense differently without this trio of tight ends out there.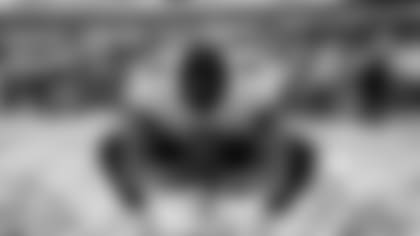 "Shift"
In my opinion, one of the most fascinating aspects of this game was watching this Falcons defense disrupt Josh Allen's throwing lanes. Then, it was seeing Buffalo account for that and move away from the pass to find its production.
It was obvious early that Allen's arm could be just as detrimental as his legs. It seemed that early on Buffalo wanted to establish the damage that arm could cause. In the Bills' first drive alone, Allen threw the ball 14 times.
As the second quarter got underway, the Falcons started getting a bit more pressure on Allen and putting their hands on the ball more. Between Duron Harmon, AJ Terrell and Foye Oluokun's interceptions, the Falcons defense was making plays that kept the score close and the game entertaining.
However, after Oluokun's interception, it seemed the Bills had had enough and they diligently moved away from the pass. In order to be more effective offensively, Buffalo kept the ball on the ground in the second half. And by the end of the game, the Bills offense had accumulated over 200 rushing yards.
From Oluokun's perspective, the Falcons did a nice job in the first half of making Allen uncomfortable in the pocket, and that's what caused the shift in the game plan for the Bills.
"He started to try to make plays with his feet and try to force a little bit of stuff… We turned him over too," Oluokun said. "So, that's probably why they went away from it, trying to find something that was going to work for them going late into the game."
What worked was the run, and as the Bills shifted their offensive attack, the Falcons struggled to get off the field. By the end of the game, Buffalo was 7-of-12 on third down. The Bills had seven full possessions. The result of said possessions was either a touchdown or interception, which I found to be a wild stat. If the Falcons didn't come up with a turnover, they gave up a touchdown.
This tells us a couple things. First, Dean Pees' defensive install has potential, a lot of it, in fact. This is a solid Bills offense, and the Falcons defense made it make mistakes. Second, good offenses adjust and when they do, a good defense has to adjust with it. What we saw on Sunday was the Falcons weaknesses exploited as Buffalo evolved. Allen had 81 rushing yards and two rushing touchdowns. Containing the quarterback has been an area of concern for this defense since Week 1. I can't help but think this game on Sunday reinforces one of the Falcons biggest offseason needs: more strength across the defensive line. Falcons Final Whistle | A Postgame Podcast
Break down the hottest topics surrounding the Atlanta Falcons and how they can impact the team's success with Atlanta Falcons Insiders Scott Bair, Tori McElhaney and Kris Rhim. Like and subscribe to join us for the lively debate on Falcons Final Whistle.
Welcome to Falcons Final Whistle – an Atlanta Falcons football postgame podcast during the season that shifts gears in the offseason to answer a pressing question about the team's future each week through free agency, the NFL Draft and the offseason program.