FLOWERY BRANCH, Ga. – The Falcons have wrapped up their second four-day block of training camp and will have the day off on Sunday.
Saturday's practice, officially Day 8 of the Falcons 2018 AT&T Training Camp, culminated with a team scrimmage – just like the first four days of camp did. In fact, the team broke up into the same groupings, Team Red and Team White. And in case you're wondering, the guys in red won it 24-17.
10. Players continue to be put on the spot, evaluated
One thing Falcons coach Dan Quinn and his coaching staff have done throughout camp is move players around. What does that mean? Players have been placed in different positions, different game-like scenarios as well as different units (i.e., a rookie might be thrown into a play consisting of mostly first-team players or starters). At the same time, Quinn noted that the team continues to install its playbook. Add in the daily grind of training camp and suddenly the pressure intensifies, especially for the rookies and inexperienced players. This allows the coaching staff to evaluate players in a number of ways, including how they react under pressure and how much information they're retaining.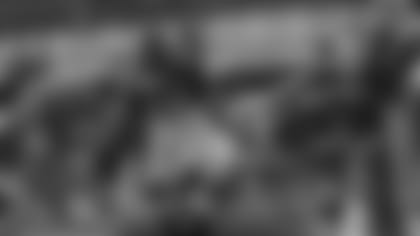 "Marvin is having a really good training camp," Ryan said. "I think he's having a great offsesason. He was really, really good for us in terms of training, attention to detail, his work during OTAs. He was excellent and he's kind of continued that for the first week. I think he's going to be a good reserve guy for us behind when you talk about those first three guys. Marvin is right behind that. He's got great top ... speed."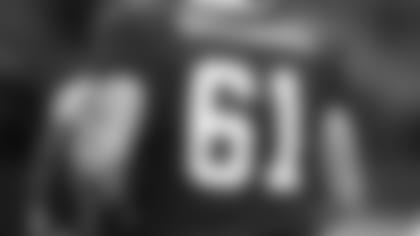 8. Offensive linemen are close-knit group with sense of humor
It's not unusual to read or hear how some of the best offensive lines tend to be close on and off the field. And Falcons offensive line coach Chris Morgan says this 2018 group is "extremely close knit" and "maybe the tightest" he's ever been around. Guard Andy Levitre echoed that sentiment and said this group might be the best he's ever been around. But as good as they are, they also like to have fun.
Case in point: the fake tattoos the group donned during Friday's practice. Every player came out wearing a temporary tattoo with mentions of coaches Kyle Flood, Justin Outten and Morgan's names or initials (and even pictures of their faces). Someone's got to lighten things up every once and a while, right?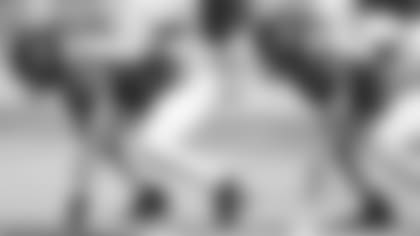 7. Tight ends continue to make plays in passing game
Falcons tight ends – specifically Austin Hooper, Logan Paulsen, Eric Saubert, Jaeden Graham and Troy Mangen – have been all over the place during the first eight days of camp. We've seen three tight end-sets, double tight ends and tight ends flanked out as receivers. But more importantly, they've been making plays downfield in the passing game, especially Hooper and Saubert. Day in and day out those two keep making plays, and it's been evident since OTAs and minicamp. It was on display again during Saturday's team scrimmage.
And Hooper is one player Ryan thinks has shown a lot of progress. More on Hooper's terrific offseason below.
6. Rookie Isaiah Oliver provides glimpse of special talent
Let's preface this one with the fact that the Falcons have yet to play a single preseason game and no one has seen how any of these rookies will fare against NFL-level talent with the lights on. And that's about to change come Aug. 10, when the Falcons travel to New Jersey to take on the New York Jets in their first preseason game of the year. Until then, all we have are training camp practices, individual drills and team scrimmages – you know, the eye tests – when it comes to watching these rookies in action.
Obviously the coaches see a whole lot more than we do, but one rookie who stood out in the red-white scrimmage was rookie corner Isaiah Oliver. Oliver picked off a Matt Schaub pass – one that was thrown behind Justin Hardy. The second-round draft pick out of Colorado was in perfect position and stayed with the ball. During the scrimmage he was lined up against Julio Jones and held his own. A good sign.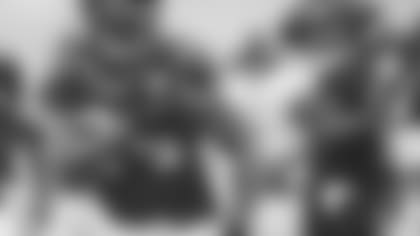 5. Running backs stand out in adverse weather conditions
For two straight days the Falcons practiced in soggy conditions, the second in a relentless downpour at Flowery Branch. Still, Dan Quinn saw it as yet another opportunity to evaluate his team because, as he noted, there will likely be times this season when the Falcons will play in adverse weather conditions – much like the situation they found themselves in last year against the Jets.
Well, when the weather is bad and the balls are tough to throw (and catch), you need to be able to run – and the Falcons running backs showed that they were more than capable during practice. Devonta Freeman made some strong runs and even made some notable catches while running vertical routes early in practice, and there appeared to be minimal drops from the group as a whole on Day 6. Tevin Coleman, Ito Smith, Justin Crawford and Malik Williams also made plays in 7-on-7 and 11-on-11 drills, which had to be encouraging.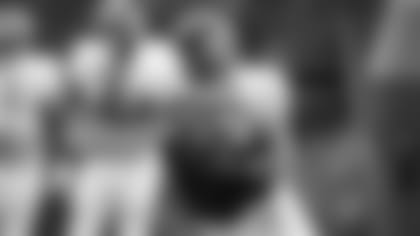 4. Jack Crawford appears to be back, healthy and making plays
When the Falcons lost Jack Crawford to a season-ending injury – torn biceps – during the Falcons' 23-17 loss to the Buffalo Bills back on Oct. 1, it was huge blow to the defensive line. At 6-foot-5, 288 pounds, Crawford is a versatile player with plenty of power, size, quickness and toughness who plays inside but can also play on the end when called upon. That versatility helps in a lot of ways, specifically when game-planning for opponents but also with the overall depth.
On Saturday during the red-white scrimmage, Crawford stood out – and was subsequently singled out by Dan Quinn. "He looked to have a good day and was real active in the run game and the pass game," Quinn said. And that's good news for a team that's looking to fill the void left by Dontari Poe. Between rookie Deadrin Senat, Terrell McClain and Crawford, the Falcons should have a more-than-capable rotation to go along with Grady Jarrett. In the four games he played in last year, Crawford tallied five tackles and three quarterback hits.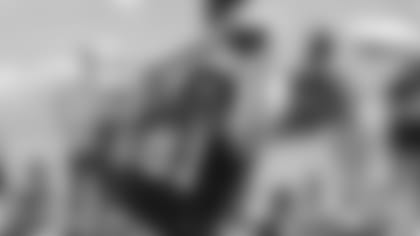 3. Austin Hooper looks good and is primed for a big year
One player who put in the work during the offseason in order to take the next step in his overall growth is tight end Austin Hooper. If you need confirmation on that, just ask Matt Ryan. The Falcons quarterback said Hooper has "gotten a lot better" and is "a lot more polished" this season. That's a pretty nice endorsement.
The third-year tight end out of Stanford caught 49 passes for 526 yards and three touchdowns in 2017. Hooper also improved in virtually every single statistical category last year except in touchdown catches, hauling in three for the second year in a row. But Ryan thinks Hooper will be even better in 2018. Ryan credits the young tight end's work ethic and said that it sometimes takes time for young players to figure out what it'll take to be successful in the NFL.
"I think that, along with the additions that we have, is going to make for him to have a really good year," Ryan said.
2. Julio Jones says he's never been more healthy
We all know Julio Jones is very good, maybe the best receiver in the game right now along with the Steelers' Antonio Brown. But when Jones said that this is the healthiest he's ever felt during a training camp heading into a season, well, that's something.
"[There's] no weakness as far as in my head, mental blocks and things like that," Jones said on Thursday. "I can do any and everything. There's nothing holding me back."
The rest of the NFL has been put on notice.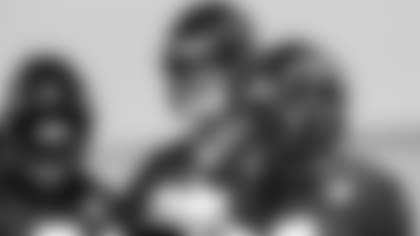 1. Matt Ryan: Team off to good start, but long way to go still
Yes, it's still early in camp. The players who are grinding day in and day out might not feel that way, but the truth is that the Falcons have yet to play a preseason game. You can only simulate so much in practice. Game speed is completely different (and preseason vs. regular season is a completely different animal altogether). The good news is that the Falcons are relatively healthy and everyone is in camp and participating. The young players are getting used to how things are done in the NFL and the pads are finally on.
But it's important to keep it all in perspective – and avoid those oh-so-hot takes. And who better to do that than Matt Ryan, who acknowledges that the Falcons are off to a really good start.
"I think they've done a great job," Ryan said. "Attention to detail in meetings has been excellent. I feel like we've been productive in the first week, but we still have a long way to go."